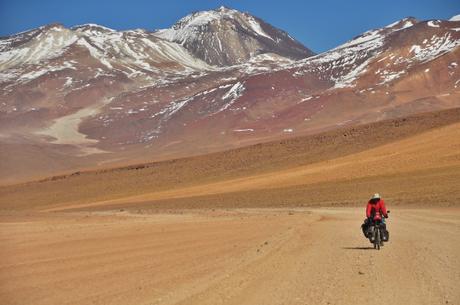 It's been windy, and I mean Patagonia style extreme windy, but thankfully, the winds have almost always been in our favor. It's also been cold, -15C every night, meaning that our water bottles are frozen solid by morning so I have begun sleeping with a few bottles to keep them usable in the morning. After a day of cycling along the traditional lagunas route, where we were passed by jeeps throwing sand our way every few minutes, we turned onto a much less used road (six to eight jeeps a day, all together in one pack) which gave us peaceful cycling up and over multiple 4,700m+ passes. It was hard on the sometimes sandy, always rough road, but it sure was amazing as well! Once again, I'll let the photos tell the story.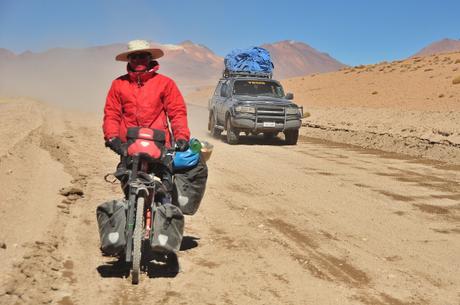 One of the jeeps along the traditional lagunas route.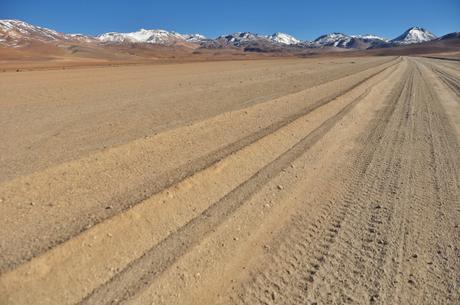 Though there were sections of deep sand, for the most part the road had been cleared which made for "easy" riding.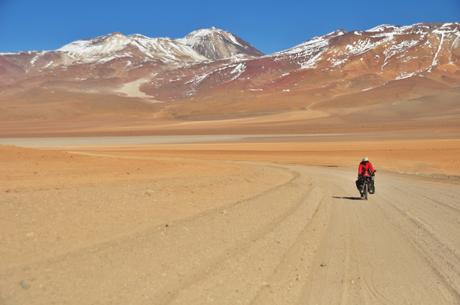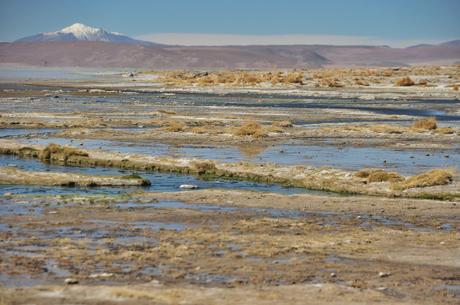 Another hot springs, though these ones have now been commercialized and charge to use. There were 30+ people in them when we went by as the jeeps had all stopped there for lunch.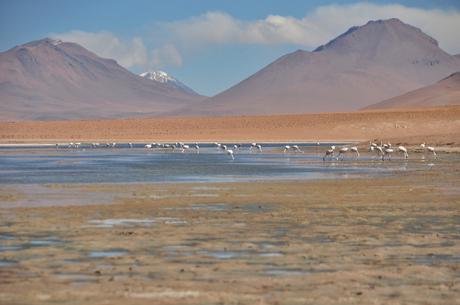 There are many flamingos through the area.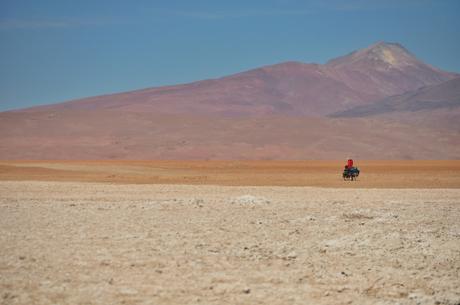 There was a whole lot of salt!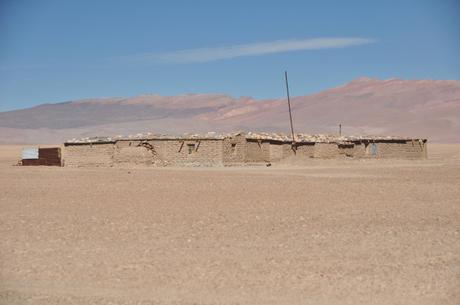 We passed a few very tiny mining houses, some of them abandoned, near mines which are prevalent for arsenic, copper, and lithium out here.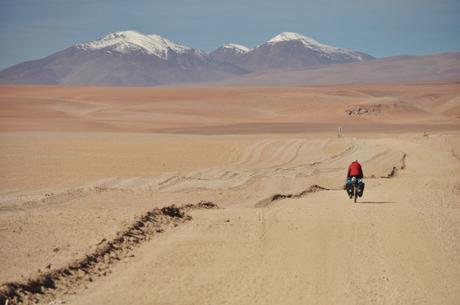 These were some of the weirdest roads we have ever been on!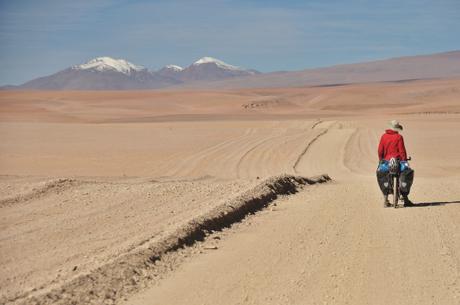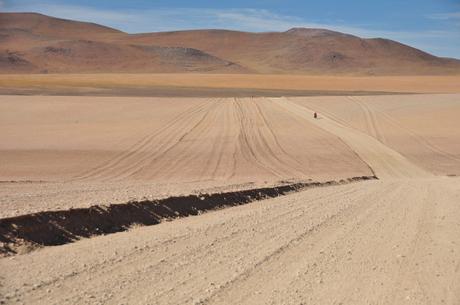 Though there was normally one main path, the jeeps obviously like to make their own way through the sand as well.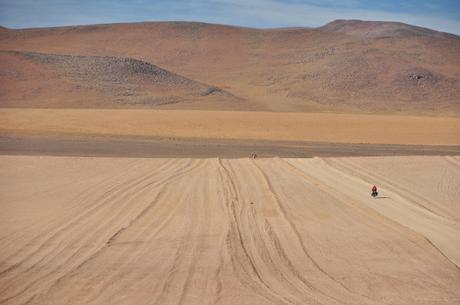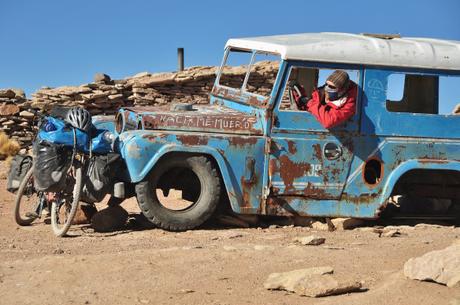 Kevin riding an old car he found at one of the abandoned mining villages.
Then, after a few days of desert sandy landscape, we hit water! As it turns out, for the rest of our time in the Bolivian altiplano we would have no trouble finding little streams and rivers such as this one. We ended up camping early in order to rest and take advantage of a wind free camping spot, and Kevin even caught a fish! In fact, this fish was one of his best all time catches as it was in a tiny meter wide river at 4,200m in the middle of nowhere, so it was a real surprise.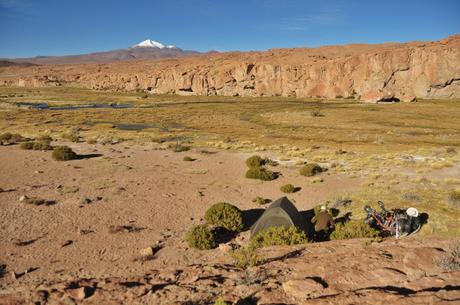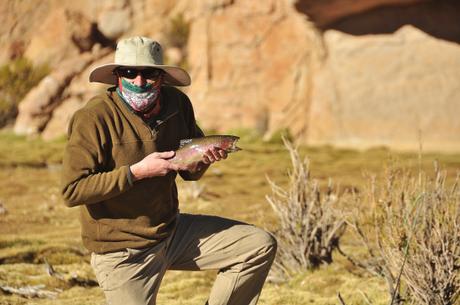 Kevin in his "I'm going to rob a bank" outfit, which also doubles as great skin protection from the wind and sun.
One of the coolest things we saw along this route was a traditionally dressed Bolivian lady herding a few hundred llamas with a few tiny yappy lap dogs. Unlike the stubborn sheep and cows which we have often seen being herded in other counties, these llamas trotted along quite quickly and without much mishap. Seeing the llamas all around us really made us feel like we are in Bolivia! It also marked the first time we have seen any locals as during the first few days we were going through completely uninhabited land. Though there still aren't very many people, a random house to two tucked away on a high up mountainside, it has been interesting to see the animals, notably llamas, which come with having a few humans nearby.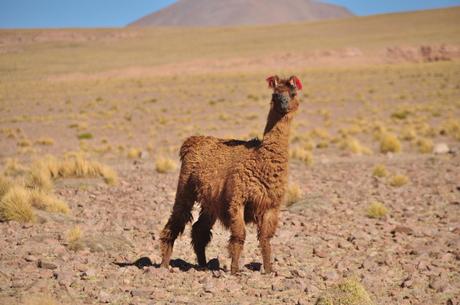 The llamas all have their ears tagged with different colors so when they wander, the humans know whose is whose.
Pikes on Bikes technical details for this route: This blog entry took place along the red route until Polques. From there, we started along the purple one. Make sure to check back in a few days for a post about the next section of the purple route!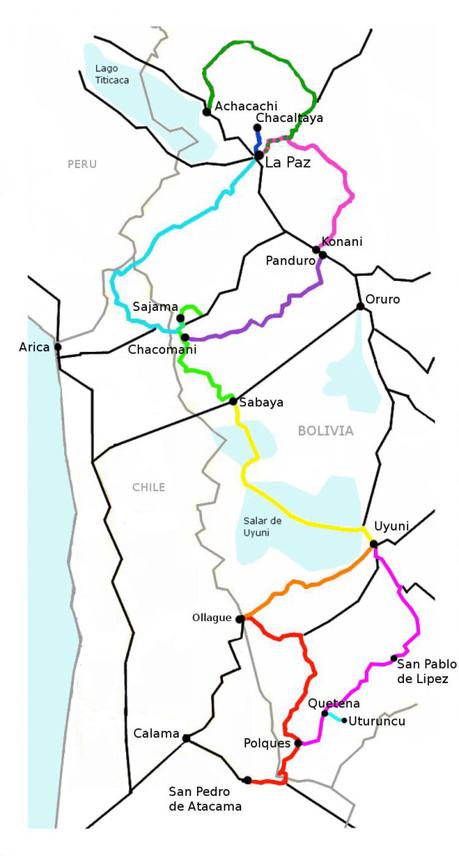 For a photo of the day and other updates follow me on facebook here, and for some awkwardly cropped photos from our journey, follow us on Instagram @awanderingphoto!