Angel by Howard Finster, High Museum of Art, Atlanta, Georgia
I began my visit to the
High Museum of Art
in Atlanta in the Folk Art gallery on the top floor of the Stent Family Wing and then made my way downward via the semi-circular ramps that hug the walls of the large center atrium.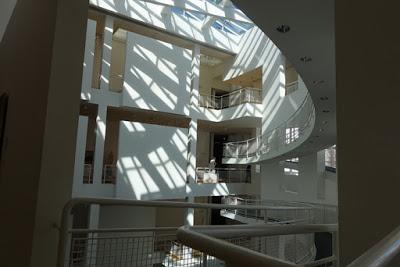 Interior of Stent Family Wing, High Museum of Art, Richard Meier, Architect
The featured exhibit in the
Folk Art gallery
is a display of colorful and lavishly decorated pieces created by
Howard Finster
, a Baptist minister who claimed to have had a vision telling him to create works of art to spread the Word of God.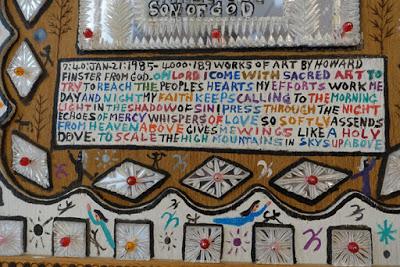 Detail of panel: "Five kinds of art on this board--glass cutting, wood burning, enamel painting, beadcraft and hand printing"
In his lifetime (1916-2001) Finster made more than 40,000 works of art, using whatever materials he had at hand. The centerpiece of his work was Paradise Garden, an outdoor museum he built to celebrate all the inventions of mankind. Today the High Museum owns the largest public collection of objects from Paradise Garden. The richness of surfaces and creative use of materials in Finster's works brought to mind Simon Rodia's Watts Towers in Los Angeles and the works of Antoni Gaudi in Barcelona, Spain.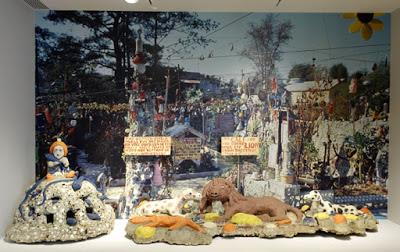 Howard Finster's Paradise Garden
There are multiple galleries at the High Museum and it was hard to know where to go next. What I like best about the permanent exhibit of American art was the combination of paintings and decorative arts (furniture) in the same gallery.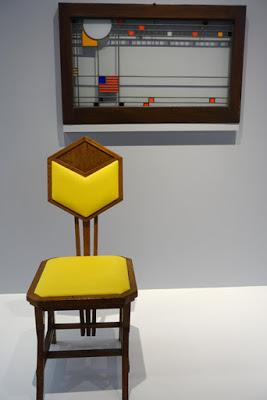 Chair and Window by Frank Lloyd Wright
There were two photographic exhibits on view–one showing works from the collection of Diane Arbus, Richard Avedon and Garry Winogrand, many of them familiar, and another celebrating the life of Dr. Martin Luther King Jr.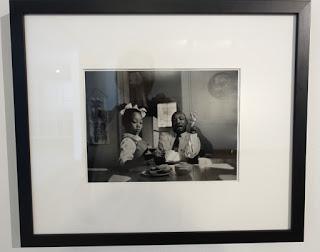 Dr. Martin Luther King Jr. at home with his family, 1962, photo by James Karalas
On the lower level of the Stent Family Wing I visited the exhibit
I See a Story: The Art of Eric Carle
, (see my post at my
Art and Books blog
) and then walked through the adjacent gallery of African art, which had a fascinating display of masks.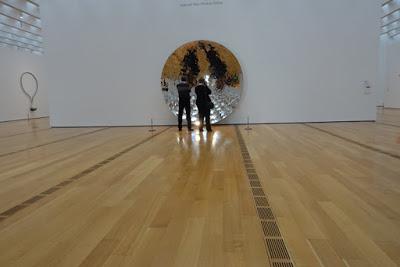 Untitled, Stainless Steel Sculpture by Anish Kapoor
I finished my tour of the museum in the spacious Modern and Contemporary Art galleries. Throughout the museum visitors are invited to take photographs. I couldn't resist trying to catch my reflections in a sculpture that was, essentially, a large, faceted mirror.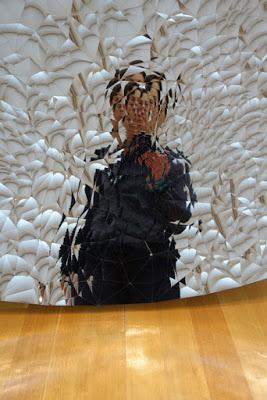 My reflection
I had lunch (a tasty freshly made sandwich) at the museum in one of the two cafes. There is also a larger more formal restaurant on the plaza. My visit to the High Museum was part of a recent trip to Georgia with my husband, Art, who was there on business. My photos here a just a sampling of the many highlights of the museum. Altogether, I had a very satisfying day that made me want to go back on future trips to Atlanta.