Planning a Holiday in Tuscany can be a real challenge: there is so much to see and visit it is really difficult to choose the right destinations.
With so much travel information available and countless travel portals offering what appear to be great travel destinations, how can you be sure you are making the right decision? It's a tough call and very much related to what YOU are seeking and how YOU wish to spend your holiday in Tuscany.
If you are young and single traveling to Italy and spending some of your time in Tuscany then you will most likely prefer Florence where you will spend most of your time. Florence offers countless opportunities to see unique places like the Piazza della Signoria and Palazzo Vecchio, Il Duomo, the Ponte Vecchio, built in 1345, was the first bridge across the Arno River.
If you are traveling as a couple then your perspective might be different and more interested in finding a nice place away from the noise and confusion of the city and prefer a country destination from which to move around rapidly on a daily basis.
Tuscany is populated with a great number of small boutique hotels with different prices and services.
Take for example this hotel – a unique country relais at the outskirts of Siena. Laticastelli is the hotel situated near Rapolano Terme with centuries of interesting history. An ancient fortress set to guard Siena from the south, Laticastelli is a charming hotel relais with only 25 rooms, outdoor swimming pool, and restaurant.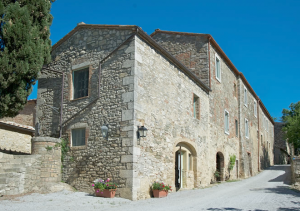 Latiastelli is an ancient hamlet dating back to the 12th century. In 2001 it was opened to the public and today hosts Guests mostly from the Americas (north and south).
The ideal accommodation for those seeking a quiet hotel in the Tuscan countryside where a number of outdoor activities are readily available including horseback riding.
There are also a number of golf courses within driving distance like the Ugolino Golf Club in Grassina, the Medici Golf Club in Scarperia, the Montecatini Golf Club in Montecatini Terme and finally the Castelfalfi in Montaione. Most important touristic destinations are easily reachable by car (no more than 1 hour drive) making this hotel a great travel destination for a quiet and relaxing stay in Tuscany.