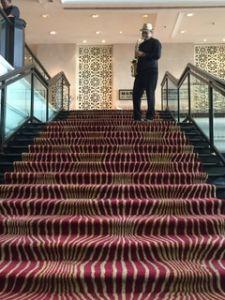 The ambience - classy; the atmopshere - graceful; the aura - genteel; the flavour - royal. Those were the words that came to mind when I stepped into Atrium Lounge at Taj Lands End on the 6 th of May for Hi-Tea. That the welcome was with a sparkling wine charmingly named Queen's Bellini completed the feeling that one had stepped into days of long ago when family and friends had conversations over tea served in pretty tea-cups and dainty sandwiches during late afternoons.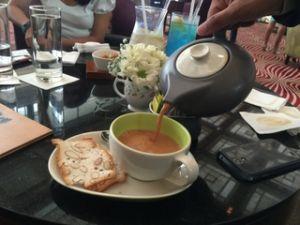 Unimaginable for the Mumbaikar who rushes through the day, all the while wishing to catch his breath and inhale some ease and peace and find a touch of tranquility right in the midst of a working day. And that's exactly where the Hi-Tea at Taj Lands End steps in. The exquisite decor, the serene music and seamless hospitality brings the "time to slow down a bit" feel; freshly baked scones with cream, crustless sandwiches, dainty cakes complementing a good cup of tea makes one settle down for a while into a perfect afternoon at Atrium Lounge.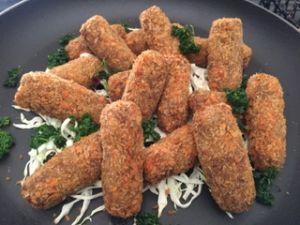 Very British? No, not really. It is with Bandra & the Mumbai of long ago in mind that The Hi-Tea has been designed, making it comfortable and familiar for the guests. Thus one finds an East India Shandy with its homemade raspberry concoction topped with draft beer sitting cosily in the menu. One also find exotic names like Portuguese Mule and Bazaar Road Blues among the cocktail selections. I chose a Curry Leaf Martini - loved it!! I was charmed to find Sulaiman Chai, Cha', Cutting Chai, Mumbai Masala Chai & Parsi Chai on the menu. Now those are names every Mumbaikar is familiar with and brigs a very merry Mumbai flavour to the very Brit tradition of Hi-Tea. The tea can be paired with delectable Dodol - a sweet toffee rich flour confection, Pastesis de Nata - egg custard tart, Bolo-d-arro - rice and coconut muffin, Queijo Fresco - cream cheese tartlets, Chicken Cafreal Buns, Bifanas and much more.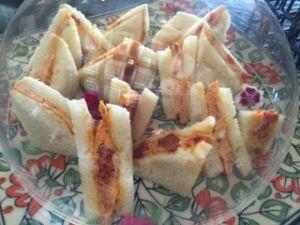 The sandwich spread was a mix of vegetarian and non-vegetarian; each one laid out prettily; the sandwiches nicely accomodating the Indian palate and thus the Chutney Cucumber Sandwich, Paneer Tikka Sandwich, Chorizo Frittata Sandwich, Lamb Rechado Sandwich find their rightful place amidst the Scones and Chocolates and Red Velvet Cakes. I was thrilled to find the Bibinca holding its own with elan in such elite company.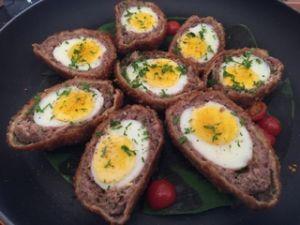 For those who would like more than just a dainty bite, there are Mushroom Chilli Buns, Vegetable Sliders, Lamb Croquette and my favourite Scotch Eggs, all prepared with thought of a good mix on the table and with very skilled hands to give the simple fare a touch of class.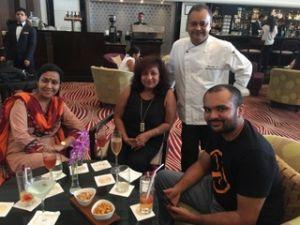 I had the pleasure of meeting Chef Anirudhya Roy, Executive Chef, Taj Lands End. He said, " The most quintessential of customs observed by Bandraites have been acquired by the Portugal and European traditions. Inspired by the ceremonious means of enjoying a good time with family and friends, we have introduced a lavish menu of teas and delectable treats to make afternoons a memorable time of the day. " The interesting pricing of INR 795 plus taxes makes the lavish Hi-Tea all the more attractive. Throbbing with life all day and night, Bandra makes for a beautiful escape from the grime and pace of the city.
Relaxing over a selection of teas and treats in the plush environs of Atrium Lounge overlooking the vast expanse of seaRatings out of 5
in Mumbai's favourite borough would certainly turn an ordinary afternoon into memorable one.
Worth not just a single visit, but many many more.
Hi-Tea for Two: Rs. 1590/- plus taxes | Alcohol: Yes | Credit Card: Yes|
Timing: 12 00 noon - 3.00 pm to 6.00 pm| Wheelchair access : Not directly but possible
Address: Atrium Lounge, Taj Lands End, Band Stand, Bandra West, Mumbai, Maharashtra 400050 | Telephone : (022) 6668 1234
Disclaimer: This review was done on an invitation from the restaurant. Due judgement and care has been applied by the author to remain objective and unbiased in the review, but readers need to consider this review keeping this fact in mind.