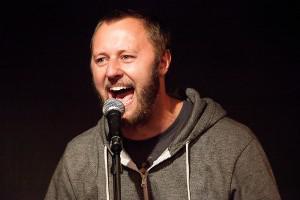 Comedian Rory Scovel
I'm just going to be blunt if you don't go to this show, you must not like laughing and that makes you a horrible person.
Disclaimer Underground Comedy presents Comedian Rory Scovel at the Lexington Avenue Brewery this coming Tuesday, October 16th. Show starts at 9:00 p.m. Tickets are $10 and can be purchased here.
Scovel is one of the better comedians you will ever get a chance to see come through this town. He is right up there on a funny scale, with the bigger name comedians that come through this town like Aziz Ansari, Joe Rogan, and Ralphie May and you don't have to be pounded in the behind with ticket fees from TicketMaster to see him.
You may have seen Scovel before from his multiple TV appearances including:
Comedy Central's "Live at Gotham" Season 2
Late Night with Jimmy Fallon on NBC
John Oliver's New York Standup Show Season 2
CONAN on TBS (performed with Jon Dore)
The Life and Times of Tim on HBO Season 3
Comedy Central's The Half Hour
Late Late Show with Craig Ferguson on CBS
CONAN on TBS
MTV's Zach Stone is Gonna Be Famous Season 1
Funny as Hell on HBO Canada
Oh and Scovel is that guy in that Nissan commercial you have probably seen.
Here is a hilarious set Scovel performed at the Moontower Comedy Festival in Austin, Texas in April:
And here is a documentary short of Scovel by Modern Comedian, the documentary happened to follow Scovel around the time of the Aurora, Colorado Dark Knight shooting and documents Scovels thoughts about the tragedy and how he handled those thoughts on stage:
Seriously don't miss this show Stupid!