May 28, 2014
and didn't apologize.  Geez guys, where are you manners?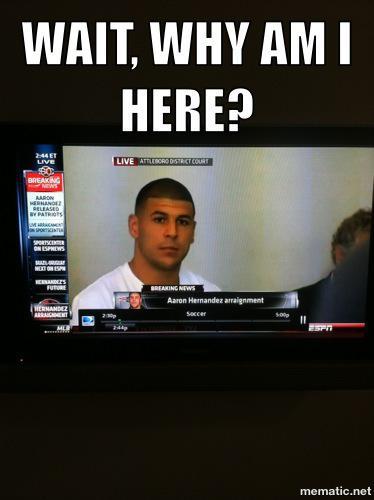 Via Daily News: It was a bump on a nightclub dance floor, a partially spilled drink and the hair-trigger temper of former NFL star Aaron Hernandez that led to the twin killings of two immigrants from Cape Verde, according to Suffolk County prosecutors.
Prosecutor Patrick Haggan linked an increasingly "sensitive and angry" Hernandez to the double slayings of Daniel de Abreu and Safiro Furtado, two working-class cleaners living in Dorchester, in the early hours of July 16, 2012. The victims and Hernandez had never met before the chance encounter at the nightclub Cure, but Hernandez took exception to the fact that de Abreu did not apologize for bumping into him, according to Haggan. Hernandez then waited for de Abreu and his four friends to exit the club before pulling up alongside their BMW at a red light and saying, "What's up now, [racial slur]?" Hernandez then allegedly proceeded to fire five bullets from the .38-caliber Smith & Wesson revolver into the victims' car, killing two and wounding a third.
So, if this is true, Aaron Hernandez ended two peoples lives because they spilled a drink on him.  Given this train of thought, my friends and I are probably the most wanted people on the face of the earth.  I mean, after about 5-7 drinks I pretty much can't take more than three or four steps without sloshing my drink on someone's shoes or arm.  God damn, thank god I wasn't in Cure that night.
But seriously guys, you can't make this stuff up.  If it's all true this guy has to be the worst and dumbest criminal ever.  Just losing his temper, not hiding weapons, being seen on camera and everything else in between that makes you a bad, bad criminal and person.
And if it's not, and he ends up innocent, then the people that have painted this broad picture of Hernandez should either be thrown in jail themselves or given an award because they have done a bang up job of making this guy look like the worst human being ever.
Oh, and just so we're all clear… #PatriotsWay
Post navigation
← You Guys Catch Governor Martin O'Malley Ripping The Banjo In Annapolis This Weekend? Jim Kelly Can Check Radiation Off His List Of Things He's Completed. →