Just when I thought I'd seen an end to the bad tennis outfits with Venus Williams' exit from the Australian Open, along comes Caroline Wozniacki.
Take a look: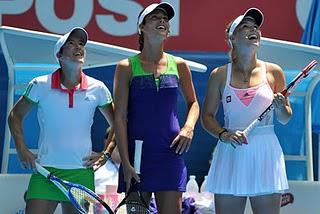 Image via www.australianopen.com

All three of these women are wearing Adidas. Ana Ivanovic looks fantastic for a change in an outfit that I'm sure many of us would wear. Justine Henin, in her typical androgynous top and skirt, even looks pretty good. Its hard to believe that Caroline Wozniacki is actually the one of these three wearing gear personally designed for her by no less than Stella McCartney. I'm starting to wonder if Stella McCartney has watched a tennis match in this decade. Or in the last three decades. This skirt is just way too high-waisted and 70's looking for my taste. And the top? Well, where is it?
Now perhaps the thought was to make Caroline look ballerina-ish: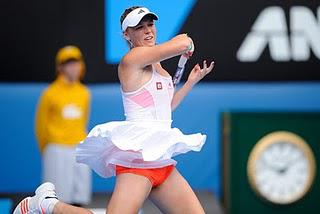 Image via www.australianopen.com
Instead, I thing she looks Margaret Court-ish: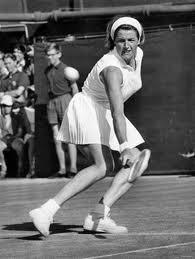 Image via www.australianopen.com
Or maybe even Daphne Akhurst-ish: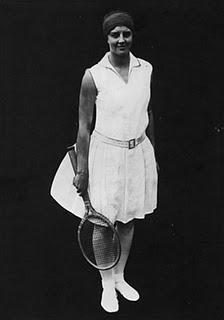 Image via www.australianopen.com
Now Margaret Court has 11 Australian Open singles and 5 doubles titles of her name, so she's no slouch. And Daphne Akhurst has 5 Australian Open singles and 9 doubles titles. Again, pretty impressive.
Those ladies did that awhile ago. And with those records, as far as I'm concerned, they can wear whatever the heck they want. But - Hello, Caroline Wozniaki - it's 2011. Put the high-waisted, pleated skirt away and, if you can't win a Slam, at least get with the fashion program.

© Kim Selzman 2011 All Rights Reserved