Cross posted from MN Political Roundtable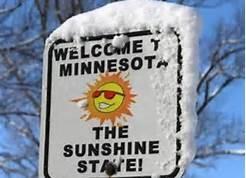 Solar works for Germany, with similar climate and weather; it can work for us too
From
the STrib
:
Massive solar plan for Minnesota wins bid over gas
Minnesota soon could see at least a sevenfold expansion of solar power.
In an unprecedented ruling, a judge reviewing whether Xcel Energy should invest in new natural gas generators vs. large solar power arrays concluded Tuesday that solar is a better deal.
If the finding by Administrative Law Judge Eric Lipman is upheld by the state Public Utilities Commission (PUC), Edina-based Geronimo Energy plans to build about 20 large solar power arrays on sites across Xcel's service area at a cost of $250 million.
"It says solar is coming in a big way to the country and to Minnesota," Geronimo Vice President Betsy Engelking said of the ruling.
Geronimo's Aurora Solar Project would receive no state or utility subsidies, but would qualify for a federal investment tax credit. Engleking said it is the first time in the United States that solar energy without a state subsidy has beaten natural gas in an official, head-to-head price comparison.
"The cost of solar has come down much faster than anyone had anticipated," she said in an interview. "This is one of the reasons solar is going to explode."
The largest of the Geronimo projects would be five times bigger than the state's largest solar array in Slayton, Minn. Some would cover up to 70 acres of land. The proposed sites are in 17 counties, mostly in central, eastern and southeastern Minnesota.

It is the first time the state has used a competitive bidding process for a major power generation project. The commission ordered the trial-like proceeding to force energy companies to compete on price.
I was struck by the last line of this excerpt, bolded above (my added emphasis); it is worth reading again:
It is the first time the state has used a competitive bidding process for a major power generation project. The commission ordered the trial-like proceeding to force energy companies to compete on price.
We have to wonder why the heck we have not competed on price previously? This should be a big plus for Gov. Dayton and the Democrats in the MN lege running for office this year. Conservatives, state and national, HATE IT.
And when I read this sentence in the quoted STrib piece, of course, it was meant figuratively, not literally:
"[lower costs]This is one of the reasons solar is going to explode."
Not LITERALLY explode, like this oil tanker explosion in NoDak to our west [see below], but rather explodes in a good way by costing us less:
In more 'Sunny' news,
Environmental and Energy Publishing notes:
UTILITIES:
Minn. tries to put a climate value on rooftop solar
Peter Behr, E&E reporter
EnergyWire: Thursday, January 2, 2014
Minnesota is on track this year to issue the first statewide utility tariff in the nation that gives consumers credit for the carbon-free energy from rooftop solar units that they sell into the grid.
The "value of solar" methodology, under development by the state's Department of Commerce with industry and public input, is to be submitted to the Minnesota Public Utilities Commission by the end of January.
If approved, the approach would be a voluntary alternative that the state's investor-owned utilities could select instead of the current contentious "net energy metering" approach used to compensate solar panel owners for the surplus power they deliver to utilities. How Minnesota's utilities and its solar customer would fare under the proposed solar value hasn't been determined, but in Austin, Texas, the value of the solar tariff this year was better for most solar owners than the regular utility rates.
The groundbreaking methodology in Minnesota would add a climate factor to utility rates based on potential dollar damage to society from future storms and flooding caused by the impact of rising global temperatures.
The initiative exposes flip sides of a dilemma. How can regulator-approved utility rates, which calculate fairness for consumers past the decimal point, include estimates for unpredictable climate damage from power plant smokestacks decades from now? To which supporters of the initiative reply: Given the power sector's outpouring of carbon emissions, how can they not?
A draft of the Minnesota plan issued in November creates a special solar rate derived from a formula for giving a credit on utility bills to owners of rooftop solar units who deliver surplus power back to a utility. Solar power owners would pay normal electricity rates for power they had to buy from the utility when the sun doesn't shine.
Most of the solar value formula components are obvious, experts say. For example, by using customers' solar power, utilities would avoid additional costs for generating plants, substations and power lines, and these "avoided costs" would be part of the price solar owners would receive.
The Minnesota Legislature went further, requiring that the formula include projected economic damage due to climate change attributed to power plant carbon emissions. Carbon-free solar power reduces that damage, and solar owners get the benefit. The lawmakers also added a solar carve-out to the state's renewable energy standard, requiring investor-owned utilities to supply at least 1.5 percent of their energy output from solar power by 2020.
It's catching on - again
from the STrib
:
Minneapolis congregation fosters sun worship of a different sort


Article by: JOSEPHINE MARCOTTY  , Star TribuneSarah Campbell would like churches everywhere to supplement the cross with a new symbol of hope — solar panels.That, she said, is exactly what the 750 members of the Mayflower United Church of Christ did last week when they flipped the switch on one of the largest solar arrays in Minneapolis as a brazen and public strike against climate change.
"We don't have physical or spiritual space for despair anymore," Campbell, the church's lead minister, said Thursday. "I am really hopeful that we can turn this thing."
In fact, it may already be working.
In addition, solar gardens are sprouting all over town. Those jointly owned solar arrays allow electric customers to invest in a project built somewhere off their property and own a share of the output. Their share of the electricity gets credited to their monthly bills. At least three are in the works in Minneapolis and elsewhere in the state.
For the members of the Mayflower Church, which sits at the corner of Diamond Lake Road and 35W and is part of the United Church of Christ, the energy project fit right into its historically liberal mission. It was among the first denominations to accept female and gay clergy. Mayflower considers itself a church of big dreams — symbolized by the giant dream catcher sculpture hanging from the roof of the sanctuary — and it does not dream humbly, said Campbell.
 
Doubly good news in a week that also featured this coverage about fracking dangers to water resources -
from the AP via the STrib:

States confirm water pollution from oil and gas drilling
Article by: KEVIN BEGOS , Associated Press
Updated: January 5, 2014 - 8:18 PM
Research found well contamination from oil or gas in four states, contradicting industry assertions.
PITTSBURGH – In at least four states that have nurtured the nation's energy boom, hundreds of complaints have been made about well-water contamination from oil or gas drilling, and pollution was confirmed in a number of them, according to a review that casts doubt on industry suggestions that such problems rarely happen.
Data on drilling-related complaints in Pennsylvania, Ohio, West Virginia and Texas indicate major differences in how the states report such problems.
Texas provided the most detail, while the other states provided only general outlines. And while the confirmed problems represent only a tiny portion of the thousands of oil and gas wells drilled each year in the United States, the lack of detail in some state reports could help fuel public confusion and mistrust.
Pennsylvania received 398 complaints in 2013 alleging that oil or natural gas drilling polluted or otherwise affected private water wells, compared with 499 in 2012. The Pennsylvania complaints include allegations of short-term diminished water flow, as well as pollution from stray gas or other substances. More than 100 cases of pollution were confirmed over five years.
Just hearing the number of complaints shocked Heather McMicken, an eastern Pennsylvania homeowner who complained about water-well contamination that state officials eventually confirmed.
"Wow, I'm very surprised," said McMicken, recalling that she and her husband never knew how many other people made similar complaints, since the main source of information "was just through the grapevine."
IMHO, Solar power is better than this, too: