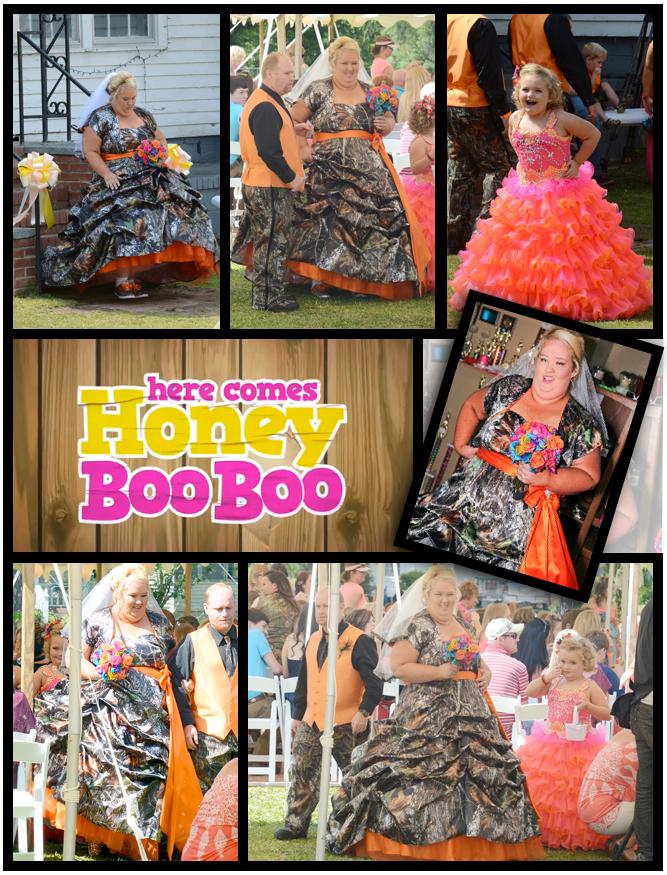 Or did they?
Only TLC and the head cashier at the Kuntry Stoe know for certain.
It was Cinco de Mayo meets Cartoon Network meets that aisle in Walmart that stocks all the camouflage hunting gear and canned deer urine as Mama June Shannon and her front yard Santa Sugar Bear tied the knot today.
Here Comes Honey Boo Boo just taped an episode for the upcoming new season that might give even Luke and Laura a run for their matrimonial money.
I mean, really.  Who needs Elizabeth Taylor when you've got Uncle Poodle and a three thumbed baby in your wedding party?
I know I can't be the only one getting secretly antsy waiting for the return of Toddlers & Tiaras reigning breakout star on July 17.  Man can not live on sketti and cheeseballs alone.  It just can't be done.
I need me some Boo.
But until Alana, Pumpkin, Chubbs, Chickadee and Kaitlyn Elizabeth all mud bog back onto our television screens, we'll have to settle for the official photos from today's Redneckulous nuptials.
Everyone is being a little vague on whether this was the real 4-wheelin' deal or not, and whether they are officially hooked as they say down at the Bait Shop.
But c'mon…does it really matter?  It's Honey Boo Boo Child.
And it looks like the Coupon Queen just tied the knot with her Skoal Pinchin' Prince.
In that dress.
It is what it is, people.
I'll chug to that.