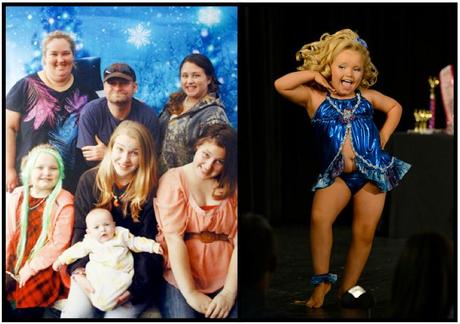 I miss Honey Boo Boo Child.
That's right.  I said it.  I own it.
I miss everyone's favorite Redneck Pageant Princess.
Especially during the Holidays, when we should all be together.
Or the HOLLAdays, as they like to call it down at the Bingo lodge.
Yes.  I know all the Boo Boos are coming back soon.  TLC is getting ready to roll out four special Dolla Make Me HOLLAday episodes beginning in January.  And yes, I'm already stocking up on cheese balls and ribs.  I'm anticipating an apocalyptic run on Redneck snacks the first night, so I'm doing some June-worthy hoarding before the Big Event, just in case.
But when you're suffering from Redneck 'drawals, January is still a long way away, ya'll.
I need me some Boo.  Now.
Luckily, Smiley's Flea Market and Yard Sale in Macon, Georgia came to my rescue with the Official Honey Boo Boo Family Portrait this past weekend.
After spending some quality time snooping around for pageant props and other randomness, Momma June, Sugar Bear, Chickadee, Pumpkin, Chubbs and little Baby Kaitlyn Elizabeth all plopped down in front of one of those Kmart-like pull down screens, smiled for the camera and showed The Kardashians how it's supposed to be done.  Take that, Khloé.
No photoshopping in MIA family members for the Boo Boo Clan, thank you very much.
The family is also giving back in a big way again, just as they did last summer.
In lieu of train track warning lights to prevent an Acela business coach from plowing into the side of their house, the gang has once again blindingly decorated their home for the holidays and is running toy drives each night for donations in support of Wilco For Kids.
Sugar Bear happily gets himself all decked out in that now infamous smelly Santa Suit and poses for photos with children and/or Go-Go Juice Groupies each night, and the amount of toys and supplies they have already recieved is impressive.
Alana's Facebook page even keeps you updated on weather reports and lighting schedules, just like Rockefeller Center.
Baby Kaitlyn totally gives all this Holiday Spirit three thumbs up.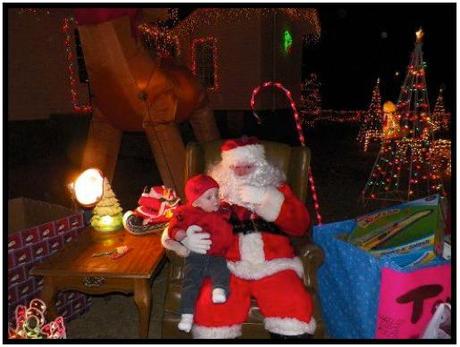 And for those of you who want to get a jump on clearing DVR space, here you go…
Halloween Special…Sunday, January 6 @ 9pm
Thanksgiving Special…Sunday, January 13 @ 9pm
Best Of Clip Show…Sunday, February 10 @ 8pm
Christmas Special…Sunday, February 17 @ 8pm
Everything is EST and, of course, subject to last minute changes.
Because I'm not the TV Guide Channel…and Honey Boo Boo Badger don't give a s***.
Happy Holladays.