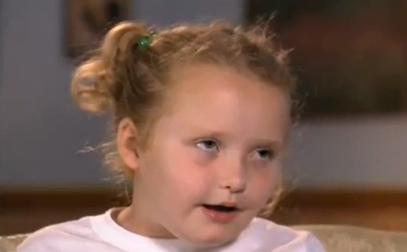 For the last time. It's called Teacup piglet. Not Tranny piglet. I swear you people are just Pignorant.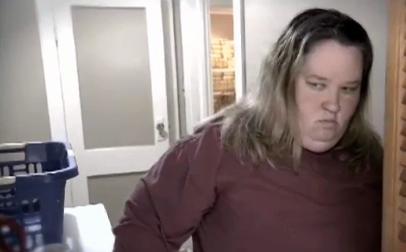 Listen up, pig. The only squealing I wanna hear at 5:30 in the morning are my Baby Daddy's Shugie Noogies.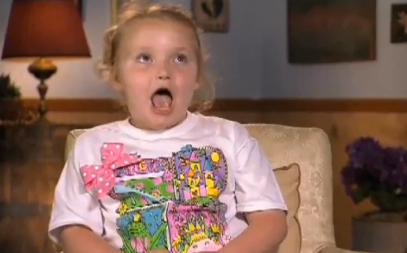 OMG. It's like totally Que Me Gusta Alana Shakira Telemundo Yo Quiero Taco Bell.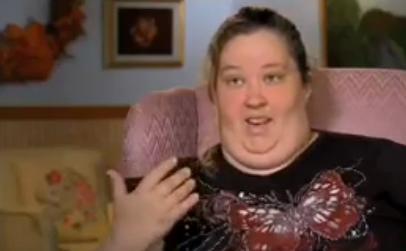 I mean, c'mon. What Santa isn't gonna want some of this sliding down his chimney on a hot July afternoon?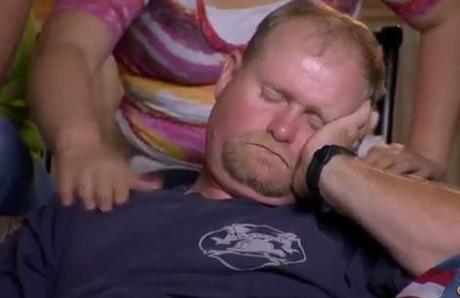 Zzzzzzzzzz……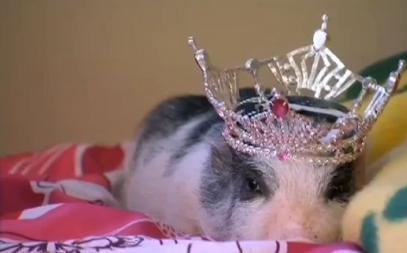 Girrrl, pleez. Clutch the Pearls & Swine. The other boys are never gonna believe this Fierce s***.
All I want for Christmas is my two front teeth.
My two front teeth…my two front teeth.
Or maybe even just one of them…I know times are tough.  And actually, one tooth would still leave a sweet little opening to poke in some chew when the mood strikes, and would be just enough space to eject it back out into my empty root beer bottle when I'm tooling down the highway.
Yeah.  Forget the song.  Make it one front tooth, Santa.
You can check one present off your 2012 Holiday list already, because TLC and the Boo Boo Clan just hand delivered us a gift that is gonna keep on giving for months to come.
Maybe even years, if you count therapy time into the equation.
Here Comes Honey Boo Boo celebrated a Redneck Christmas in July this week, and it was pretty much everything I could ever ask for all crumpled up into one big ball, tossed into a burlap bag and adorned with a John Deere green bow courtesy of the Kuntry Stoe.
I know, right?  That's the name of a real general store.
Did you catch that in the first 2.5 seconds of the scene?  Right now there are so many inappropriate Backwood Hooker Skank jokes running through my head that I may just need to step away from the laptop for a second before I say something that will alert those office I.T. guys who keep track of dirty nasties on your ip address.
Kuntry Stoe.  Do the math.
As Momma Boo Boo June explained it, the annual Christmas in July Extravaganza was a family run event to raise money for a local charity.
Say what you will about the Boo Boos.  Love 'em or hate 'em (…and I looooove them…) but they really seem to have a lot of heart.  Granted, that heart is more than likely going to require the unclogging of at least two of the three coronary arteries if they continue down that dangerously narrowing cheese ball path they have chosen…but as of today, the heart still works and it wanted to help others in need.
Of course, the snarky side of me immediately asked why they don't just give each of their neighbors 52 rolls of Brawny paper towels and a case of Mitchum roll-on and call it a day.  For a second I actually wondered if these less than fortunate people were only hurting because by the time they got out of work and made it down to the Piggly Wiggly, June had already cleared the shelves and there were no rations left for their own pantry.
Coupon Queen: 1  Less Fortunates: 0  Suck it.
But June makes me laugh, so I'll let this one slide.
The event basically consisted of covering the Boo Boo front yard with every inflatable Christmas lawn decoration ever sold in that back garden part of Walmart after they run out of lawnmowers.  Now I finally know who buys all that shizzle.
There were Santas, snow globes, nutcrackers and enough 12 foot tall reindeers to make any kid pee his pants if he wasn't emotionally prepared for the sight when glancing out that train window as it buzzed the Boo Boo garage.
Could that train come any closer to their property line?  I need to see the back of that garage, because I'll bet you good money that it's like an Acela train conductor tradition to hang your hand out the window as you blow by and stick a wad of gum on the roof shingles.  I just know it for some reason.
It came as no surprise that June and Sugar Bear were doing all the hard labor.  The three older girls are already national icons when it comes to shlubbing around the house.  If it don't come in a snack bag, they ain't picking it up.
Yeah.  Chickadee is preggo, though I'm guessing she wasn't training for the McIntyre Half Marathon before she did the deed.  But she is knocked up, and it was 100 degrees out there, so Teen Mom scored a Get Out Of Mayberry Jail Card.  This time.
Chubbs and Pumpkin on the other hand, were just dead weight.  Pun intended.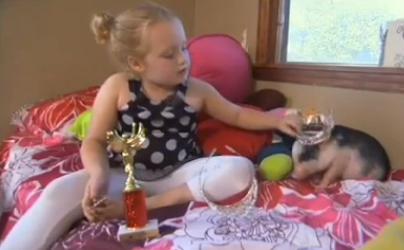 As Alana ran around hugging each inflatable as though she were using her pageant powers to give them life, Chickadee somehow managed to make a Lay-Z-Boy Santa recliner look like something you would stick to at your OB/GYN's office.
The other two girls sweat it out, cramped it out, complained it out and swatted at gnats almost as quickly as they swat those stray BBQ chips that always fly out of the bag when you first tear it open.
Seriously.  Those girls could snatch a flying bullet mid-air if it had mustard on it.
Then it was off to practice for the Rock Wear portion of Alana's upcoming pageant.
As you'll remember last time, June and Alana had hit up the Deevas Dance Studio to get some pointers on a new Elvis routine that they could unleash on the judges.
Beautimous Amanda Carter had taken time from her busy schedule of bleach striping her hair and testing out all the Avon Fall 2012 lip smear colors to design a few pelvic thrusts for Alana.  She apparently also hootched…I mean, hooked…up Alana with a Deevas branded version of those I ♥ PINK sweatpants with the logo on the butt.
How is it possible that not one person ever knows their own true size when they buy those stupid pants?  Because that's how it all starts.
Then before you know it…UGG boots.
Thanks, Amanda.  I'd kiss you, but you know…the whole lip thing.
Unfortunately, Alana was having a hard time remembering it all during rehearsal.  Since I spent way more time being distracted by the studio and the new Fall colors than I did watching the original lesson last week, I'm not sure if the moves were too difficult or if it was just the hot Santa sun.
But either way, Alana had a little dramatic Deevas Moment and laid on the stage like tomorrow's dinner on the highway.  Except roadkill doesn't have Helvetic font on its a**.
Now I don't know if it was due to the hot sun, or the excitement of Christmas in July, or head trauma from laying on the stage floor, or what…but for some reason Alana was suddenly gifted with the power to speak Spanglish.
de veras!
(Google it.  It'll be fun, and will kill some time at work.)
It wasn't quite Ricky Martin Spanglish.  Or even Charo on the Love Boat Cuchi-Cuchi Spanglish.
Think more of a Beverly Hills Housewife finding out that her Valley Girl daughter had slept with the gardener and the cowboy who was in town for a Rodeo Benefit while they were on a road trip to Georgia.
Then just slop that all up into a half-price burrito with a double coupon, and somehow when Alana said "OMG. Oh My Door Nuts" it all made sense.
At least in my world.
Plus the Door Nuts reminded me of a Redneck joke about Deer Nuts.  Wanna hear it?
Q. What's the difference between Beer Nuts and Deer Nuts?
A. Beer Nuts cost $1.75…Deer Nuts are under a Buck.
Get it?  Under a Buck.  Like a boy deer.
Hilarity.
Now if Glitzy the Pig wasn't squealing all night you could go to bed and ponder that last paragraph while realizing that you'll never get that time back.
Again, whether due to the heat, the excitement or general pageant pig gender confusion, Glitzy had been keeping the Boo Boo household up all night for snacks.  And then repeating the whole process again at ButtCrack A.M. for his sunrise feedings.
June don't play dat.  Girlfriend needs her beauty sleep.
Alana loved that pig and considered it her lucky charm to win the upcoming pageant.  She loved it like a family member.  Maybe even more than some of her family.
But keeping a pig in a baby crib in a house with one bathroom and two converging Acela trains just wasn't working out.  You know it's bad when it turns out that the pig is louder than the rush hour commuter rail.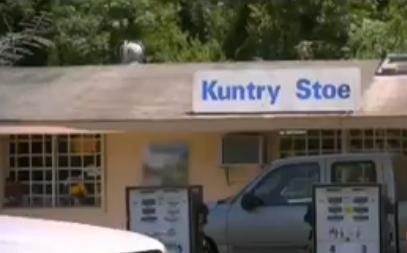 So as much as June hated to do it…Glitzy had to go.
Which meant a family meeting where she and Sugar Bear could break the news to Alana and the girls.
After Chubbs, Chickadee and Pumpkin high-fived each other with the realization that there would now be more food for them to snarf down, Alana cried and it got really sad.
And really slow motion.  Like a Lifetime movie almost.
With one of those songs that always plays on General Hospital when they're just about to pull the plug on Jason Morgan and his brain tumor lilting through the Boo Boo house, Sugar Bear picked up Glitzy in slo-mo and handed him to Alana for one last raspberry kiss.
Then he scooped up the poor little gay pig and left through the front door, where I actually expected to find Jane Seymour standing with open, welcoming pig arms since the bitch is in every Lifetime movie ever made.
But no Jane.
And now, no more Glitzy.
After a quick Kleenex dab to my eyes, it was off to the Mud Bog!
Family friend Crazy Tony and his platoon of crazy 4 wheeling buddies all came to the aid of sad Alana.  And nothing cheers up a kid like getting dirty.
Mud Boggin'.  Tubin'.  Face plantin' in the ditch.  It was a Redneckified day at the amusement park, complete with the opportunity for the boys to drag June on her muddy booty backwards down a hill towards the water like marine biologists do when a whale can't breath.
And then it was finally time for Santa!
Sugar Bear, for whatever reason, had a stock pile of three Santa suits to choose from as he dressed in the Boo Boo Boudoir.  As June lay seductively on the bed, he exposed all his whiteness and almost burnt out the contrast options on my television.
How do I explain this one?  Let me think….
How many of you have ever tried to watch bootleg porn that wasn't properly calibrated for the type of monitor screen you were using?  And the picture gets stretched out so much that all the porno actors look fat and appear to be rolling around the bed more so than getting busy?
Anyone?  Show of hands?  Come on.  You can tell me.
Well.  It was pretty much just like that as Sugar Bear stripped down and June hoisted her goods up on the bedspread and made some kind of tongue flap thing happen in her mouth.
If you think finding out the truth about Santa could scar you…try that one on for size.
Unfortunately, the mood was ruined by June's realization that the bedspread was covered in toenail clippings.
I'll wait while you process that one.
Not gonna lie.  As much as I should have been horrified, I was more mesmerized with the concept that one of the girls would actually take the time to stop gobbling cheese balls, get off the couch, go to the bathroom, find the nail clippers in what you know has to be a big hot mess of a vanity drawer and then go all the way into their parents' bedroom just for a pedicure.
Maybe it's just me, but that whole scenario just seems like a lot of work for three girls best known for striving to achieve the opposite of a lot of work.
Quick flip of the nails onto the rug and it was good as new.
Christmas in July was a success, for the 12 kids who showed.  From what I gathered, if you brought a can of StarKist you got to sit on Sugar Bear's lap in 100 degree humidity.
In a Santa suit that smelled like the opposite of Beer Nuts.
But it was for a good cause.  A little creepy.  But a good cause.
Gah…I love these Boo Boos.
Right as we were about to bid a fond Y'all Come Back Now, Chickadee went and cramped up on us.  Big time.
Teen Mom is only 34 weeks out in her pregnancy, so the last thing anyone wanted was a preemie baby on a hot summer night.  I mean, they just got rid of the pig.  Is one night of sleep too much to ask?
One call to 911 and a couple of 14 year old EMTs were on the scene escorting Chickadee, and all her drama, out the door.  One kid looked pissed that he had to stop his video game in the middle to drive out to Casa Boo Boo, but duty called.
As the ambulance laid a patch of gravel, June and Chickadee were off to the hospital, leaving a smelly Santa and a pageant princess in the dust.
OMG.  It's like totally to be el continuedo.  Mucho continuedo.
We miss you already, Glitzy.