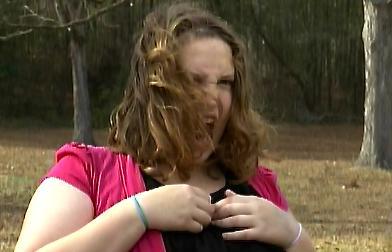 I don't need boys…or eating utensils…like all them other girls. Just gimme beef and a damn surge protector.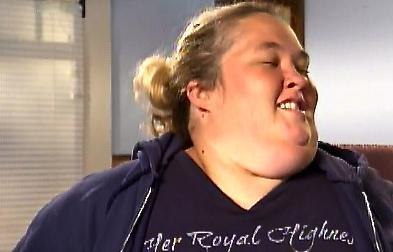 Hell yeah, they get it from their Mama, cuz Baby Got Back. And it's all dipped in hot awesome sauce. Don't be hatin'.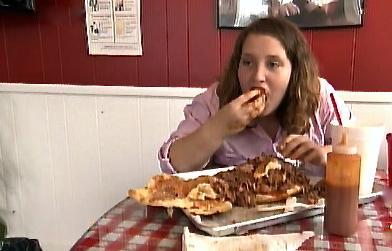 Nom. Nom. Nom. Nom. Nom. Nom. Nom. Nom. Nom. Nom. Nom. Nom. Nom. Nom. Nom.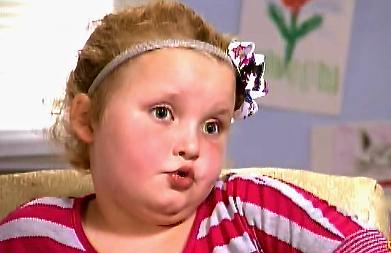 Yeah. I pretty much turned out to be the normal one in this family. Guess you would have lost that Dolla Make Me Holla bet, hmmm?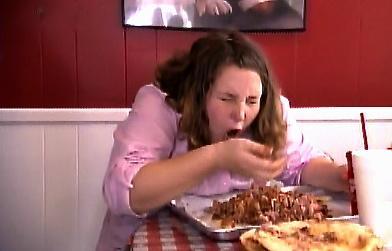 Nom. Nom. Nom. Gag. Gag. Gag. Gag. Nom. Nom. Nom. Gag. Gag. Gag. Gag. Nom. Nom. Nom.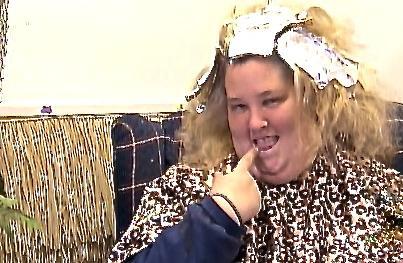 If you like it than you better put some Wings on it…and don't forget the baked potato. I've got the foil and a little left over butter right here, boys.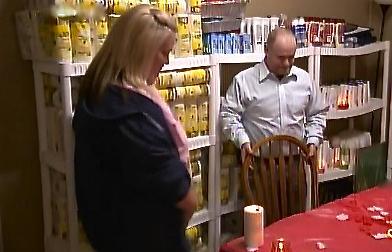 If all this romantical crap sets my 478 rolls of toilet paper on fire I'm gonna kick your scrawny dip spittin' a**, dude.
I just can't.
Forget the subtitles and freebie Whiff & Sniff cards.
If somebody smarter than me can figure out how to cram them into a People Magazine, this show needs to start coming with Visine and Rolaids.
Or at the very least, some kind of advance warning system that could flash across the bottom of the screen to mentally and physically prepare us for what we're about to witness and/or digest, because 30 seconds into this week's brand new, calorie laden episode of Here Comes Honey Boo Boo my eyes were already burning as I nursed a belly cramp.
Visual and gastronomical overload, I tell you.
Now you know I love me some Boo.  And Mama Boo.  And Papa Boo.  And all the Boo sisters.  Even that new little Boo with all the thumbs.
Love.  Them.
But their dining etiquette…and lower intestines…are a hot a** mess.
It was the countdown to Lauryn's birthday as we returned to Georgia, and Mama June was in full party planning mode.
Pumpkin, as she prefers to be called at the Piggly Wiggly checkout and on Mensa applications, was turning either 13 or 39 this week.  I forget.  It was hard to tell sometimes, because she's a pretty sturdy girl for a tweenie bopper.
But Pumpkin also likes to write on her tongue with permanent laundry markers and try to catch hair dryer air in her mouth before it gets cold, so it's a pretty safe bet that she was only turning 13 years old.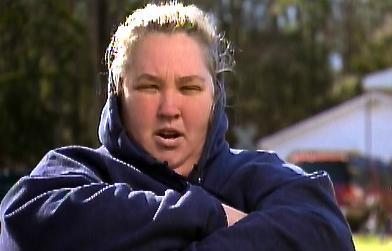 Since Mama is always up for any non-challenge of a challenge, she was messing with Pumpkin's head by telling her that the only thing they were planning this year was another meal served on those white styrofoam picnic plates that apparently double as fine china at Casa Boo.  No party.  No nada.
Shot the wad with Sugar Bear's Daisy Duke piñata.  Sorry.
Psych.
The real dealio was that the whole Boo Brigade was headed to Papa Buck's BBQ joint to try and tame the infamous (…read this in a scary voice with an echo…) Pigzilla!
Yeah.  Pigzilla.
Think Godzilla.  Except it's a pig.
A really, really big pig.  Have some screaming Japanese farmer kill it before it destroys the streets of Tokyo.  Then ship the carcass to America.  Shred it.  Coat it in the nastiest goo you can kind find.  Cook it in more goo.  Stick it on a bun.  Squirt it with even more goo than the first two times.  Try to put the top back on without it sliding onto the floor.
And then make it give you a heart attack on the spot, so when they find your body it's all bloated and your hands look like you just helped deliver a calf at Southfork Ranch.
Pigzilla.
Three pounds of meat.  One pound of bun.  Forty five minutes to eat the entire thing and then five more minutes to plug both ends and sit really still to make sure it stays inside you or you'll forfeit the $200 prize.
Which you can then put towards gastrointestinal reconstructive surgery.  Or an iPod.
But, sssshhh.  Remember:  It's a secret.
So don't say anything, even though I'm pretty sure that you could probably write the whole thing down on a Post-It, let her read it and then stick it on her forehead and somehow Pumpkin would still be surprised enough to wet herself when you pull up in front of Papa Buck's on Saturday.
I mean…is it me?  Or is there always something with Pumpkin?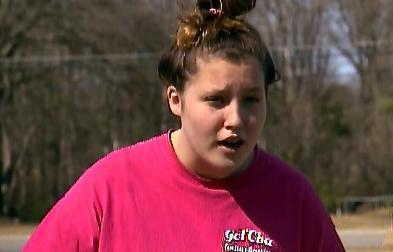 As Alana and Pumpkin ran back and forth into each other's bare stomachs to…ummm, I don't know…see who could make the best bare stomach hitting another bare stomach sound, we finally got an explanation of sorts.
Turns out that 6 or 7 years ago, while plugged in to her Rosetta Stone advanced language DVD in preparation for a trip oversees with some Harvard exchange students, Pumpkin suffered a bit of a traumatic shock when a storm unexpectedly hit the town.
Zap.  She was freakin' hit by lightening.  I swear.
Lightening that struck the house, ran through the power lines, lit up those 24/7 gutter holiday icicle lights and then zapped the smart right out Pumpkin's brain.
Forever.
Alana even drew us a Crayola triptych (…that looked uncomfortably like one of those "Where did he touch you?" pictures they show in court…) to explain how Mother Nature turned her sister from Happy Pumpkin into Stupid Pumpkin.
From the mouths of babes.
But they love that crazy girl.  Even when she shaves her eyebrows or cuts her bangs off at the roots.  She's just Pumpkin.  Der.
And that calls for a dance.  A tap dance.
Because that's Alana's new thang.
Since she is on hiatus from the Pageant World until she either gets on a treadmill or gets up enough nerve to go back and see that scary skunk-haired Deeva Dancin' Pageant Coach Amanda Carter (…wasn't that name already used in Gunsmoke?  And what is really the deal with that hair?…) Alana needed another hobby.
So tap dancing is the new pretty feet.
Looking like a self-described "Minja,"…which is some kind of half Ninja and half something that starts with 'M'…Alana stormed the Flag City School of Dance to get her chubby Boo Boo into a tiny Tutu, ya'll.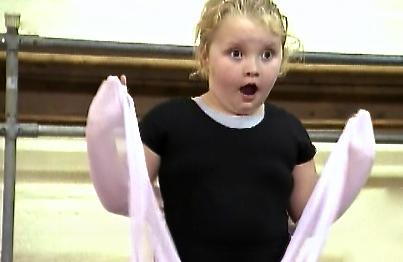 Seriously.  How long does it take for Go-Go Juice to flush itself out of your system?  That was like three years ago, wasn't it?
Buzzing around like Act 2 of Redneck Ballet's I'll Kick You In The Nutcracker, Alana somehow made a tutu look like a floppy midriff lampshade as she and another equally crazy girl twerked it out in their own little world, completely oblivious to anything, anyone and any directions being given around them.
By the time the instructors gave up and just let the kids all go "FREESTYLE!" it was like someone was pumping pure oxygenated sugar in through the air vents.
Gah.  I love that kid.
Back home, Pumpkin continued using her recently acquired electro-charged culinary skills to whip up a giant bowl of ravioli, pork chunks, chalk dust and cheese balls which she then used to soak her hands in like an old Palmolive television commercial.  Madge!
Google it, kids.  Or text an old person.
Finally, it was Pigzilla Day!  And it went exactly as you'd imagine it would go when someone attempts to eat a four pound burger after getting struck by lightening.
Not unlike the scene where Han Solo cut open that Tauntaun and shoved Luke Skywalker head first into the slimy guts to keep him warm and all that goo ended up on his face and in his hair.  It was like that.
But with a choice of sauces and a back office wastebasket nearby in case you got a gas bubble before the five minute launch sequence was completed.
Gross.  Table for one.
Needless to say, there is not an additional $200 in Pumpkin's Glitzy the Piggy bank.
Luckily, Sugar Bear was feeling pretty romantical and that took the edge off all the gurgling noises that started percolating below the belt.
After nine years of shacking up with June, he wanted to make it official and ask her to get married.  As in…be his wife.
D'oh.  Couldn't you just hug him?  From a distance?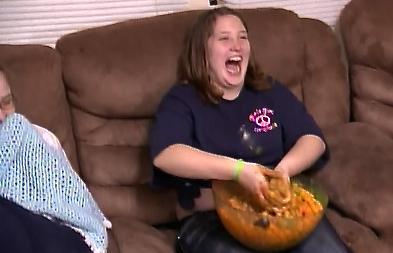 Despite his dip teeth and chalk miner lungs, he loves that woman.  And her kids.  And he wanted to finally give them more stability and a legit date for the Father/Daughter Mud Bog Splash later in the school year.
Plus, she was ripe for the picking.  He said so.
After gathering all the girls together and getting their blessing, it was time to commence a'plannin' as they say in the Li'l Abner musical.  But only after some quality family time at the Bowl-O-Rama, where we finally got to meet Jessica's new boyfriend Phillip.
A boy?  Dang.  You go, Chubbs.
He seemed like a nice enough kid, and I'm thinking that dazed look on his face was more from genetics and location than from actually being hit in the back of the head with a shovel like Foghorn Leghorn.  Because that's totally what I'm going to look like the next day after Mama June has me over to the house for sketti.  Totally.
The end result of bowling was that somehow Pumpkin cheated and yet still managed to lose a bet with Mama.  So guess who spent the night rubbing lotion into someone's Forklift Toe?
Yeah.  Lotion.  And big, beefy toes wiggling all around like sock puppets.
Thank goodness Mama actually kept those socks on or it could have easily crossed the line into one of those creepy porno fetish movies that always end up stuck together at the bottom of the discount bin.
Or so I heard, I mean.
On a lighter note, if you're stuck with what to do with that extra turkey fryer you have laying around…here's your answer.
Take it to the local pawn shop and trade it in for a wedding ring.  Because that totally happened next.
Sugar Bear and Alana went in search of the elusive Sausage Finger Ring, and he was so nervous it made me smile.  He even admitted that the whole idea of marriage had his mind racing like two squirrels in a wool sock, which was different than the two cat version I remember hearing on some other show earlier this year.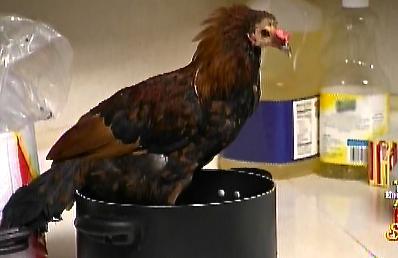 Squirrel or cat, I still believe that one of them trapped inside a sock would probably go just as spaz as two would, so I'm thinking that maybe I just don't get the whole redneck repartee.  I think I'll try it one day when the ASPCA people aren't soliciting for money outside CVS and report my sock results back at a later date.
After I learn how to catch a squirrel, that is.
Finally, it was Proposal Day!
While June was off getting her hair did, Sugar Bear and the girls went completely iParty Valentine's Day throughout the house.
Rose petals, plastic tablecloth and way too many flavors of scented candles placed way too close to all of June's flammable coupon stockpile of deodorant and aerosol pageant hairspray.  Seriously.  He could have shot that house onto the Moon.
Even Nugget the Chicken, who had spent most of the day sitting inside a pot on the stove (…WTF?  Again with that rooster-looking chicken in the house?…) was finally put in a cage after pretending to lay a gold plastic Walmart egg.
Sugar Bear even put on his Funeral Shirt, which was somehow different from the Professional Shirt Pumpkin had worn during the Attack of the Pigzilla.  So you knew he meant business.
When Mama came back from the salon all naturally highlighted and sunkissed, she was all like "What The–?" and Sugar Bear was all like "Sit Down Sit Down" while the girls all pig piled on the kitchen floor trying to hear what was happening.  They even brought sleeping bags to absorb any residual butter from last week's Redneck Slip 'N Slide floor glaze.
Even through his flop sweat, Sugar Bear was like a little boy asking a girl out to the cafeteria dance.  He even got a little teary eyed (…either from emotions, candle smoke or a damn chicken in the house…) but finally got up enough steam to pop the question.
Will you marry me?
To Be Continued…