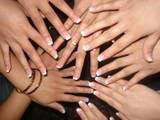 G'morning all!
Today's post is going to feature herbal recipes for keeping your hands and nails beautiful without breaking your pocket book.....Enjoy!
~Peace~
Healthy Nails And Hands

Lemon-Sugar Hand Scrub~
This is a wonderful scrub to turn rough, dry, callused hands into soft and touchable hands:
1/2 cup sugar
1/2 cup sea salt
6 drops lemon essential oil
3 tbsp almond oil
Mix together all ingredients. Pour into a clean container with a tight-fitting lid.
Wash hands then apply 1-2 tsp of scrub to hands, rinse well with warm water and pat dry hands. Yields 8oz

Basic Hand Cream~
Use this cream on all your rough-skin spots, such as elbows, knees and heels. Beeswax lends a wonderful mild honey scent; you can also add a drop or two of your favorite essential oil. You can find borax powder in most grocery stores in the laundry section:
1/4 cup water
1/8 tsp borax powder
1/2 cup sunflower oil
2 tbsp grated beeswax
Add the borax to boiling water and stir until it is dissolved. Set aside. In a separate container, mix together the oil and beeswax and heat gently in the microwave or on the stove top until the wax just begins to melt. Remove from heat and stir well until the wax is completely melted. In a blender or food processor blend the oil mixture and the hot water mixture on high until well mixed. Pour into a clean container to cool. You should have a white fluffy cream.
To use, massage into your hands and nails. Yields 4oz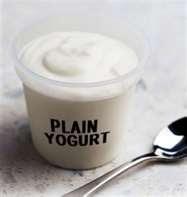 Overnight Hand Mask~
This simple mask will soften your hands while you sleep. The yogurt smoothes skin, while the oils add plenty of moisture. You'll wake up with amazingly soft hands:
2 tbsp plain yogurt
1 tsp castor oil
1/2 tsp almond oil
1/2 tsp vitamin E oil
Mix all ingredients until smooth. To use, massage the entire mixture onto your hands, then cover with cotton gloves or socks and leave the mask on overnight. In the morning, wash your hands, then follow up with a rich cream or natural oil for more moisture. Yields 1 1/2oz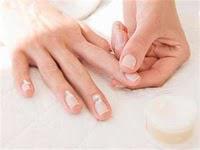 Cocoa Cuticle Cream~
Conditioned and increased circulation in your nails is what you will get after massaging this cream daily into your cuticles:
2 tbsp coconut oil
1/2 tsp grated cocoa butter
In an oven proof container, combine the coconut oil and cocoa butter and heat gently until melted (stovetop or microwave). Stir well until you have a smooth cream and let cool completely. To use, massage a small amount into cuticles.