Rowing gets a bad rap. It has a reputation for being elitist, posh and swanky. And I'll be the first to admit that with the dominance of public schools in junior rowing and the blue chip businesses that swarm around its events, it's not hard to see why. Yet if I learned one thing this week, from Henley of all places, it's that at its core, for all the privilege and the cut glass accents and the blazers and the boaters, rowing can be an astonishingly egalitarian sport.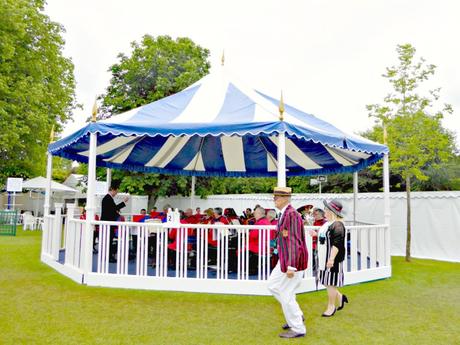 Henley – all blazers and boaters?
Until last week, I'd never been to Henley. Actually, that's not strictly true. According to one of my friends I did go there as a student, but I have absolutely no recollection of this. Must have been a heck of a day. Anyway, to all intents and purposes, last week I was still very much a Henley virgin. I knew Henley involved elite racing in fancy surroundings, and assumed it wasn't really for the likes of me, but that's about as far as my knowledge went. What I didn't realize was how much fun it could be, even for an Ordinary Club Rower like me.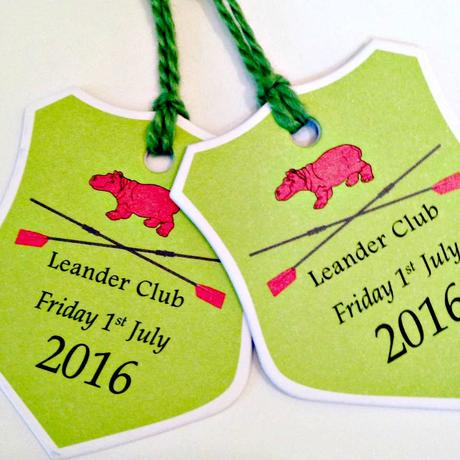 Leander badges
I wanted my first Henley experience to be a good one, so I asked on Twitter if anyone had any tips. And this is where it all got a bit out of hand. Before I knew it, I'd scored some Leander badges (little tags that allow you access to Leander club, just below the finish line, complete with nice loos and a fancy place to have drinks) – a gift from the ever-fabulous Di at Rock the Boat. And then, to my astonishment, a message popped up from Matthew Pinsent (yep, Actual SirMP CBE) saying he'd try to get me a ride on the umpire's launch. Which is when I briefly lost the power of speech (a rare event in my life).
Let me put this into context. I am a very lowly member of a small provincial club. It took me four long years to lose my novice status, during which time I lost 32 races. In rowing terms I am, not to put too fine a point on it, a nobody. Matthew Pinsent, on the other hand, is a giant in the world of rowing. He has four Olympic gold medals and 10 World Championship golds to his name. He is, not to put too fine a point on it, rowing royalty. Small wonder I was struck dumb.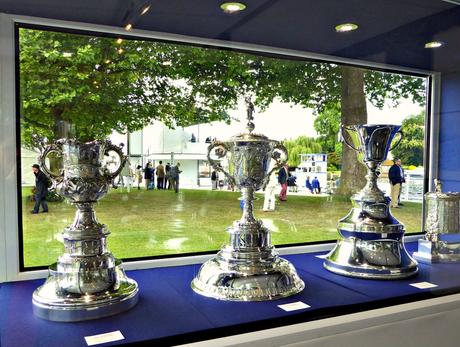 The kind of bling that Girl on the River has never won, and SMP has.
Unsurprisingly, I wondered if on the day I'd feel a bit out of place. After all, I didn't know my way around. I didn't have a club blazer to show off in. And I didn't understand a lot of the things I was hearing on the tannoy. What was Fawley? What and where was Remenham? Why were they talking about miles and not metres? It was all very confusing. But people were unfailingly helpful and lovely. I got chatting to people everywhere I went, from a fabulous lady from Canada who took up rowing in her sixties, to a chatty security guard who, I'm pretty sure, directed me to a part of Leander that was out of bounds to non-members.
I also bumped into a bunch of people I knew, often putting faces to names for the first time, and even ran into my favorite kit-ladies, the Queen Bs themselves.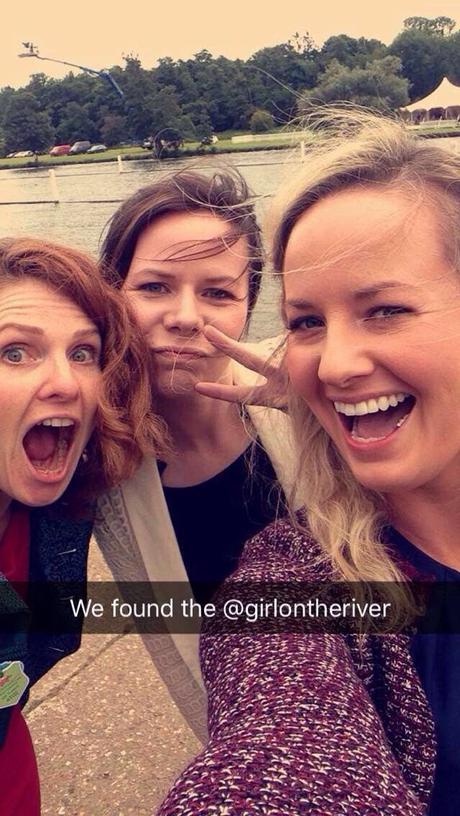 Queen B reunion on the towpath
Admittedly there was the dreaded contingent of braying hoorays in loud blazers and louder voices who every now and then brought out my inner Corbyn. But there were also rowing fans in shorts and T-shirts, drinking cheap cider and eating sandwiches on the riverbank, where you didn't need a ticket or a badge or anything other than an interest in rowing to have a good time.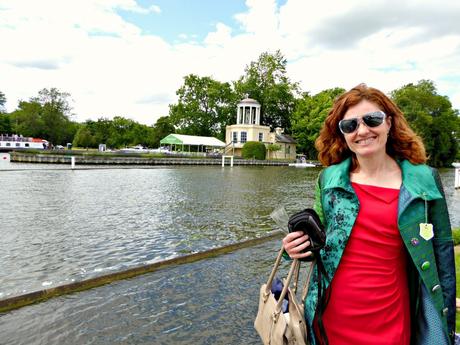 Girl on the River at Temple Island (which I now know is where the races start).
And the rowing really was fantastic. You can get right up close to most bits of the course without access to the stewards' enclosure (which is at the finish). From the towpath you can stand at the start, close enough to make your heart race if you've ever sat in a boat waiting for "Attention, Go!" You get to see some of the world's best rowers, right there in front of you, giving a masterclass in how to race well (and, occasionally, how to race less well – there were a few terrifying collisions with the booms at the side of the course and even a disqualification for unsportsmanlike behaviour).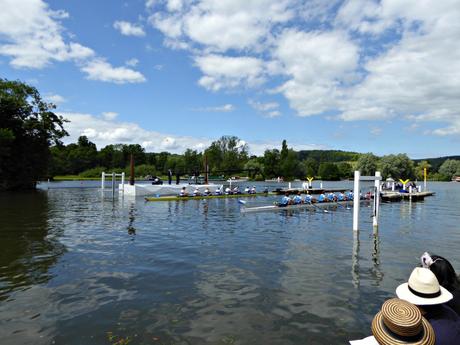 The start.
And if you can't get there in person, there is brilliant (and free) footage live streamed on YouTube (which pretty much wiped out the rest of my week) filmed on a combination of static cameras and a drone.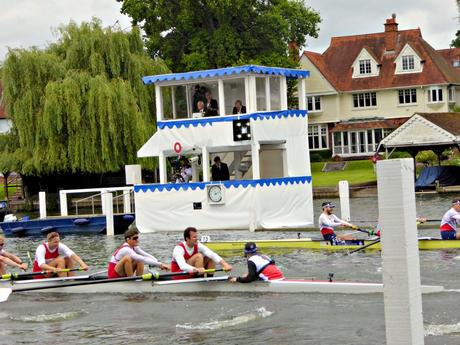 The finish.
As for me, after a day playing telephone tag with a magnificently patient Matthew Pinsent, I finally got to meet the great man himself and got a ride in the launch, following a race between a Swiss club called Grasshopper (hence the supporters' excellent green trousers) and Henley Rowing Club. Seeing it all so close up, with spray flying everywhere and the wind in our hair, was a total privilege and I am still a little bit slack-jawed about it all. So hopefully you'll forgive me if, just this once, I let the pictures do the talking. Here they are.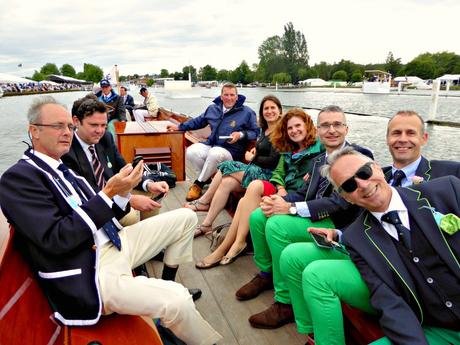 In the launch with Actual Matthew Pinsent and a cloud of grasshoppers.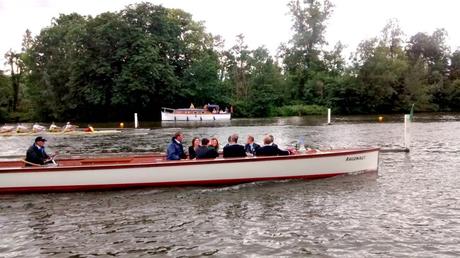 Trying to pretend I don't know the people on the bank yelling "Trash!"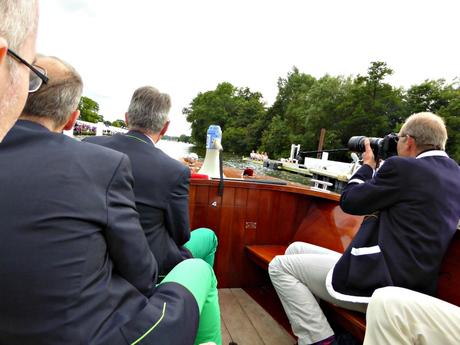 At the start. Heart racing.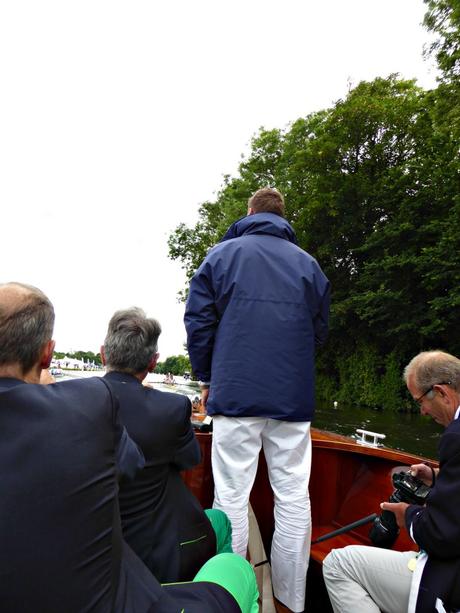 Matthew Pinsent taking up position for umpiring.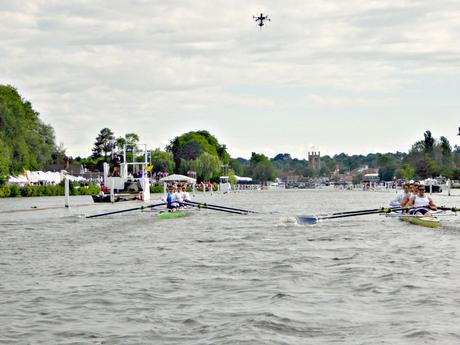 The crews, with drone above.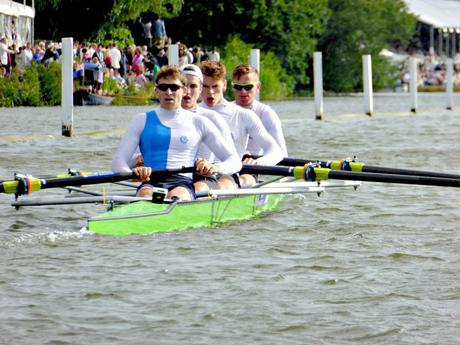 Grasshopper Club, Zurich (who won the race and, subsequently, the Wyfold Challenge Cup)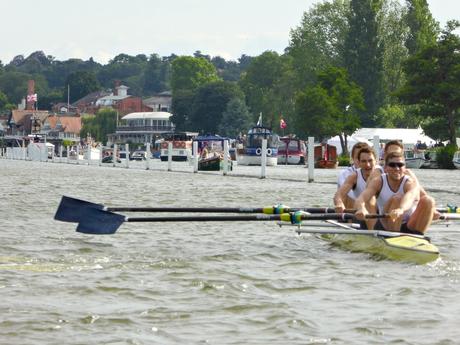 Henley Rowing Club.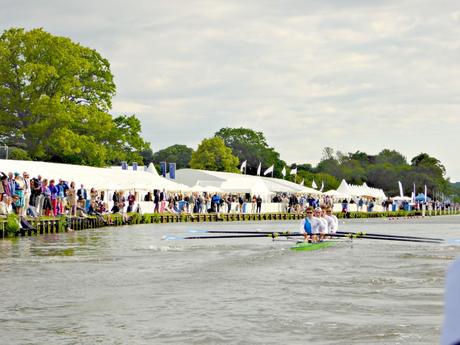 Grasshopper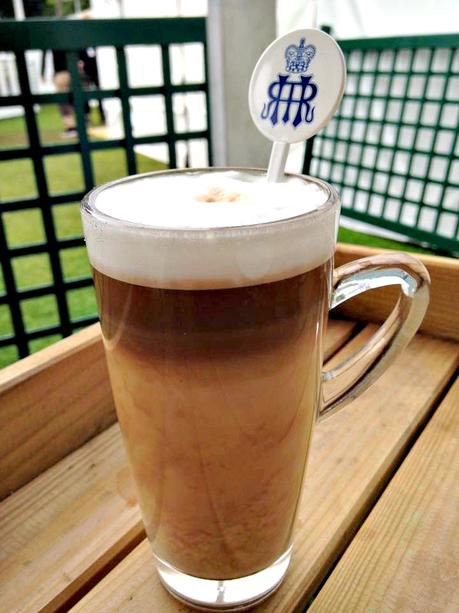 Just because.