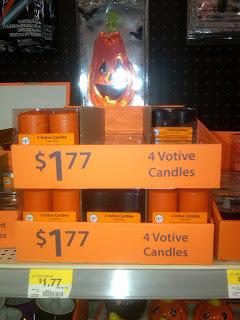 A follow-up to what I posted yesterday about the media event PRRI is holding today with Catholic University of America, regarding the Catholic vote: as Chris Morley points out in a comment following that posting, PRRI has tweeted that the press conference will be live-streamed. The link for the live-streaming provided by PRRI's tweet points to the C-Span Live Stream site.
The live-streaming will begin at 9 A.M. EST. I'm assuming that at that time, you'll begin seeing the program on the page to which the link I've just provided points.
In addition (another thank-you to Chris), the text of the address given yesterday by Father James Martin when he received New Ways Ministry's Bridge Building award is now available at the Bondings 2.0 site. America also published the address yesterday. And there's a summary of it with commentary by Bob Shine today at the Bondings site.
The graphic: votive candles for sale in the Hallowe'en section of Wal-Mart in Ravenna, Ohio, in 2012(?). The photographer, PFAStudent, has uploaded the photo to Wikimedia Commons for sharing.