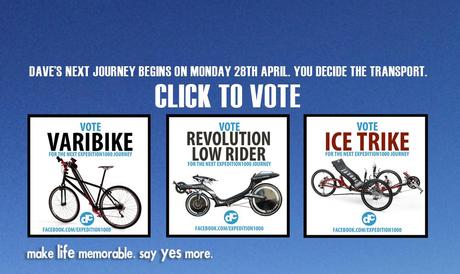 Yesterday I posted that Dave Cornthwaite, and his traveling companions, had wrapped up the most recent leg of his Expedition 1000 project, in which the British adventurer is attempting to complete 25 individual journeys – each 1000 miles or more in length – completely without the use of motorized transportation. Earlier in the week, that meant finishing a 1000-mile journey across Chile's Atacama Desert on a wind and pedal powered bike known as a Whike.
As he wrapped up that journey, Dave was already planning to move on to the next one. But this time, he's letting us decide exactly how he'll travel. This weekend, he'll be appearing at the Spezialradmesse, a special conference dedicated to non-motorized transportation that is taking place in Germany. Once he has finished speaking at the "Spezi," he'll then have to get back home to the U.K. He plans to pedal a bike of some kind, but which bike exactly is up to us.
Dave has posted information on all three options, and launched an online poll so we can vote. His potential modes of transportation include the ICE Sprint 26X Trike, the Vartibike FR3, and the Troytec Revolution Low Rider.
On Sunday, Dave will announce the bikes we've chosen for him, and Monday he'll set off on his next 1000-mile sojourn. It should be interesting to see what gets picked, and how it fares on this leg of the project.
Go cast your vote, but don't be too evil in your choice.