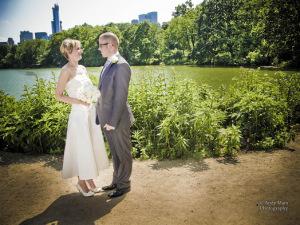 Helen and Owen started dating when they were seventeen and have been together ever since. This June, they brought their close family and friends all the way from their hometown of Liverpool to New York City in order to get married in Central Park.
Owen and Helen had talked about getting married to they went to the Jewellery Quarter in Birmingham to pick out a unique ring that wouldn't be available in a High Street shop. Helen chose a couple of rings that she liked then left Owen to decide in private which one he wanted to buy. The plan was for him to wait and surprised Helen with a proposal sometime over the coming year. He did surprise her because he waited all of 24 hours! Helen tells the lovely story; "I returned home from work the next day to find a note on my front door that began a treasure hunt in the house. With each note I found there was also a gift for me. The last note led me to the dining room where there was dinner waiting for me on the table and the room was decorated with balloons and flowers. I turned to find Owen down on one knee popping the question to which I obviously said yes."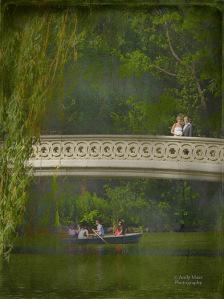 Getting married was important to Helen and Owen because they believe that it shows their love and commitment to each other. "I have always been of the opinion that regardless of your religion or beliefs marriage should not be all about the wedding day, although that is still important, it should be about celebrating your relationship,' said Helen.
Back in 2009 Helen and Owen were all set to get married in Liverpool. The church and reception were all booked and invitations sent. Due to some unfortunate events they had to cancel our wedding, which was terribly stressful. At the time, they said, it seemed important to hold a wedding where they lived and to try and accommodate everyone they knew because this is what is expected but every time Helen thought about having to reorganize everything she got more stressed, and she soon realized that the big, "traditional" wedding was never what she had wanted. It turned out that Owen felt the same way, they both wanted to go away somewhere to get married and make the event quieter and more personal. New York is one of their favorite places so it was the first location they discussed.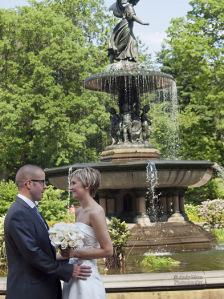 They chose Central Park because they wanted an outdoor wedding and they felt that organizing a Central Park wedding seemed less stressful than many other locations in the city and as they had been there before they knew it would be great for photos. After researching getting married in New York using some UK websites Helen came across the Wed in Central Park website. She felt that my website stood out from all the others and although I am not based in the UK right now, after reading about my background and my blog entries she felt that I would be the right person to help her to plan her wedding.
Helen and Owen stayed at The Royalton on West 44th Street, because it has good TripAdvisor reviews. Helen said that it deserved this good write-up and they were very pleased with it. "The hotel had a boutique feel to it but on a larger scale. The rooms were lovely and most importantly the staff were fantastic," Helen said.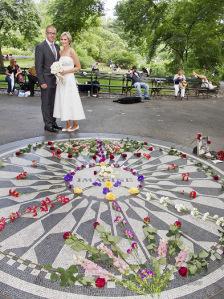 .
They chose the Ladies' Pavilion for their ceremony location. They liked the location and they liked that it had a roof, in case of any rain. This is a frequent worry for the couples I work with from the UK. Helen said that she was happy to go with the suggestions of her photographer
Andy Mars
for other photo locations, as you can see from the photos she made some excellent choices and Helen said that she put her completely at ease.
Helen wore her original wedding dress intended for their 2009 wedding but decided to tweak it a little by having it made into a short style dress instead of full length, which suited the warm day in Central Park perfectly. She brought an artificial flower arrangement from home, made up of ivory cala lilies and roses to save money and to avoid any wilting in the hot weather. Helen and two of her guests visited the Elizabeth Arden Red Door Spa on 5th Avenue to have their hair done and they did their own make up.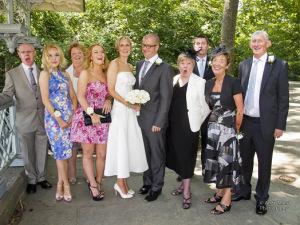 Since Helen and Owen had been to NYC before, they knew exactly where they wanted to eat to celebrate their wedding. After the photos were taken they all went to the Tribeca Grill, where I had made reservations for in advance for them. "The food and service was amazing. They made us a special complimentary chocolate cake which was just fantastic," Helen said.
The couple's main concern was that their guests could spare the time, effort and money attending a wedding in New York would involve. They were pleased to find out that the guests they invited were all very excited about a trip to New york City and a wedding in Central Park. "And also, thanks to Claire, any concerns we may have had about getting married abroad were short-lived as her expertise and advice throughout the process put any of our anxieties to bed," Helen said. Thanks for sharing your wedding day with us, Helen and Owen!