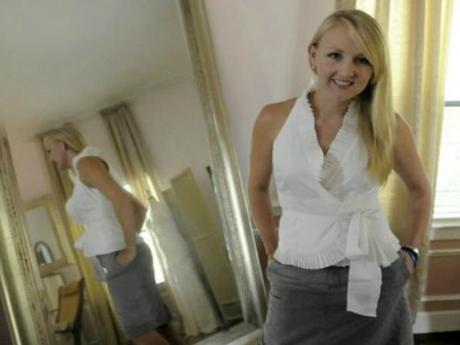 Hello Fabs !! I hope all is well and that you are staying stylish as usual ! Birmingham Fashion Week 2013 is here and I have your schedule to all of the shows. Today one of the founders of Birmingham Fashion Week will be bringing bridal couture to the city for an amazing fashion experience. Heidi will be showing her collection at the beautiful Avondale Villa. Heidi Elnora knows how to inject that "Southern sparkle" into the modern girl's wedding. From a small town to Project Runway and back, Heidi has patterned her life after fashion. Since the launch of the Heidi Elnora brand in 2006, Heidi has dressed hundreds of brides from Los Angeles to Dubai (and everywhere in between) for their big day.
If you didn't know Heidi Elnora and her beautiful wedding gowns by now , no worries you will . She is on the fast track to becoming a household name . Here is a bit more history of Heidi Elnora and her magical bridal collection .
Heidi's journey into the world of weddings began when she graduated from the Savannah College of Art and Design in 2002. Upon graduation, Heidi designed children's wear for Carter's in Atlanta. It was during this time that Heidi auditioned and was selected for season 2 of Project Runway. After the show and four years at Carter's, Heidi decided it was time to make her dream of designing wedding gowns a reality.
In November of 2006, the brand heidi elnora was created back in Heidi's hometown of Birmingham, Alabama. Heidi stays true to her roots by taking a handmade approach when it comes to designing her gowns, which are known for their polished lines and attention to detail. Garment artisans in Alabama craft all gown details by hand. In October of 2009, Heidi Elnora said, "yes" to Jeff Baker, her husband. They currently reside in Birmingham, Alabama with their son, Jack.
For the past 3 years, Heidi has opened her doors to wholesale accounts, her "sister stores," if you will. Brides-to-be can now find heidi elnora gowns across the world. New for Fall 2013 is the introduction of Heidi's latest collection, "Heavenly Days." This collection, inspired by a light-hearted feel with an air of vintage femininity, is meant to make a bride feel whimsical, romantic, and young at heart. Get your tickets now cause this show is sure to sell out !!
fierce and luv ♥