Better Luck Next Time (in Overtime)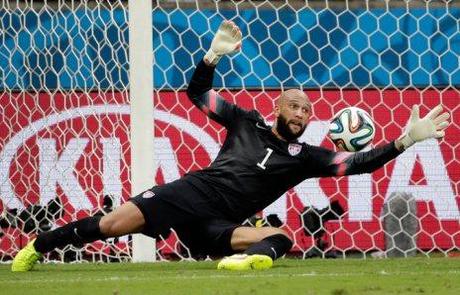 Team USA goalie Tim Howard saves another one (www.nytimes.com)
It was a heart-breaker. Oh, man, was it a heart-breaker! Down to the last 10 minutes of extra time after scoreless regulation play, the fired up Team USA bombarded Belgium's six-foot-six-inch goalkeeper Thibaut Courtois with shot after shot, all to no avail.
After being down two goals to nothing, the US's German-born coach, Jürgen Klinsmann, decided to put in 19-year-old substitute Julian Green, who within a fraction of active field-time placed a tremendous volley into the farthest right-hand corner of the net, giving Team USA a needed shot in the arm. Yay! Go team, go!
USA goalie Tim Howard, who suffers from Tourette's syndrome but is one of the top five best gatekeepers in the business, must have been twitching and jerking about in a blue streak throughout the offensive. It had no effect on his superb goalkeeping skills, though, with Howard setting a World Cup record of 16 saves.
But in a harrowing repeat of their 2010 performance in the Round of 16 at South Africa, whereby the US lost a grueling 2-1 battle against Ghana, the Belgians belittled the American side by the same 2-1 margin in Tuesday's match-up. Green's goal came too little, too late for the totally spent USA squad to triumph over adversity. The heat and humidity sapped whatever strength Clint Dempsey, Michael Bradley, DaMarcus Beasley and their fellow World Cup underdogs Chile, Mexico, Greece, Uruguay, Nigeria, Algeria and Switzerland had saved up in order to press on.
But you can't blame the beastly weather on poor playing and even poorer officiating. Unforeseen injuries (the early loss of USA left winger Jozy Altidore due to a hamstring pull) and dubious penalty calls (or the lack of same) were other unnatural disasters that seemed to thwart these countries' best efforts.
Beginning with the June 28 thriller between Brazil and Chile, it was frustrating to see the Chileans' go down in infamy via penalty kicks after they miraculously made up a one-goal deficit in the 32nd minute at Belo Horizonte. The game dragged on to the inevitable shootout, with Brazil besting Chile three penalties to two, thus boosting Brazil's chances in the quarterfinals against Colombia and sinking Chile's chances for a first-ever bench.
The Colombians had a field day too, so to speak, against the wary but ungainly Uruguayans. Without their star striker Luis Suárez, who was banned from Cup participation for his vampirish shoulder-biting against Italy's Giorgio Chiellini in a previous match, Uruguay fired mostly blanks at the Colombian goal. Colombia and their own star performer James Rodriguez will meet Brazil and 22-year-old superstar Neymar (I wonder what color his hair will be this time) later today in Fortaleza. Will the hot weather continue to be a mitigating factor, or will Brazil shape up in time to change naysayers' mind about Neymar's potential?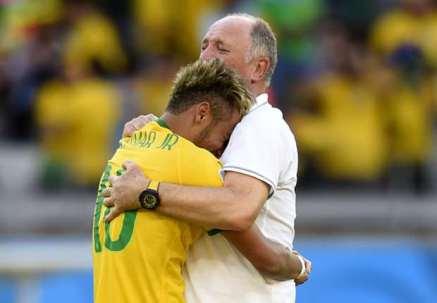 Felipao comforting a weeping Neymar (www.goal.com)
It's been publicized that many of Brazil's players have been undergoing psychological evaluation and/or treatment, if not makeshift sessions with their shrinks, due to the enormous pressure (i.e., post-traumatic soccer disorder) being exerted on them by the Brazilian press as well as over-anxious politicians — among them Brazil's president, Dilma Rousseff, whose reelection bid comes up later this year.
If Brazil makes a strong showing of their soccer skills all should go well at the polls, or so the prevailing wisdom goes. But if the national team loses or makes a pitiable meal out of the match, all bets are off as to whether Dilma — and the country per se — can recover from the shock of a loss to a supposedly "lesser" opponent. It would be 1950 all over again, when the upstart Uruguayans beat Brazil 2-1 before 200,000 awed fans.
Mark my words: Colombia is no pushover. Neither are any of the remaining combatants in this year's World Cup. It's amazing that Brazil has made it this far, no thanks to the under-performing, one-man task force Hulk and the continuously problematic Marcelo. Fred and Dani Alves have been less than stellar in their initial appearances, the tall and lanky striker Jo was out-headed by a much smaller Chilean attacker, and their goalie Julio Cesar needs to step up his game BIG TIME if he's to withstand the coming onslaught.
Other matches in the days ahead include the anything-goes Netherlands, with their chief diving expert Arjen Robben leading the Orange pack against the rising Costa Ricans and their hero goalie Keylor Navas; a replay of World War I with a revitalized France vying for a chance at victory against the bully boys from Germany; and don't-cry-for-me Argentina and their goal-scoring lethal weapon Lionel Messi play the puffed up Belgians.
This 2014 tournament and the Round of 16 is shaping up to be one of the all-time most thrilling World Cups in recent memory.
Soccer's "Advanced Technology" in the Digital Age
And now a word or two about the latest novelties to hit the World Cup Soccer pitch.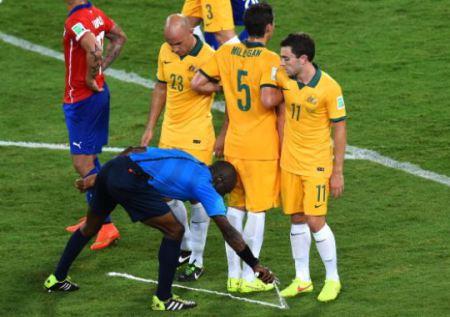 Vanishing spray – the latest technology
To paraphrase the philosopher Descartes, soccer exists, therefore it is. And in order to understand how soccer is played one must first attempt to play it. The same goes for most sporting events, including (and especially) baseball, American football, rugby, basketball, hockey, tennis, cricket, you name it.
But unlike the above-named activities, soccer (and by that, I mean World Cup Soccer) is one game that has the easiest to follow rules. Most of the trouble starts when folks get confused over the offside rule. If you've ever played the game, you'll be able to pick this one up fairly easily. If not, just follow the bouncing ball: to put it in as simple a term as possible, there must be at least ONE defender (besides the goalie, of course) in between an attacker. If the attacker gets possession of the ball BEFORE there's a defender, the attacker is declared to be offside.
Many people would like FIFA to dispense with the offside rule. Maybe, maybe not — but for purists (such as myself), that would be anathema. However, I am all for listening to the arguments pro and con. If it were eliminated, that might reduce the game to 90 minutes of penalty shots or interminable free kicks on goal. That's just one scenario, but I'm sure there are plenty more out there.
I am very much for advanced technology, to include instant replays on questionable calls by referees and other face-saving devices. Of course, the instant replay proposal has to be used with discretion. Otherwise, we might as well call the Cup an International Super Bowl and the inherent stop-and-go non-action.
I loved the new goal technology, however, which can correctly predict whether the ball has in fact crossed the goal bar. But that low-tech foamy lather shaving cream (vanishing spray?) the refs have been using to keep jittery players "in line" during free kicks is a joke! Is that the best that FIFA can do? Still, if it works… why argue with success?
Copyright © 2014 by Josmar F. Lopes