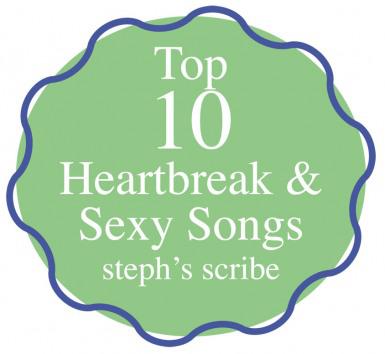 Part II: Today's Feature: Steph's Scribe's Heartbreak Songs & Sexy Songs
Hopeless romantics do not like to have our hearts broken, but when it happens, we need a really good cry out. In this second installment, here are Steph's Scribe's songs that usually bring on the tears…
Heartbreak Songs (Top 12…Yes…that's right. Could not keep it at 10).
12.    Dreaming with a Broken Heart, John Mayer
11.    And So It Goes, Billy Joel
10.    When Can I See You Again, Babyface
9.    You and Me, Lifehouse
8.    Collide, Howie Day
7.    Jar of Hearts, Christina Perri
6.    She's Out of My Life, Michael Jackson
5.    Auld Lang Syne, Mairi Campbell & Dave Francis (From Sex & The City) Here it is live…
4.    Say, John Mayer
3.    Cry Me A River, Michael Buble
2.     You Could Be Happy, Snow Patrol
1.    Breakeven, The Script
 Sexy Songs
As for sexy songs, these are modern sexy, not old-fashioned sexy, which will come later.
10.    No Ordinary Love, Sade
9.    Waiting in Vain, Annie Lennox
8.    Back To You, John Mayer
7.    You Give Me Fever, Michael Buble
6.    I Want Your Sex, George Michael
5.    I'm On Fire, Bruce Springsteen
4.    Dreamlover, Mariah Carey
3.    Come on Get Higher, Matt Nathanson
2.    Let's Get It On, Marvin Gaye
1.    Crash, Dave Matthews Band