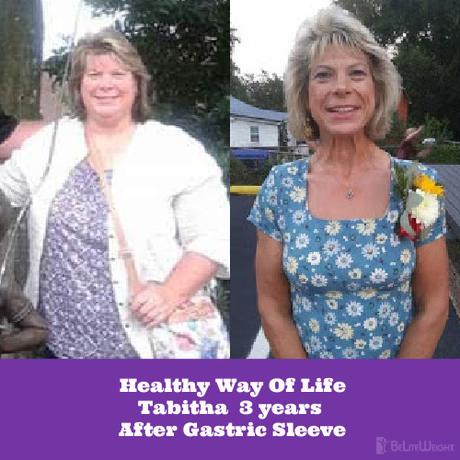 Weight loss changes not only your fat. Many of our clients reduce and often eliminate prior health problems such as: high blood pressure, diabetes, hypertension, thyroid problems and more. Here is what Tabitha wrote to us 3 years after having her Gastric Sleeve:
I have greatly enjoyed the journey over the last 3years. I have felt awesome! My High weight was 303lbs. I Currently weigh 135lbs and I am in a size 6 petite. I would have never dreamed to be that size ever! Belite weight has given me the opportunity to achieve a more healthy way of life! 3 yrs ago I never would have dreamed that this was possible for me. I was on blood pressure meds, metphormin for pre diabetes, thyroid problems also now all take is a vitamin Wow! Life is truly amazing! I am more active now and have lots of energy that never had before. Thank you for allowing me to share this with you.
This is one of the many happy BeLiteWeight stories. We are extremal happy that again we were able to be a big part in the improvement of Tabitha's health ailments. So if you are also still struggling with weight loss or need the inspiration to make a personal change we hope that you learn from Tabitha. Her story offers the courage and confidence to help others take brave steps for their self improvement too. Thank you Tabitha!
For more information on Gastric Weight Loss Surgery and other weight loss surgical questions, please call BeLiteWeight today at 1-800-215-6497!
This entry was posted in Bariatric Surgery, Gastric Bypass, Gastric Sleeve Plication, Gastric Sleeve Surgery, General, Health, mini gastric bypass, Weight Loss, Weight Loss Success Stories, Weight Loss Surgery by Jamie Eberle. Bookmark the permalink.

About Jamie Eberle
Jamie Eberle is the Chief Financial Officer of BeLiteWeight. BeLiteWeight has helped over 7,000 patients have safe, affordable and successful weight loss surgery over the past eight years. Jamie has had bariatric surgery and knows the ins and outs of the different procedures, including: gastric sleeve surgery, gastric sleeve plication, vertical sleeve gastrectomy and gastric bypass surgery, and other bariatric surgery procedures. BeLiteWeight focuses on each patient's needs to help them choose the right procedure and get started on the path to a healthier life.