Ever since I was a little girl, my hair literally stuck to itself. I have always had the worst tangles no matter how often or well I brush my hair. My mom used to actually have to cut knots out of my hair. As I learned to care for my own hair, it improved a bit, but the tangles were still there – especially when my hair was wet. So when I came across yet another detangling product, I was a bit skeptical of it doing much. After using the Healthy Sexy Hair Soy Tri-Wheat Leave In Conditioner faithfully for a few months,I think I can say that it seems to have completely changed my hair! I can comb through it while it is still wet and I feel like it is softer and a bit less damaged than it was prior to using this product. It dries with a nice shine and is less prone to tangles throughout the day. I really love the Healthy Sexy Hair Soy Tri-Wheat Leave In Conditioner!
Healthy Sexy Hair is one of the collections included under the Sexy Hair line. According to the Sexy Hair website, the Leave In Conditioner from Healthy Sexy Hair sprays onto hair and is made with proteins to penetrate the hair while helping to detangle it. It is a nourishing moisturizer and a mild protein reconstructor in one. It contains Soy Protein to strengthen and moisturize, Hydrolyzed Wheat Protein and Starch for enhanced shine and strength and body, Wheat Amino Acids to help retain moisture and add shine, Panthenol to moisturize while adding shine and body, and Cocoa Extract to help smooth the hair while conditioning it. It is safe for use on color-treated hair which is a must for my super bleached locks and it is intended to help improve softness by detangling while providing intensive repairing benefits. Whatever is in it, it seems to work and I am sold!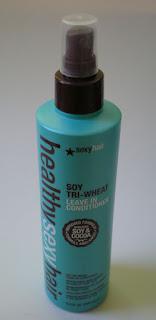 I use the Tri-Wheat Leave In Conditioner after I wash my hair, or anytime it is thoroughly wet. I towel dry my hair with a microfiber towel and then lightly spray this all over my hair. It has a very fine mist that covers a lot of ground with each pump so it takes about 2 seconds to get all of my long hair. Then I comb through my hair with a wide tooth comb. I now have little to no trouble getting through my knot-prone mane and I feel there is much less breakage than if I were not using the product. It seems like my hair air-dries a little bit faster and more evenly than normal and dries with a silkier feel and a slight shine that did not used to be there. I feel like my hair is in slightly better condition than before I started using this spray. It really is a wonder product in my opinion!
You can find the various Sexy Hair lines at Ulta.com retail locations and select salons.
A full-size is 8.5oz and costs $16.95. It is also available in a 1.7oz Travel Size for $6.00. Ulta occasionally has a Buy 2, Get 1 Free special which is a great time to try out a few products, so keep your eyes peeled!
For more about the Sexy Hair line, check out my overview here.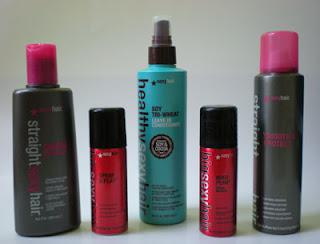 Disclaimer: I am not affiliated with Sexy Hair in any way, nor have I been compensated for this review.