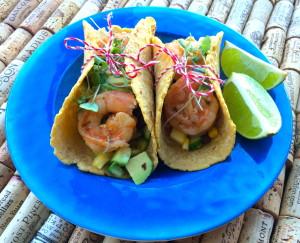 These shrimp tacos are served with a bright and zingy pineapple and cucumber salsa that's packed with immune system bolstering Vitamin C, and powerful bromelain, which aids digestion, boosts circulation, and fights inflammation in the body. Using corn tortillas keeps these tacos gluten free, and the flavor packed toppings ensure you won't miss the heavy cheese or sour cream. Serve any extra salsa with your favorite tortilla chips, or spoon it over grilled fish for another delicious meal.
Serves: 2 (with some extra salsa)
Total Time: 25 minutes
Ingredients:
8 jumbo shrimp
1 tablespoon olive oil
¼ cup chopped cucumber
¼ cup chopped pineapple
¼ cup black beans
¼ cup corn kernels
1 avocado, peeled, pitted, and chopped
2 tablespoons chopped cilantro
2 tablespoons lime juice
Red pepper flakes, to taste (optional)
Salt and black pepper to taste
Micro-greens to serve (optional)
4 corn tortillas, warmed briefly in the oven if desired
Directions:
In a skillet over medium heat, warm the olive oil, and sauté the shrimp until pink and firm, 3-5 minutes. Season to taste with salt and pepper and set aside.
In a bowl, mix the cucumber, pineapple, beans, corn, avocado, and lime juice. Season to taste with the red pepper flakes if using, and salt and pepper.
To serve, scoop some of the salsa into each tortilla, and top with the shrimp and micro-greens if using. Serve with extra lime wedges, and enjoy!