This post may contain affiliate links. Please read my disclosure.
Blueberries, cupcakes, and French toast, need I say more! These healthy blueberry cupcakes use all natural ingredients down to the beautiful blue hue of the frosting. They are topped with cinnamon French toast cubes to make for the healthy ultimate dessert, or a very special breakfast!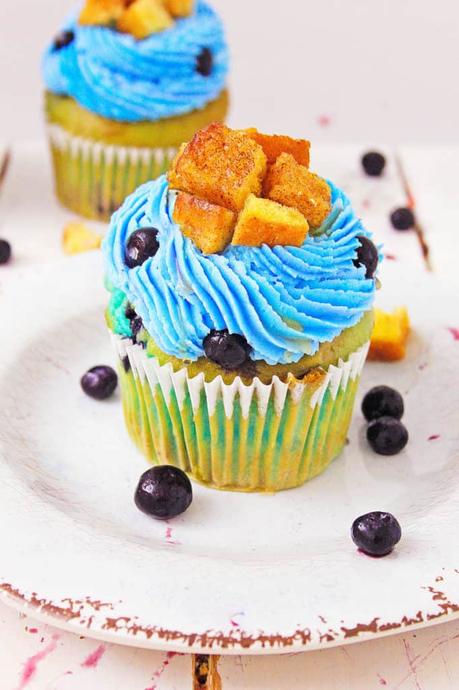 While I eat healthy most of the time I have a confession to make. I love dessert! I have a sweet tooth, and cupcakes and French toast are two of my favorite things.
I don't indulge in these treats everyday, and I don't stop in the grocery store to pick up a pack of cupcakes from the bakery. When I do decide to give into my craving for sweets I breakout my stand mixer and get to work creating a healthier version of some of my childhood favorites.
These healthy blueberry cupcakes with French toast topping is my way of coupling two of my ultimate sweet indulgences into one healthy dessert!
Kitchen Tools and Equipment You'll Need to Make Healthy Blueberry Cupcakes with French Toast Cubes
How to Make These Healthy Blueberry Cupcakes with French Toast Cubes - Step by Step
Step 1: Sift the Flour into a large bowl, add the salt, baking powder, and baking soda, and set aside.
Step 2: In the mixing bowl of a stand mixer, add the butter, sugar, vanilla and eggs, and mix until creamy and smooth.
Step 3: Add the flour mixture a little at a time, alternating with the milk until all ingredients have been added. Scrape down the sides of the mixing bowl, and blend on high speed for about 1 minute.
Step 4: Add the blue food coloring gel, and mix on medium speed to blend. Remove the mixing bowl from the stand, and gently fold in the blueberries.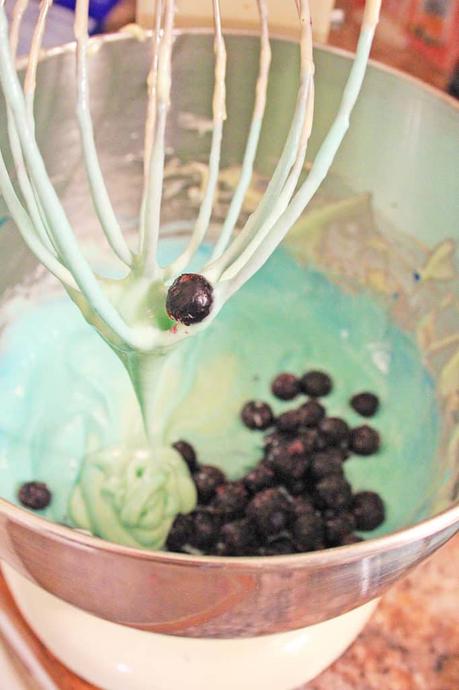 Step 5: Place cupcake liners in a 24 count, or 2 12 count muffin tins. Fill the cupcake liners about 2/3 full with the cake batter. Bake at 350 degrees for about 20 - 22 minutes, or until a toothpick inserted in the center comes out clean Remove from oven to a wire rack to cool. After about 10 minutes, remove the cupcakes from the muffin tins, and continue to cool on wire racks.
Step 6: While the oven is still hot, cut up 8 -10 of the frozen french toast sticks into small squares with kitchen scissors (see photo), place parchment paper on a cookie sheet, and place the cut up pieces of french toast sticks on the parchment paper.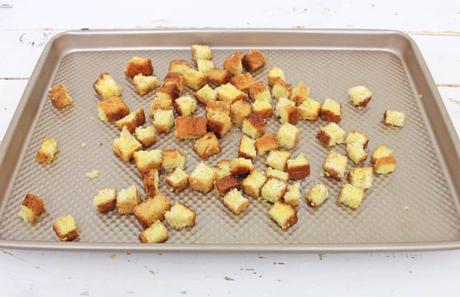 Step 7: Combine the sugar and cinnamon, and sprinkle over the french toast pieces. Place in the oven for about 15 - 20 minutes, or until they are golden brown. Remove from oven and set aside to cool.
Step 8: Greek Yogurt frosting recipe from Chocolate Covered Katie. Blend all ingredients (cream cheese, Greek yogurt, stevia, vanilla, and natural blue food coloring) using a stand or hand mixer until smooth. Add natural blue food coloring.
Step 9: Transfer to a frosting piping bag.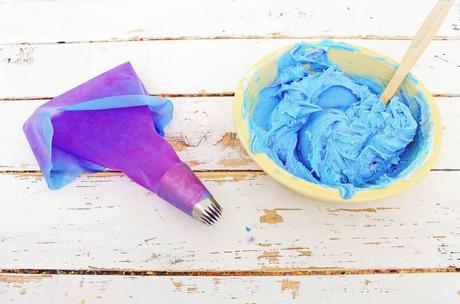 Step 10: Pipe the frosting on the top of the cupcakes leaving a whole in the middle. Gently press a few blueberries into the frosting.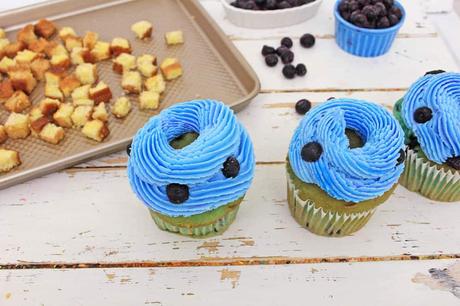 Step 11: Fill the whole with the French toast cubes.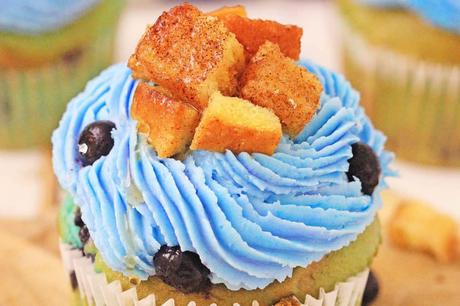 What makes these healthy blueberry cupcakes better for you than regular cupcakes?
Whole Wheat Pastry Flour: Whole wheat pastry flour is used in place of white flour because it's not processed like white flour. Whole wheat flour is high in fiber.
Coconut Sugar: Coconut sugar is not a refined or artificial sugar and it's lower on the glycemic index, making it a healthier choice in baking.
Reduced Fat: As a healthier option you can sub out most of the butter by using whole milk greek yogurt and applesauce. This reduces the overall fat and calories in the cupcakes.
Eggless Option: You can make flax eggs instead of using whole eggs to reduce the overall calories, fat, and reduce the cholesterol. It's also a great option for kids with egg allergies.
Natural Ingredients: No artificial food coloring is in these cupcakes - we use natural food coloring instead!. Artificial food coloring has been linked to hyperactivity in children, and an increased risk of cancer and allergens.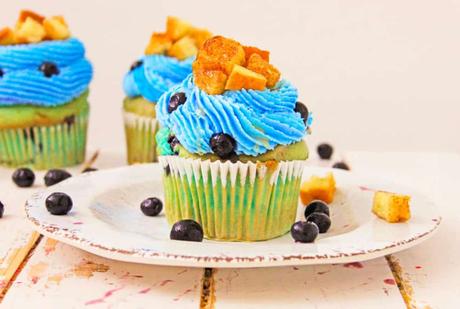 Will the kids enjoy these Healthy Blueberry Cupcakes with French Toast Cubes?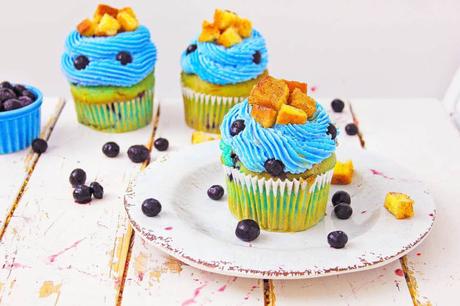 My kids loved these cupcakes. They were enchanted by the color and enjoyed being my helpers in the kitchen. They ate the French toast bites on the top and then took big bites of the cupcakes. They wanted seconds, but even though these are a healthier version of cupcakes one is enough!
How do you store Healthy Blueberry Cupcakes with French Toast Cubes?
Store cupcakes at room temperature in an airtight container that's tall enough to fit the top of the frosted cupcakes. A container that is at least 3 inches tall will work. Keep them at room temperature on your countertop. They will keep for up to 7 days on the counter, but really taste best within 3 days of baking.
What makes a moist fluffy cupcake?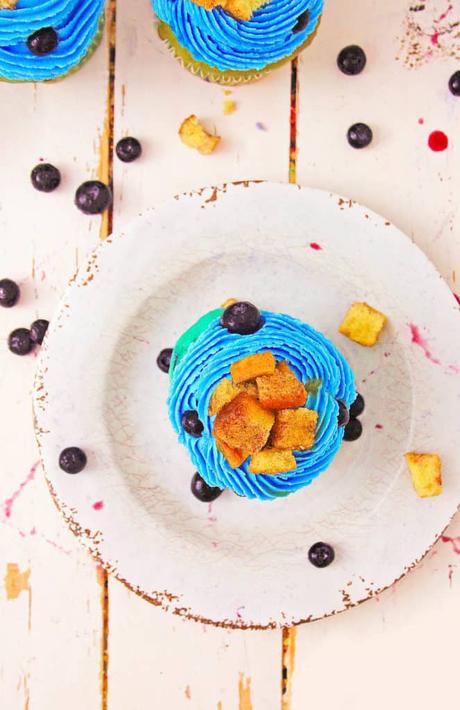 Cupcakes get their moist and fluffy texture from the air bubbles that are created when mixing the batter expand in the oven. In order to get those perfect air bubbles you don't want to over mix your batter. That's why it's important to mix the batter at low speed, slowly combining the wet and dry ingredients and stopping the mixing process as soon as the batter is combined.
What do you serve with Healthy Blueberry Cupcakes with French Toast cubes?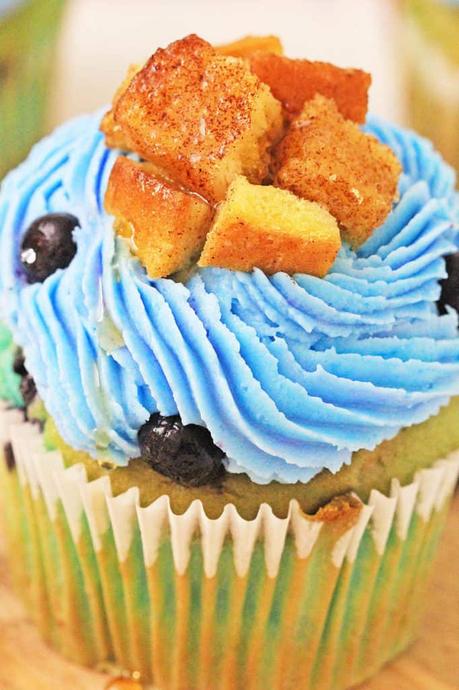 These cupcakes are a delicious treat for a special occasion or an ordinary weekend at home. Serve them a cup of cold milk, or a reduced sugar lemonade. Lemon and blueberries always compliment one another so well!
Sifting the flour creates a light and fluffy cake.
If you have a stand mixer now's the time to break it out. The stand mixer does a nice job of creaming the butter mixture with little effort on your part. It also frees up your hands so you can slowly add the flour mixture to the butter mixture.
Mix the food coloring before adding it to the batter. This will ensure even color throughout the cupcakes.
Use a ¼ measuring cup to measure the batter to fill the cupcake tin. This will ensure all the cupcakes are the same size.
Check the cupcakes at the 20 minute mark to see if they are done. If not place back in oven for 2 additional minutes.
Allow to cool for 10 minutes in the tins before transferring them to a cooling rack.
Wait until cupcakes are completely cool before frosting.
Place the French Toast bites on top of the cupcakes before serving.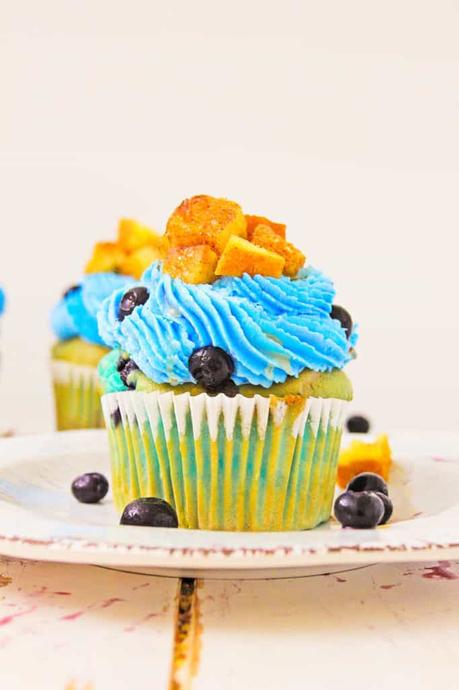 If you have tried these healthy blueberry cupcakes, or any other recipe on my blog, then please rate it and let me know how it turned out in the comments below! You can also FOLLOW ME on FACEBOOK, TWITTER, INSTAGRAM and PINTEREST to see more delicious, healthy, family friendly food!
Top Tips for Making Healthy Blueberry Cupcakes
CHECK OUT THESE OTHER HEALTHY CUPCAKE RECIPES!
Healthy Blueberry Cupcakes with French Toast Cubes