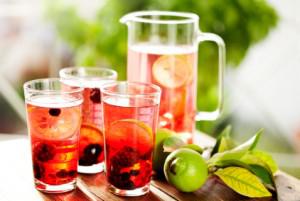 Drinking pop as your primary beverage, or even just a can or two each day, can have negative effects on your health. Most types of pop are packed with sugar, not to mention the artificial colors, high acid content and caffeine. When you want to make a healthy change, it helps to have other delicious beverages to drink in place of pop so you don't have to go cold turkey and start drinking just water. These tasty beverages make a great stepping-stone to help you kick the pop can and make a healthy change.
1. Lemonade: Particularly during the winter when citrus is in season, it's easy to make your own lemonade. Just squeeze a few lemons, mix sugar into hot water, and pour everything over cold water until the balance of flavors is right for you. There's no correct recipe, although you'll want to opt for less sugar if you want it to actually be healthier than pop. If you want to make it more interesting, consider steeping some fresh mint leaves in hot water before mixing in the sugar, which gives you refreshing mint lemonade.
2. Green Tea: Green tea packs some powerful health benefits, including a high dose of antioxidants. Even better, you don't need sugar for it to taste good, but it still offers some caffeine (although less than you would find in pop or coffee). Drink it iced for a refreshing beverage or hot if the weather outside is chilly. For a change of pace, try genmaicha, which is green tea combined with roasted brown rice. The brown rice adds an almost nutty flavor, and it helps mellow down the green tea flavor, which tastes bitter to some people.
3. Fruit Juice with Seltzer: If you need fizz to feel refreshed, kick the pop habit by stocking up on plain seltzer water instead. Mix this with fruit juice to add some flavor and nutrients, and you have a delicious alternative to pop. You can even experiment with adding multiple types of fruit juice, and even some fresh squeezed lime juice, a maraschino cherry and a straw to make your own midday mocktail.
4. Water with Lemon: Water is the healthiest beverage around, but it can sometimes seem boring, or even taste a little funky. Start by running your tap water through a water filter to remove unappealing flavors and potentially harmful contents. Then enhance its flavor with a hint of lemon to make it more interesting and boost your metabolism. Make sure to wash your lemon before you drop it in so you don't steep off any lingering pesticides!