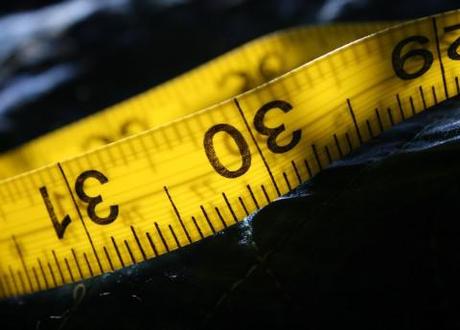 Waistline health risk: How do you measure up?
The background
Ladies! Looking for a new way to damage your already-battered body image? Look no further: more than half of British women have waists larger than the recommended 'healthy' size, according to new research. Charity Nuffield Health found that the average waist measurement for women is 84.9cm (33.43in), almost two inches bigger than the size recommended for optimum health.
Dr Davina Deniszczyc of Nuffield Health pointed out that waist size is not a fashion issue, reported the BBC: "Whilst waist size may seem like a cosmetic issue, this isn't about women fitting into their skinny jeans. Rather, it's an important indicator of overall health and well-being."
Guess what? Your spare tire may kill you
"Research suggests that excess weight around the waist increases the chances of breast cancer, heart disease and type 2 diabetes. It has also been linked to the disruption of ovarian function, which has consequences for fertility," wrote Donna Bowater at The Telegraph.
Reasons to be cheerful
"Those whose waist is bigger than advised can take heart from the fact that fat from the tummy is usually the first to go when we diet," said Fiona McCrae in The Daily Mail. And despite the alarming figures, it's unclear just how representative the research really was: "It should be noted that the survey was not nationally representative, with all of those taking part new or existing members of a gym."
Body image mixed messages
The research comes after a parliamentary report revealed serious body image issues in the UK: "Girls as young as five now routinely worry about their weight and appearance while more than half the entire UK population is grappling with mental and physical problems relating to negative body image," reported The Guardian.