Folha de São Paulo Newspaper, December 1, 2012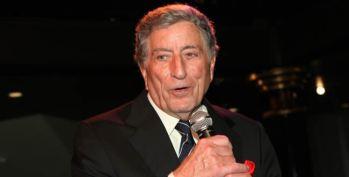 Tony Bennett in Rio (rio-de-janeiro.sortimentos.com)
TONY BENNETT is the last remnant of that so-called "great generation of interpreters" of American music still active today. That statement may do a bit of injustice to Johnny Mathis, who's still performing and at the top of his game; but the fact remains that after Frank Sinatra's death, the baton automatically passed to Bennett. Why is that?
Well, that's because Sinatra had once proclaimed Tony Bennett as "the best singer in America." But this rite of passage was, for certain, much more than a symbolic exchange of pleasantries or a figurative passing of the baton: it makes perfect sense. This style of singing is ending – no, will end – when Tony himself ceases to exist.
But from what was seen in Rio de Janeiro the night before last, we'll have Tony Bennett around for quite some time yet.
Nobody sings like this anymore. And nobody sings those great songs in exactly the way that he does, either. For almost 90 minutes, Tony brought to the stage what we've come to expect from him: the best of Gershwin, Irving Berlin, Jerome Kern, Harold Arlen, Michel Legrand, in addition to his signature tunes "I Left My Heart in San Francisco," "Smile" and "The Shadow Of Your Smile."
The fact is, even at 86, Tony can still deliver the goods, almost as if these songs were being presented for the first time. Even for those, such as myself, who've been coming to his shows for all of fifteen years, the feeling is always of embarking on a maiden voyage.
And it's not just Tony's voice. A pop singer with a strong jazzistic vein, he values a song's lyrics by vesting them with his undivided attention. Each word is put across as if to convey every pain of love, every pang of joy, every amorous encounter, every parting of the ways, which form the basis for what is called a "standard" American song of quality.
Nothing sounds tired or routine, everything sounds fresh and new, seemingly born in the moment – the moment when Tony pauses, lifts his eyes skyward and sings the rarely recorded introduction to a frequently heard number: "Fly me to the moon / And let me play among the stars." It's more than just music, it's theater. And this goes on throughout the entire program: he's there, on stage, for the sole purpose of relating a story firsthand – original, complete; he's obligated to tell us, the audience, the meaning of every one of those songs we've heard a dozen times over. And that's exactly what he does with, for example, "For Once In My Life", a song covered by half of humanity, but with Bennett it acquires a sentiment so unique that the audience's stillness as they weep is simply unavoidable.
There are those who say the voice is gone, that it's not the same voice he had in the '50s, '60s, or even the '70s. Well, then, if he'd have kept the same voice for the 60 years he's been performing, he'd be a lot more than a phenomenon: he'd be ET. Of course the voice has changed, but who cares? The great interpreter still remains, and everything he does convinces you he's doing it on the spot.
Accompanied by a jazz quartet of the first order, the show features the discreet presence of his daughter Antonia in a duet with dear old dad, along with the unnecessary participation of Ana Carolina, who practically ruined "The Very Thought Of You" with a horrendous Portuguese translation and a singing style that's the exact opposite of Bennett's: no emotion, no truth, all phoniness and false sentimentality. No matter.
What does matter is that Tony Bennett – the greatest singer in the world, with a repertoire of popular songs as classic as anything in the canon – is in Brazil. If you love those songs, drop everything and go see him, now. For when the songs come to an end, so will that singing style.
Claudio Botelho
(English translation by Josmar F. Lopes, Copyright © 2012)
Claudio Botelho is one of Rio's best known musical directors, as well as a performer, composer, translator, adapter, and lyricist. Most, if not all, of the Broadway and West End musicals that have appeared in Brazil over the past 20 years have used his translations and/or adaptations, including The Sound of Music, West Side Story, Company, Les Misérables, Phantom of the Opera, Hair, Spring Awakening, Fiddler on the Roof, The Addams Family, Gypsy, The Witches of Eastwick, and most recently The Wizard of Oz. He and his partner, Charles Möeller, are known throughout the country as the "Kings of Brazilian Musicals." They are also my friends.