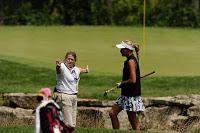 Mary Bea Porter with Alexis Thompson
at 2008 Junior PGA Championship
Mary Bea Porter-King of Kapaa, Hawaii, a celebrated four-sport collegiate athlete, LPGA Tour veteran, a pioneer in junior golf within her state, and one of the country's most respected Rules officials, has been named the recipient of the 2011 PGA First Lady of Golf Award.
Porter-King, 61, will be honored at The PGA of America Awards, Thursday, Jan. 26, 2012, during the 59th PGA Merchandise Show at the Orange County Convention Center's Chapin Theater in Orlando, Fla.
Born in Everett, Wash., and raised in Costa Mesa, Calif., Porter-King began playing golf at age 7, mentored by LPGA co-founder Betty Hicks. Porter-King paved her way in junior golf by conducting a golf clinic at age 8 with Hall of Famer Patty Berg. She went on to become a four-sport star athlete at Arizona State University before devoting her career to golf. She was a co-founder of the Hawaii State Junior Golf Association in 1998; and served from 2001-06 as a member of the USGA Executive Committee and from 2006-09, as an Independent Director on The PGA America Board of Directors. As a member of the PGA Rules Committee, Porter-King has officiated for nearly two decades at golf's premier events, including all of the game's men's and women's major championships.
"Mary Bea Porter-King's remarkable career of service to our game is on display within her home state in a junior golf program that has produced countless success stories, and is a model for how our industry may improve the future of so many young people," said PGA of America President Allen Wronowski. "Mary Bea also has served golf at the highest levels, a record that includes an unwavering commitment to the integrity of our sport as a premier Rules official. It is with great honor that we may now refer to her as our next PGA First Lady of Golf."
Porter-King served on the USGA Girls' Junior Committee from 1994-2000, and since 2001, she has been a member of the U.S. Junior Championship Committee. In 1998, she co-founded the Hawaii State Junior Golf Association, which annually engages more than 500 juniors from elementary to high school age. The program has produced hundreds of collegiate golfers, with several program graduates including current LPGA standouts - Michelle Wie and Kimberly Kim.
"I am very humbled by this honor; first to be honored by The PGA of America, an organization I have revered all my life, and secondly, it is so special to have my name listed with all of the previous honorees, women of whom I have so much respect," said Porter-King. "I love this game and have spoken for many years to encourage all of us, The PGA, LPGA, and USGA, to combine efforts to develop the next core golfers.
"All of us, who love the game, need to do everything we can to make sure all future generations who are given the gift of golf understand, play by, and protect the core values of the game while maintaining its integrity. It is so important we all work together to develop the next core golfer to ensure that the future of the game is in good hands. Who will fill the next shoes in our sport? It is up to all of us."
Porter-King was inducted in 2001 into the Arizona State University Sports Hall of Fame in four sports. Competing from 1968-73 in the pre-Title IX era, she excelled in volleyball, softball, golf, and basketball. Before graduating in 1973, Porter-King was a starting second baseman for the 1971 ASU College Softball World Series Championship team, and earned 1972 All-American honors in golf, and was a member of the school's 1970, '71 NAIA Women's Golf Championship teams.
Porter-King began her professional golf career in 1973, earning LPGA Tour Qualifying School medalist honors. She captured the Golf Inns of America Classic in 1975. She left the Tour from 1983-85, and returned in 1986 and competed until her retirement in 1998.
She is a past president of the Kauai Junior Golf Association, and in 2004 was inducted into the Hawaii Golf Hall of Fame. Traveling more than 100,000 miles a year, Porter-King has officiated at 14 U.S. Women's Opens, 10 U.S. Men's Opens, 10 U.S. Senior Opens, five Masters, four PGA Championships, and one Open Championship.
Porter-King earned universal praise for a courageous act on March 16, 1988, during a qualifying round for the former LPGA Standard Register Turquoise Classic in Phoenix, Ariz. Having hooked a second shot badly on the 13th hole of Moon Valley Country Club, Porter-King approached the fence to look for her ball and saw a family in peril. Jonathan Smucker, then a 3-year-old from Ronks, Pa., had fallen into a swimming pool and was lying lifeless. Porter-King was helped over the fence by her caddie, administered CPR, awaited arrival of paramedics, resulting in saving the life of the child.
For her action, she was later that year the first recipient of the Metropolitan Golf Writers Association Mary Bea Porter Humanitarian Award, honoring a heroic or humanitarian act that enhances human life. The same Association presented Porter-King this year with its MGWA Distinguished Service Award.
Porter-King and her husband, Charlie, live in Kapaa, Hawaii. The couple has a son, Joseph, 29, of Santa Barbara, Calif.; and a daughter, Sherry, 39, married to Mike Niethammer, with three sons, Charlie, 7, Will, 4, and Max, 2, of Oahu, Hawaii.
The PGA First Lady of Golf Award, inaugurated in 1998, is presented to a woman who has made significant contributions to the promotion of the game of golf.
PGA First Lady of Golf Recipients
1998 Barbara Nicklaus
1999 Judy Rankin
2000 No recipient
2001 Judy Bell
2002 Nancy Lopez
2003 Renee Powell
2004 Alice Dye
2005 Carol Semple Thompson
2006 Kathy Whitworth
2007 Peggy Kirk Bell
2008 Carol Mann
2009 Donna Caponi-Byrnes
2010 No recipient
2011 Mary Bea Porter-King
photo credit: PGA
Voice your opinion on Twitter @Golf4Beginners and friend us on Facebook