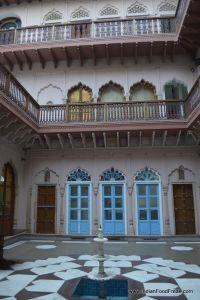 Haveli Dharampura is a story of someone's vision and dream. A building in the narrow by lanes of Chandni Chowk which displayed extreme signs of dilapidation was seen as the Taj Mahal of Delhi by a visionary. But this was a dream which many did not agree with! Not even his daughter who couldn't believe what her father was trying to showcase when she got to see the building. After all, even the Muncipal Corporation of Delhi had declared it an unsafe building!
Obviously the task was big. Building a new structure in its place would have been a cake-walk and any one could have done it. But restoring and salvaging the building to its earlier glory had neither many experts in Delhi nor the trained labors to facilitate the process. One could only get a few artisans from Red Fort where the Archaeological Survey of India was getting some of its work done, help them train other labor and then slowly but steadily work on the task. The work that originally was thought to get completed in 6 months, took 3 years only to stabilise the structure that was slowly falling down and another 3 years for the restoration work to be completed.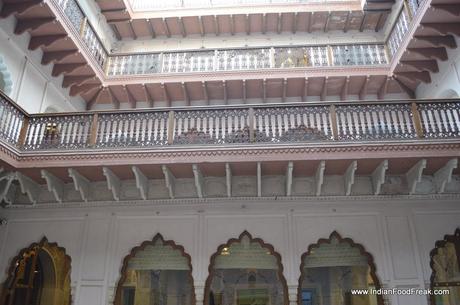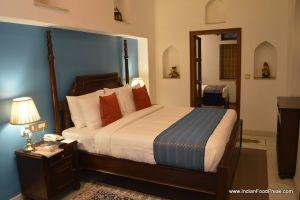 But finally, the vision of
Vijay Goel
, a politician and a Member of Parliament, came to reality. Presenting
Haveli Dharampura
! A haveli which dates back to 1887 and which passed hands from the Mughals to a Jain family before coming in to the hands of Mr. Goel and is now lovingly known as
Goel Sahab  ki Haveli
. Even after restoration, it has successfully retained the old world charm albeit with modern day comforts. Though the building is not wheel chair friendly, it has an elevator, 13 comfortable big rooms, 2 hookah rooms, a small library, a small art room, two restaurants (one restaurant on the rooftop will open after sometime), a couple spa room and modern attached washrooms with each room. The rooms have been named after various entry gates to Delhi and the old markets like Lahori, Delhi, Mori, Turkmaani, Ajmeri, Kashmiri, Kinari, Chawri, Khari Baoli, Ballimaran, Dariba Kalan and Meena.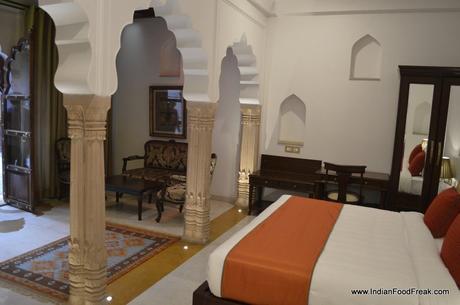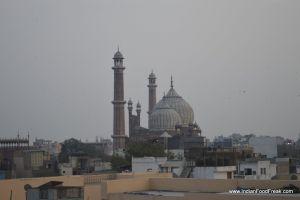 View from the rooftop
The Haveli Dharampura is now a place for tourists to stay and enjoy the handpicked meal from its menu that has a mix of Chaat, Jain cuisine and Mughal cuisine without fearing about Delhi belly. I meet Vidyun, daughter of Mr. Vijay Goel, who takes me around the haveli and I could see her mother giving final touches while she tells me that her brother Siddhant Goel is closely monitoring the project. The personalized touch will further enhance its appeal for the tourist and they can enjoy some of the age-old recipes too like the light and soft dahi bhalla I had. I was told that this recipe came from Mrs. Goel's kitchen.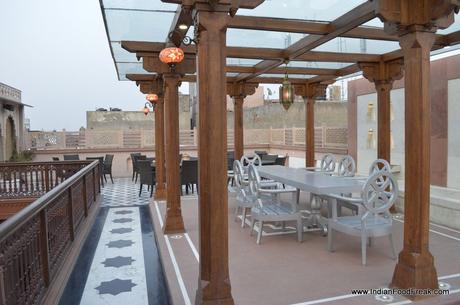 Upcoming terrace restaurant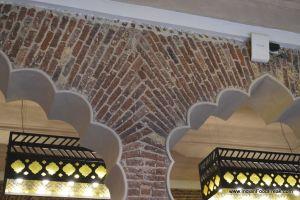 I sit in the restaurant on the ground floor which is named
Lakhori
. Lakhoris are basically the thin bricks from the Mughal era that were kept intact during restoration. This 48-seater restaurant that includes an 8-seater PDR (Personal Dining Room) will remain an all day dining for guests including breakfast. The non staying guests can book the table in advance for any meal other than breakfast.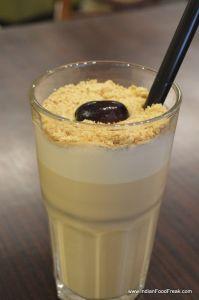 I start my meal with
Jahan Ara
, a khus, green chili and lemon flavored mocktail. It is a refreshing summer drink unless you are not fond of anything that is too sweet. But my favorite drink here is
Chai Biscuit
– tea water in vanilla ice cream shake topped with nutri choice digestive biscuit will satisfy your craving for chai as well as something cold.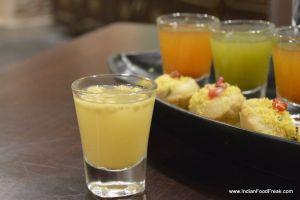 Thereafter, I am served
Cucumber Chaat
canopies. A modern take on the chaat, the slivers of cucumber are rolled with mashed aloo (potatoes) and tomatoes and topped with mayonnaise and some pomegranate. The
Palak Patta Chaat
has a very crisp and thin besan coating. And the
Dahi Puri
is also a love at first bite – though one does not require any gol gappa water alongside, any extra never did any harm.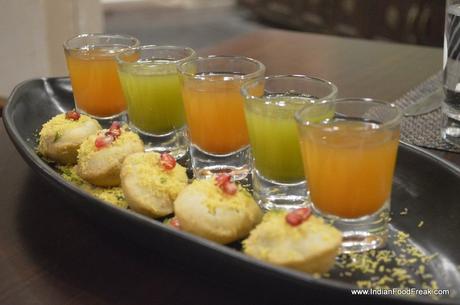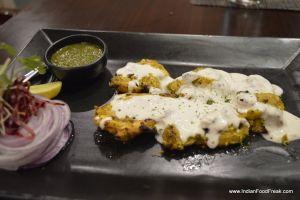 In the starters, I am served
Murgh Ke Parchey
, which is chicken breast marinated with gram flour and shallow fried on tawa. I would have liked more crushed black pepper in this dish and the extra cream with which it was topped is a strict no-no. At best, some dip could be kept on the side.
In the main course I take Kofta Dogala and Mutton Korma. Kofta Dogala has spinach balls served with two gravies – Cashew gravy and the Makhani gravy. I like the dish in all forms – separately with each gravy and also with both the gravies together. Mutton Korma is competent without being extra ordinary.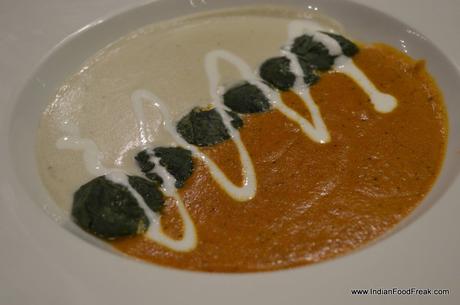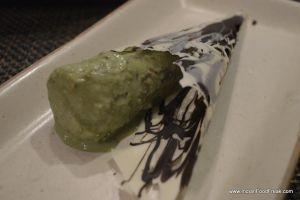 The
Paan Kulfi
with bites of paan is a must have. This is served inside a chocolate cone made with white and dark chocolate that further enhances the flavor. And the
Kheer Trio
(dates, beetroot and paan) would have tasted even better had it been a little more chilled.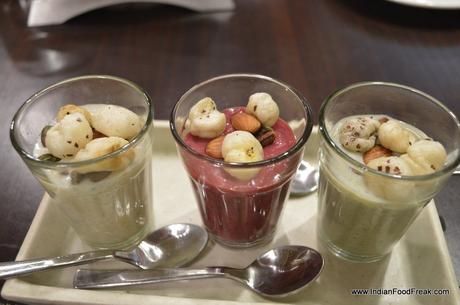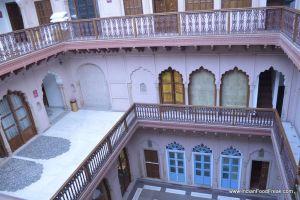 Overall, a good meal in an unbeatable ambience! The rooftop restaurant that gives a panoramic view of Jama Masjid, Red Fort, Gauri Shankar Mandir, Gurudwara Sis Ganj Sahib and St. James Church along with the opportunity to witness old games like kabootar baazi and patang baazi, will be a space to watch out for and I am personally looking forward to its opening. With plans of regular Kathak performances and more, Haveli Dharampura is sure to raise much interest amongst the tourists and historians alike.
"VG" is "Very Good", is what Shri Atal Bihari Vajpayee affectionately said when he handpicked Vijay Goel and am sure if he ever visits the Haveli Dharampura, he will again say a "VG" task done by "VG".  Perhaps, this is the only old haveli in Delhi that has been restored at this scale by any private party.
Ratings (Out of 5)
Food: 4.0 | Ambience: 5.0 | Service: 3.0 | Overall: 4.0
Meal for two: Rs. 4000 | Credit Card: Yes | Alcohol: License Awaited | Wheel Chair Friendly: No
Address: Haveli Dharampura / Goel Sahab ki Haveli, 2293, Gali Guliyan, Dharampura, Near Jama Masjid Gate number 3, Delhi-6 | Phone: 011-23261000 / 23263000
How to reach: The best way is to reach by metro, and de board at the Chawri Bazaar Metro station. Take a rickshaw to gate number 3 of Jama Masjid. On the left you will find a lane which is another 100 meter walk as it will not be possible for the rickshaw to go inside that narrow lane.
Please Note: Walk-ins are not accepted, hence please make prior bookings over phone.