Cleanse, tone, moisturise and so on. You know the drill. This is my new summer skin mantra. The only thing is, I've never been a fan of toners. I've always thought they were a bit faffy. Soaking a cotton wool pad with toner may not seem like such a big deal but after a few glasses of bubbles…
Introducing the Elizabeth's Daughter Skin Spritz. The ultimate toner for lazy girls like me. This fabulous toning mist is packed with purifying ingredients such as Aloe Vera leaf juice, Strawberry cells and Rose water to leave skin feeling fresh. The powerful potion is paraben free and after one spritz and I was hooked.
My favorite thing about the Elizabeth's Daughter skincare range is that it won't leave your credit card cringing. Luxurious yet affordable, it is the perfect solution for those with sensitive skin who want to save their pennies. Did I mention you can use it on your body too? Spray across your décolletage on a hot day or throw in your bag and spritz on the go.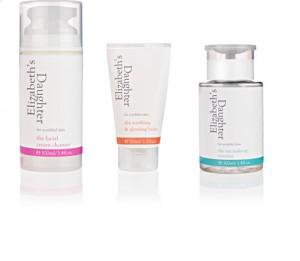 You can check out the full range of Elizabeth's Daughter here, they have lovely lotions and potions that include masks, cleansers and a soothing and glassing balm which happens to be next on my list to try.
Have you used an Elizabeth's Daughter product that you can't live without? Leave a comment below! x