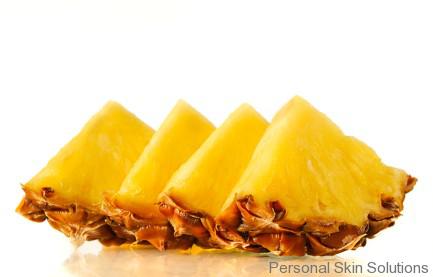 Today, I am going to show you a results-driven skin care routine that will feature a homemade exfoliant for super smooth, super healthy skin.  If you want to know why exfoliation is so important, keep reading.
The star ingredient in this exfoliant is pineapple.  The active ingredient in pineapple is bromelain.  Bromelain is a fruit enzyme that helps break down and remove dull, dead surface cells for a glowing complexion.  In addition to the pineapple enzyme, lactic acid is employed via the sour cream.  Lactic acid is a natural alpha hydroxy acid, and works diligently to slough of dead skin cells for a brighter, smoother skin surface.
The Pineapple Enzyme and Lactic Acid Routine
What you will need:
Cleanser
Toner (not alcohol-based)
Enzyme Exfoliant (see recipe below)
Hydrating gel masque or Aloe
Night-time moisturizer
Exfoliant Recipe:
1 cup fresh pineapple (drain off liquid)
1 tbsp. honey
3 tbsp sour cream
Mix all ingredients together in a small bowl
Directions:
Step 1: Wash face and neck using your cleanser.  Use small circular motions, and go all over your face several times.  Rinse and repeat.   Total time 2 minutes.
Step 2: Spritz a light mist of Toner just to get your face damp.  Total time 15 seconds
Step 3: Apply your homemade enzyme exfoliant being careful not to get it anywhere near your eyes. Leave on for 5 minutes.  Rinse off with water and pat skin dry with a clean towel.  Total time 6 minutes.
Step 4: Apply Gel masque (or aloe) all over face and neck.  Gently massage in for two minutes.  If necessary apply more gel, and let sit on skin for Rinse with water, and pat dry with a towel.  Total time 10 minutes
Step 5: Apply night-time moisturizer, and go to bed so that your freshly exfoliated skin can get some R&R.  Total time 1 minute.
Have you ever made your own homemade exfoliant before?  What did you use?