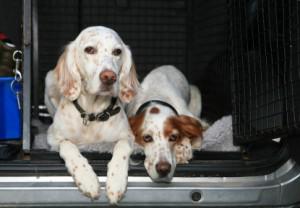 'We're taking the animals on vacation with us.' For some holidaymakers, this sentence might signify that the family is coming along! But if you propose packing your pooches and moggies in with your luggage, a degree of planning will be needed.
A great deal depends on whether you are looking forward to a domestic holiday, motoring to a favorite resort in your own country, or are going abroad.  It can be fun to walk your dog through unknown territory, over Alpine trails, perhaps, or along rugged coastlines. To see your canine companion wag its tail with delight at being in new surroundings undoubtedly adds to the pleasure of getting away from it all. One question to ask, though, is: is it worth it? The cost and effort, not to mention potential discomfort for that loyal companion, can all outweigh the pros of having that extra family member along. If you know and trust a pet hotel in your home area, it may be no less traumatic for Fido or Fifi to sit out the fortnight until you return.
Pets With Wings
Not surprisingly, airlines have a good deal of say regarding what pets you can bring with you on your flight and what regulations you must obey. What they call 'carry-on pets' are permitted on most US airlines. There is an upper limit on the number on any one flight, so to avoid the fur flying during a cat fight on board, ensure that you make your pet's reservation in advance.  A valid health certificate is required, too.
Virgin Atlantic is one of the more pet-friendly airlines, recognizing that it has among its clientele numerous devoted animal-lovers who would rather leave behind their partner than go anywhere without their mute furry companion. There is a frequent-flyer involving various gifts, discounts and incentives.
Brits Do It Differently
The UK is less accommodating. British Airways will carry pets in the hold only. Budget airlines flying overseas out of UK airports do not permit pets at all. KLM and Lufthansa both allow smaller cats and dogs, weighing no more than 6kg and 8kg respectively, inside the cabin, so your fluffy princess may have to go on a diet if she is to sit alongside you! Naturally, buying the travel ticket will lighten your wallet considerably, but note that fares vary widely from company to company.
Any UK pet with designs on going global was severely restricted until the government's Pet Travel Scheme was introduced in 2000, when the Pet Passport first enabled cats and dogs to enter the United Kingdom without spending six months in quarantine. That penalty was certainly no way to end a holiday, quite apart from the expense it entailed. But pet passport holders need to get their owners to sit up and remember to get vaccinations and blood tests up to date. Fido may have to drag his master to the vet to sort things out well before departure day.
Cats and dogs aren't the only travelers. The ever-fascinating ferret is to have an easier ride from January 2012 with a relaxing of the UK restrictions.
Creature Comforts
Travel companies have the same over-riding concern as owners: pet well-being. Before you sit back with a gin and tonic as the holiday begins, you will want to be certain of having done all you can in terms of providing
food and water
a securely closed kennel or transporter Space to sit and lie comfortably
enough space to sit and lie comfortably
Assuming all goes well, then depending on the breed of dog you own, you just might have given a new meaning to the term 'jet-setter'.
About the Author: Heather flood is a freelance writer, currently working for Compare Pet Care, helping people choose the best pet insurance.