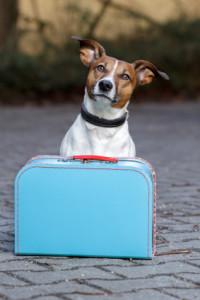 A car journey with your pooch may seem like a nightmare, whether your pet is anxious, hyperactive or just plain terrified it can often lead to a stressful experience for all involved. If you are planning a trip across country or even just up the road to a play park or to visit friends, here are some great tips on how to calm down your four legged friend!
*   If you have the time it is always best to try and tire out your dog before you journey. Anything from a long walk to an extra energetic play session can help to reduce the energy that your dog has and help calm them down.
*   The sound of the car may actually be the cause of your pet's anxiety and many pet owners have found that recording the sound of traffic or your own car engine can help familiarise your pet with your vehicle. Once you have the recording play it for them in place that they feel safe and comfortable, gradually increase the volume and praise your dog for remaining calm.
*   If you have only used the car to transport your pet to the vets it would come as no surprise to find that they associate the car with bad experiences. Change your pet's perception of car journeys by introducing journeys to enjoyable places such as parks or a trip to the beach. The positive elements of the journey will stay in their mind and hopefully make trips easier.
*   There are specially formulated products designed to calm your dog including aromatherapy sprays made using diluted lavender. The scent is known for having calming qualities and if your dog is anxious or upset spritzing it around the car is a great option.
*   Ensure that your dog has its own space within the car that they can relax in. A car dog guard is a great choice for those looking to section off some space for their pet; add blankets and cushions to make it even more comfortable for them.