The kids that made it out of the Bloody bathroom were guided into a black room.  Inside the room rested a large mirror and a strobe light.  The guide advised the children to look into the mirror to see something special....  behind the children a masked man appeared in the mirror scaring the holy crap out of them!!
I wasn't able to capture this on film or even see it with my own eyes as I was busy playing my part in the "white room" for several hours.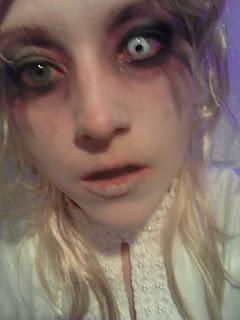 White Room Prisoner
On to the next room!  The kids were guided into the dark abyss. Taped to the floor, several helium filled black balloons were set up to distract the kids.  An oscillating fan was used to bounce them back and forth as black masked people hid in the corners.... ....as I sat in the "White Room" I heard a few kids say how "lame" it all was and how they weren't scared at all.  Once the children left the balloon room, cries and screams were all that could be heard. Muahahahahahahahaha!!