Urban Decay recently had their Fall 2012 Friends & Family Sale and I decided to take advantage of the savings since I have been thinking about picking up a number of things anyway. Well, I'm not sure who took advantage of who in the end!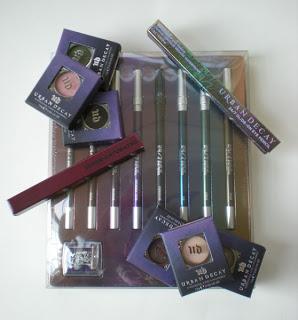 I actually placed two separate orders, but I've combined them into one post. My first order included the "Vice Palette" and the "Build Your Own Palette" in "Rock". The second order was really big!
Vice Palette I am a sucker for any Urban Decay palette and since the Vice Palette is full of 20 entirely new and exclusive shades, I had to get it! I debated purchasing it for a while because I have virtually every UD palette released in the last 5 years and really do not need another one and I have plenty of similar colors, but after finally swatching it, I couldn't resist! I was also thinking some of the shades might be great for Halloween makeup and that kind of convinced me that I needed it…now! (There's no picture because it was damaged in shipping and I'm waiting for the replacement. Side Note: Urban Decay's Customer Service is always excellent!)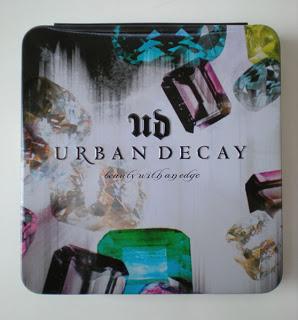 Build Your Own Palette in Rock I really love Urban Decay shadows and love customizing palettes so I was really excited to see a quad palette. It comes with one eyeshadow called, shockingly, "Rock" which is a nice taupey neutral.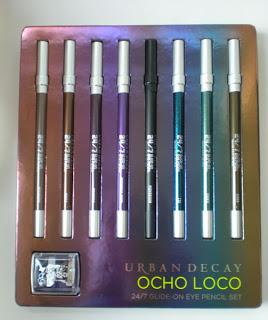 Ocho Loco 24/7 Glide-On Eye Pencil Set I also love Urban Decay's 24/7 eyeliner pencils so I was excited to see yet another set. They are all full size liners! And instead of "Zero" (I must have enough "Zero" liners to last me a lifetime), the Ocho Loco set comes with the even blacker "Perversion" pencil. This was another set I was hesitant about, only because I have virtually every color 24/7 pencil already. However, this came with "Rockstar", which is one of my must have shades and mine is getting a little low (that's a stretch, but it seems low to me). In addition to those two gems, Ocho Loco has 4 shades exclusive to the set and almost all of them look really nice. There seems to be a nice mix of more neutral shades and the 3 brighter shades all seem like shades I might wear, plus they seem different from other liners I have so…they're all mine now!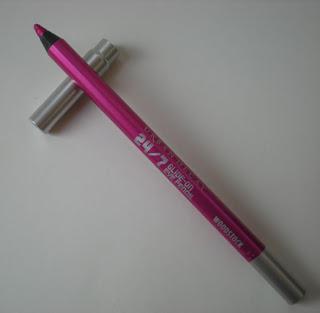 24/7 Eye Pencil in Woodstock Ok. I know this is a weird shade. It's hot pink. I have always been curious about this color and I'm always tempted to buy it when there's a sale on Urban Decay, but reason gets the better of me and I put it back. Not this time! I have no idea how I'm going to wear it, but I was thinking I might use it for Halloween and I haven't seen another liner that is quite the same color. There are a bunch of baby pinks, but I cannot think of another hot pink. I must say that I also fell in love with the "Woodstock" eyeshadow that looks equally scary, but is probably one of my favorites lately for just a subtle pop of color, so now I have the eye liner as well!
Super Saturated High-Gloss Lip Color in Apocalypse I have one of these pencils in "Lovechild" and I really like it. I also have their recently discontinued lipstick in "Apocalypse" and I like the color, but I think I would prefer it in pencil form, so it made sense to pick up the pencil while it was on sale!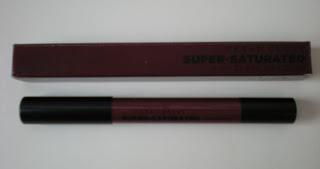 Eye Shadows I picked up 6 different eye shadows because I love the new formula and, though I have some of these shades in various palettes, I really wanted them separately so I could either add them to the Rock Palette, or just keep them individually. It's basically just for convenience because having to pull out 4 different palettes (and some UD palettes are pretty big!) just to do your eye makeup can be a real pain. What can I say? I'm a sucker for a sale!


So that's my Urban Decay Friends & Family Sale for Fall 2012 Haul. Did you pick up anything? What's your favorite Urban Decay product? I'd love to know so please comment below!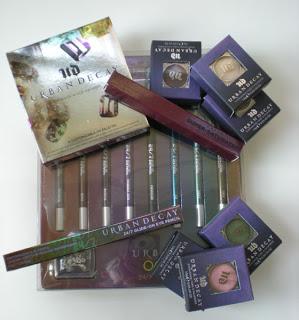 Disclaimer: I am not affiliated with Urban Decay in any way, nor have I been compensated for this post. All of these products were purchased by me with my own money.