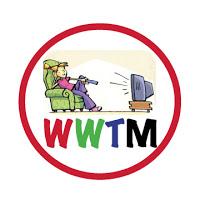 The answer to Tuesday's Trivia Question: Shaun Cassidy and Parker Stevenson played Frank and Joe Hardy on The Hardy Boys Mysteries from 1977-1979. 
FIRST FIVES: Jim Carter, Dan Realson, Andy Goldberg, Elke Raskob, & Francesca Sullivan Honorable Mention: Crystal Kyler
Friday's Cable Top 5
Gold Rush-Discovery 1.8/4.6
Bering Sea Gold-Discovery 1.0/2.6
Gold Rush-Discovery .8/2.2
NBA-ESPN .8/1.9
Duck Dynasty-A&E .8/1.9
Sunday's Cable Top 5 N/A
Monday's Broadcast Top 5 2 Broke Girls-CBS 3.7/11.4
How I Met Your Mother-CBS 3.7/10.0
Mike & Molly-CBS 3.3/10.8
The Big Bang Theory-CBS 3.2/10.4
The Following-FOX 3.1/10.3
Monday's Broadcast Trendrr Top 5 The Bachelor-ABC 127,366
The Following-FOX 98,360
The Biggest Loser-NBC 88,733
How I Met Your Mother-CBS 68,882
Bones-FOX 48,522
Monday's Cable Top 5 


N/A


Monday's Cable Trendrr Top 5
NBA Basketball-TNT 381,564
WWE-USA 208,970
Love & Hip Hop-BET 89,675
Chasing the Saturdays-E! 39,669
Kourtney and Kim Take Miami-E! 29,438
Top 5 DVRed Shows for the week of 12/31/12-1/6/13
Big Bang Theory-CBS from a 6.1 to an 8.0 (+31%)
Elementary-CBS from a 2.6 to a 3.9 (+50%)
Once Upon a Time-ABC from a 3.1 to a 4.2 (35%)
Revenge-ABC from a 2.4 to a 3.5 (+46%)
Person of Interest-CBS from a 3.4 to a 4.5 (+32%)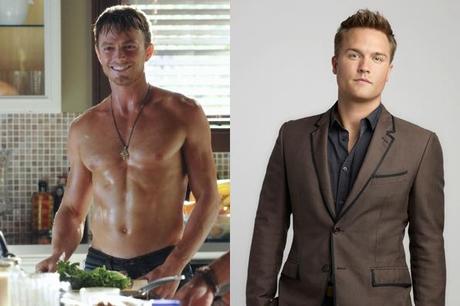 I got a little nervous during Hart of Dixie last night.  George's Mom kidnapped him and Zoey and wanted to know why they weren't together since it's SO evident that they should be.  It seemed to feel like Mrs. Tucker was right for most of the episode until both George and Zoey set her straight.  Whew...crisis averted. Sure, I can see that someday Zoey will end up with George, but maybe just maybe, she and Wade work out.  I'd honestly be happy if, when the show ends, she ends up with either one of them.  Aside from the Zoey/Wade/George thing, there was a very bizarre storyline.  A guy showed up in Blue Bell and he had an English accent, but Lavon realized that he was a fishing guide from the area.  Turns out the guy had something called Foreign Accent Syndrome. So he had Brick gives him a shot that would take away his accent, but then left town so he could continue being a fake Brit.  HUH???  What was the point of that? Finally, Brick came clean about dating Shelby and even though Lemon said she was cool with it, she isn't...so trouble's brewing.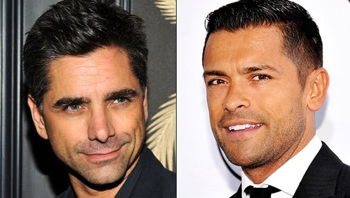 While I was waiting for the season finale of Parenthood, I hung in there and watched The New Normal, which as you know if you read this blog, I never normally watch.  As a follower of Kelly Ripa on Twitter, I read that her super hot husband Mark and super hot John Stamos were both on the show as super hot guest stars.  In this episode there was complete uncertainty as to either of the guys sexuality, so the gang had a gay or straight dinner party in which the objective was to figure out if John Stamos or Mark Consuelos were gay.  Nobody admitted to anything, but it was hilarious to see both super hot guys acting gay.  Still too preachy and still annoying but any episode with super hot Mark Consuelos and super hot John Stamos is fine by me.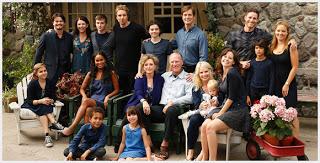 I think I cried for the entire second half of last nights Parenthood season finale. No idea if the shows going to get picked up for another season.  Please NBC people, I am begging for at least one more season...please.  You took Friday Night Lights from me too soon, please don't take my Bravermans from me.  I don't know if there are real families out there like them, but it gives me hope in thinking there are. If any of my readers are lucky enough to be part of a family even remotely close to the Bravermans, consider yourself lucky. Anyway, this episode felt like a series finale not just a season finale.  I guess that's why I'm feeling so devastated at the possibility of it all ending.  If it is over, it ended perfectly  and if it isn't, then next season can start off just right.  I don't want to ruin anything for anyone who hasn't seen it yet, but for anyone nervous about the possibility of a sad season finale...don't be...all's good for our fave family!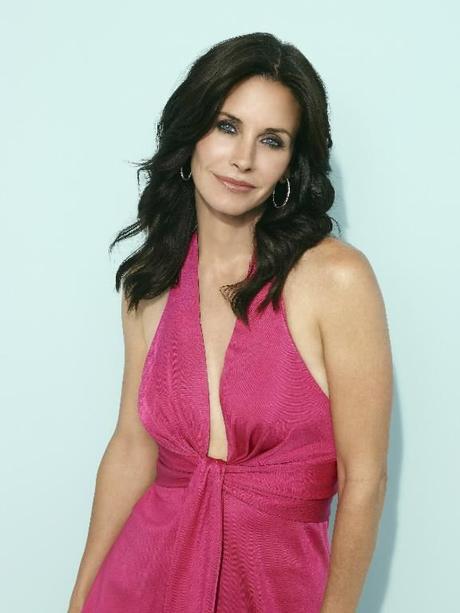 Courtney Cox's boobs were all over last nights episode of Cougar Town.  I had actually been wondering if Jules would change her name once she married Grayson and that was the big debate this week.  Not that much wine was consumed while trying to solve this dilemma among the group, but the net/net was that Jules would keep Cobb for business but change it legally to Ellis. Not that any of you guys care, but ya never know it could be a trivia question or something.  Bobby decided he wanted to go by a new name too.  His choice...Ron Mexico.  Of course this insane idea only last 10 minutes and then he went back to Bobby Cobb..it's a sitcom, of course this crap has to get wrapped up on 22 minutes.
NEWS & INFORMATION:
-I guess I wasn't the only one who couldn't take more Lance Armstrong.  While the first part of Oprah's interview was seen by 3.1 million people people on Thursday night, only 1.7 million came back for more on Friday night. I admit that I did watch it, but I wasn't happy about it.
-On Sunday 2/10, as part of its Valentines Day celebration, SOAPnet will be airing a General Hospital Supercouple Marathon featuring fans favorite GH couples!  The top 5 couples voted on by fans, will be featured. As a former GHer, I'm betting that the 5 are: Frisco & Felicia, Anna & Robert, Luke & Laura, Alan and Monica and maybe Sonny and Brenda?  Not sure on the last one.  I may have to Tivo this one!

-On another General Hospital note, Jack Wagner is returning to his role as Frisco Jones on General Hospital. Not sure when he will start showing up in Port Charles, but for anyone who was a huge Frisco Jones fan, thought you should know the deal.
-Last night was the series premiere of ABC's new food competition show, The Taste.  I didn't watch it, nor will I, but thought I should mention that Unilever and Ford among a few others will be the official sponsors of the show.  It's funny...I love food, love restaurants and even enjoy cooking, but for some reason, food shows don't do it for me at all.  No Top Chef, Kitchen Nightmares, none of um.  Not sure what that's about. 
-When will ABC learn not to use profanity in their program titles...first Good Christian B*tches became GCB and it was gone. Then, Don't Trust the B in Apt 23 and now that shows been pulled.  I think it's pretty clear guys...don't risk it with a curse word, it's the kiss of death.
-I warned TBS about The Wedding Band and they didn't listen to me. So instead of marketing the show the right way, choosing better cover tunes for the band to perform, and showing more of the actual weddings and less of the between gig wackiness, they are just cancelling the show.  I feel bad because the cast is really cute and fun and I think the show could be saved, but TBS has thrown in the towel on this one. Nobody ever listens to me.
-The Travel Channel renewed 8 primetime shows: Airport 24/7: Miami, Baggage Battles, Bizarre Foods America, Dangerous Grounds, The Dead Files, Ghost Adventures, Hotel Impossible & Mysteries at the Museum.  Anyone interested in any of these shows?  Just curious.
-Nielsen reported that  60% of smartphone and tablet owners accessed sports content on their device at least once a day between January and September 2012. 12% of smartphone owners and 10% of tablet owners checked the sports feeds more than three times a day during the same timespan. The most dominant type of info consumers look for is scores and stats. Smartphones and laptops were the preferred device for checking sports scores (16% each), followed by internet-connected TVs (12%), tablets (9%), and gaming consoles (7%).
Wednesday's Trivia Question: The Hardy Boys trivia question got me thinking about Nancy Drew.  I always got the two Pam's confused...one Pam was Mindy from Mork & Mindy and one Pam was Nancy Drew. Can you name the Pam's?


WWTM-Kristy


http://watchingwaytoomuch.com

[email protected]

[email protected]