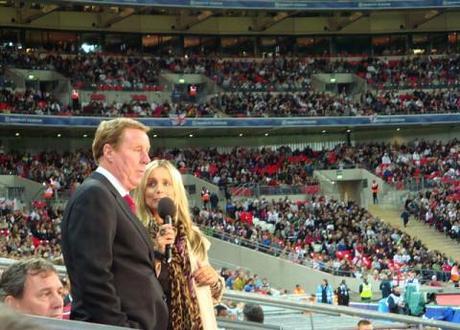 Harry Redknapp being interviewed by his daughter-in-law Louise Redknapp. Photo credit: curiosulypersistent
The background
Tottenham manager Harry Redknapp has left the north London club after failing to a agree a new contract. Redknapp steered Spurs to an impressive fourth-placed Barclays Premier League finish last season but their form did fall off considerably in the second half of the season. It is understood that Redknapp wanted a new long-term contract but Tottenham Chairman Daniel Levy was unwilling to offer such a deal. "This is not a decision I have taken lightly," commented Levy. The official Spurs statement was put out at 3.37 in the morning of 14 June.
Redknapp said: "I have thoroughly enjoyed my time at Spurs and am proud of my achievements … at times the football has been breathtaking."
Wigan manager Roberto Martinez and Everton manager David Moyes have been installed by the bookmakers as favourites to become Redknapp's successor at White Hart Lane.
The sports commentariat have taken to Twitter to share their reaction – most feel Levy's decision is highly questionable at best and dount the next man in the White Hart Lane hot seat will be able to improve on Redknapp's results.
The tweets
To get in the top four in the Premier League is some achievement. European champions were fifth. Will be even harder next season. — Matt Lawton (@Matt_Lawton_DM) June 13, 2012
Always felt like the end of an era at Spurs this summer. At 65 and openly considering other jobs, was Redknapp really the man for a reboot? — Iain Macintosh (@iainmacintosh) June 13, 2012
Oh it's like when Mark Hughes got sacked all over again. Highly entertaining this #mediaoutrage

— Macca (@The_Paris_Angel) June 13, 2012
So we think the next spurs manager will finish third?

— Neil Custis (@ncustisTheSun) June 13, 2012
Very surprised Spurs have allowed situation to develop where Redknapp leaves. Surely very hard to deny he's done fantastic job at WHL — Oliver Holt (@OllieHoltMirror) June 13, 2012
If you're looking for a fault, look at a lack of rotation. Ran Modric, Parker, Walker, BAE into ground. Didn't play decent squad players. — Jack Pitt-Brooke (@JPBIndy) June 13, 2012
Pretty surprised to see Redknapp get the boot but his team really did trail off. His tactics and subs were atrocious at Loftus Road in April

— Archie Thomas (@Archie_Thomas) June 14, 2012
Levy's an idiot to sack Redknapp now. Should have sacked him 4 weeks ago when Rodgers available. Great businessman my arse. What a fuck up

— Matt Law (@Matt_Law_SM) June 13, 2012
Hope light is cast on Spurs board\owners. Levy appointed Santini, Ramos etc and has now lost\ousted Redknapp. Very opaque club at the top.

— Paul Hayward (@_PaulHayward) June 14, 2012
Amazing the difference in opinion between journos and Spurs fans on Redknapp departure. Aren't the media supposed to give more than 1 angle!

— 101 Great Goals (@101greatgoals) June 14, 2012

More on football
Joey Barton: Beyond redemption?
Balotelli: The ultimate maverick
Gary Speed's death an accident?