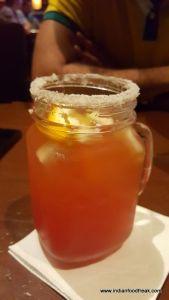 Liquid Lust
If I was to make a list of the best places in Mumbai for a great Margarita, Hard Rock Café would surely be on one of my top lists. Margarita is to Mexico what Lassi is to India, and when Hard Rock Café sent me the press release for their Latin Fiesta, I was very keen to see the new drinks and dishes they had conjured up to complement to their already awesome margaritas.
Last week on a Thursday I visited their Lower Parel branch which, though much smaller than the Andheri outlet, boasts of a wonderful line up of live and televised concerts through the month. We were told that the evening would feature a rock and roll group called Victor and The Crowns.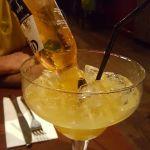 Mexican Ice Cold Bulldog Margarita
Grabbing a table with a vantage view to the stage, we chose our first round of drinks from the Latin Fiesta menu and were brought a drink called Mexican Ice Cold Bulldog Margarita (Rs.950), which was a massive portion of Classic Margarita steeped with Corona beer. The drink had the refreshing tartness and the zing of a classic margarita and an added punch of the beer. Another drink, interestingly called Liquid Lust (Rs. 700) was made with Jose Cuervo's special Silver Tequila and White Wine, with cranberry, orange and lime juices. This was a peculiarly tart, puckered up drink which, after a few initial sips, was quite pleasing to the palate in its sour and sweet glory.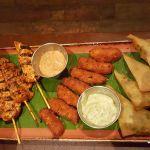 Mixed Platter of Latin starters
The mixed platter of starters contained Samosettes of spicy corn and cheddar cheese, Red Rod Fries topped with jalapenos and spring onions and Spanish influenced Fire Cracker Crunchy Chicken Tenders, Tex- Mex Chicken Skewers. The Red Rod Fries like any classic French fries were delicious, crunchy and the perfect comfort snack to accompany the drinks. The Samosettes on the other hand were quite oily,although the corn and cheese filling was quite decent.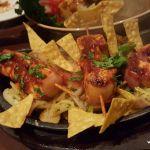 Brazilian Bbq Veg Grill
The Spanish influenced Chicken Tenders had simply nothing Spanish about them. They were quite crispy and apt as a cocktail starter, but in a Latin American context I found them to be fairly bland. The standout here was surely the Tex Mex Chicken Skewer which was spicy and had a certain tangy kick to it. This was paired with a honey mustard dip which went perfectly with the starter. The chicken strips were juicy and the marinade apt with the right flavouring, certainly the stand out starter of the lot.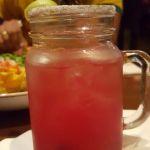 Pome & Malt Margarita
The next round saw us trying a Pome & Malta Margarita (Rs. 650) and a Spotty (Rs. 650) which was a fusion of kiwi pulp and tequila. We paired these with the Orange Tequila Prawns (Rs. 495) and Brazilian BBq Veg Grill Sizzlers (Rs. 395). The pomegranate, muddled orange and tequila based margarita danced a happy bachata with the Orange Tequila Prawns which were served in a taco shell and were coated in a very creamy spicy sauce which had happiness written all over it. The Brazilian grilled skewers were sloppy and at best avoidable as they didn't have any veggies and were a mish mash of some odd marinade with cottage cheese in a sloppily brought together skewer.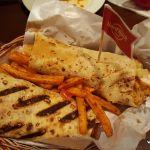 Bahama Mama Chicken Burritos
They served us the Bahama Mama Chicken Burrito (Rs.425) which, despite of having been served towards the tail end, was so good that I just couldn't stop eating. A perfect burrito is one that has a fair balance between the beans, rice, meat and the salsas. This one was a good example of one such burrito and I relished every bit of it till I couldn't eat anymore. This is a good sized burrito which can be a complete meal by itself.
By the time the last dish was served, Victor and The Crowns were already on the stage belting out rock and roll numbers right from Elvis to Cash. The wonderful cocktails, the fairly decent food and the 70+ members of the band belting out numbers with an unmatched energy rarely seen in people that age, got us up and dancing in no time.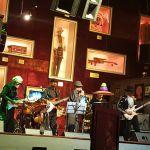 Victor and The Crowns
Amazing concert, great drinks and a fairly decent food line-up, spell out the recipe to Hard Rock Café's success. Considering the experience as a whole, I was quite happy to have chosen Hard Rock Café to spend my Thursday evening and welcome the weekend a wee bit early. Going by the food alone, it could have been a bummer.
Meal for Two without Alcohol: Rs.3,000 plus taxes| Alcohol: Yes| Credit Card: Yes|
Address: Behind Bombay Dyeing, Kamala City Mills Studio, Pandurang Budhkar Marg,Worli, Mumbai.
Telephone: 022 6651 1209
Disclaimer: This review was done on an invitation from the restaurant. Due judgment and care has been applied by the author to remain objective and unbiased in the review; however readers may exercise their own discretion.11, Near Trade Centre, Bandra Kurla Complex, and Mumbai