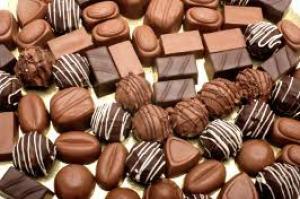 copyright 2018 Art of Living, PrimaMedia,Inc/Maria Liberati
Man cannot live on chocolate alone; but woman sure can.
Author Unknown
International Women's Day has been celebrated in honor and recognition of women internationally, since the early 1900s. The first celebrations were in Austria, Denmark, Germany, and Switzerland on March 19, 1911. Each year, themes and activities vary, but International Women's Day continues to be a global day of celebration for women and their valiant efforts to gain equality in all aspects of life.
Here is a tantalizing recipe designed to add to your celebration.
Cioccolatini (little chocolates)
*16 ounces fair trade baking chocolate
*1/4 cup raisins
*1 tablespoon sesame seed oil
*4 tablespoons ground hazelnuts
*1 tsp vanilla
*1 cup brewed espresso coffee
*1 tsp powdered unsweetened organic powdered cocoa
Let raisins soften in cup of espresso for 15 minutes. Melt 2/3 of chocolate in microwave. When melted remove and quickly place in remaining chocolate and oil and stir. Add in vanilla. Drain raisins. Place cocoa powder on flat dish and dip raisins in powder, place them in melted chocolate. Place melted chocolate mixture in small baking cups. . Top with hazelnuts and place in fridge for 2 hours.
For more recipes get your copy of the Gourmand World Award Winning Book.. The Basic Art of Italian Cooking: Holidays and Special Occasions-2nd edition