Happy Valentines Day 2015
According to legend, Saint Valentine of Rome was imprisoned for performing weddings of young soldiers who were forbidden to marry, and he was later executed for the said causes on 14th of February. But it was not until late 18th century that the day was celebrated to express one's love in the romantic sense. Ever since lovers of all ages have expressed their love by offering flowers, confectionery, valuable gifts and greeting cards (known as 'valentines') to each other. The valentine messages have evolved over the years; and finding new and unique ways to express one's love has become quite the challenge. But wait, now you no longer have to spend hours trying to think of the perfect valentine message for your special someone, here is a list of 200 of the best unique messages you can use this Valentine's Day.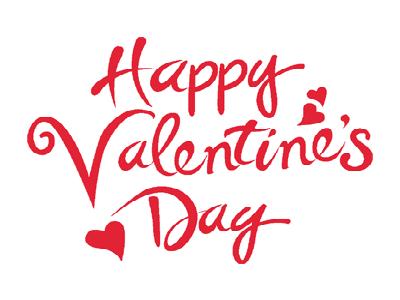 Happy Valentines Day Messages
A day without you in my life should never come and even if it does, let that be the last day of my life.
A day without you is a day without sun, a night without you is a night without moon; a life without you is a life without life.
As busy as we get, we need to be reminded that we are still sweethearts. Valentine's Day is a good day for me to stop and realize how wonderful you make me feel. Happy Valentine's Day.
Cupid shoots well for me! He hit you and me with perfect aim.
Love is too weak a word for what I feel for you. One life is too small a time to express how madly I am in love with you.
Curved high on a mountain, covered deep in dew, I saw these words… I LOVE YOU!
Even though Valentine's day costs a lot more with a girlfriend, you are the one girl in this world who is totally worth it.
Happy Valentines Day Wishes
♥ ♥ ♥ ♥ ♥ ♥ ♥ ♥ ♥ ♥ ♥ ♥ ♥ ♥ ♥
Because each little wish of mineYou've tried to make come true(On Valentine's Day), I want to sayHow dearly I love you.
♥ ♥ ♥ ♥ ♥ ♥ ♥ ♥ ♥ ♥ ♥ ♥ ♥ ♥ ♥
All the love that history knows,Is said to be in every rose.Yet all that could be found in two,Is less than what I feel for you.Happy Valentine's Day
♥ ♥ ♥ ♥ ♥ ♥ ♥ ♥ ♥ ♥ ♥ ♥ ♥ ♥ ♥
I want to wake up to see you by my side, and I want to feel you, next to me, the last thing before I go to sleep I want to share every moment with you.
♥ ♥ ♥ ♥ ♥ ♥ ♥ ♥ ♥ ♥ ♥ ♥ ♥ ♥ ♥
Love is like swallowing hot chocolate before it has cooled off. It takes you by surprise at first, but keeps you warm for a long time.
♥ ♥ ♥ ♥ ♥ ♥ ♥ ♥ ♥ ♥ ♥ ♥ ♥ ♥ ♥
Sweeter than chocolates, Sweeter than wind, Sweeter than just about everything, You are my Valentine, Happy I Love You Day.
♥ ♥ ♥ ♥ ♥ ♥ ♥ ♥ ♥ ♥ ♥ ♥ ♥ ♥ ♥
Love is the emblem of eternity: it confounds all notion of time: effaces all memory of a beginning, all fear of an end.
♥ ♥ ♥ ♥ ♥ ♥ ♥ ♥ ♥ ♥ ♥ ♥ ♥ ♥ ♥
Love SMS Messages
♥ ♥ ♥ ♥ ♥ ♥ ♥ ♥ ♥ ♥ ♥ ♥ ♥ ♥ ♥
I don't understand why Cupid was chosen to represent Valentine's Day. When I think about romance, the last thing on my mind is a short, chubby toddler coming at me with a weapon.
♥ ♥ ♥ ♥ ♥ ♥ ♥ ♥ ♥ ♥ ♥ ♥ ♥ ♥ ♥
A valentine is a gift to the heart, a friend to the spirit, a golden thread to the meaning of life.
♥ ♥ ♥ ♥ ♥ ♥ ♥ ♥ ♥ ♥ ♥ ♥ ♥ ♥ ♥
Love is what makes two people sit in the middle of a bench when there is plenty of room at both ends.
♥ ♥ ♥ ♥ ♥ ♥ ♥ ♥ ♥ ♥ ♥ ♥ ♥ ♥ ♥
Pure love is a willingness to give without a thought of receiving anything in return.
♥ ♥ ♥ ♥ ♥ ♥ ♥ ♥ ♥ ♥ ♥ ♥ ♥ ♥ ♥
It still seems like magic every time I remember how love softly touched our hearts bringing in together Happy Valentine's Day.
♥ ♥ ♥ ♥ ♥ ♥ ♥ ♥ ♥ ♥ ♥ ♥ ♥ ♥ ♥
I'm enthralled by your beauty, mesmerized by your charisma and spellbound byyour love. No wonder I am always thinking about you. I wish to celebrate everyValentine with you. Happy Valentine's Day!
♥ ♥ ♥ ♥ ♥ ♥ ♥ ♥ ♥ ♥ ♥ ♥ ♥ ♥ ♥
Happy Valentines Day Poems
Night is falling
Night is falling my heart is callingI feel so lonely I need you onlybut I've got a teddy that I take to bedif you'll be my ValentineI'll take you instead
if I'd wish to be anything
If I could wish to be anything I'd wish to be your tear to be conceived by your heart,born in your eye live on your cheek and die on your lips
Kisses
Kisses Kisses Kisses,Oh, what should I do?All I want is just one Kiss,From a special person like you.
break up on valentines
On Valentines we broke upYour friends said it was wrongBut you didn't believe themUntil you heard our songMaybe you will love me like I loved youBut I won't give you another chanceBecause I won't know if it's really true
Happy Valentines Day Quotes
Love – By a wildly misunderstood although highly desirable malfunction of the heart which weakens the brain, causes eyes to sparkle, cheeks to glow, blood pressure to rise and the lips to pucker. – By Author Unknown
Love cures people – By both the ones who give it and the ones who receive it. – By Dr. Karl Menninger
Love does not begin and end the way we seem to think it does. Love is a battle, love is a war; love is a growing up. – By James A. Baldwin
Love doesn't grow on trees like apples in Eden – it's something you have to make. And you must use your imagination too. – By Joyce Carol Oates
Love doesn't sit there like a stone, it has to be made, like bread; remade all of the time, made new. – By Ursula K. LeGuin
Love has no desire but to fulfill itself. To melt and be like a running brook that sings its melody to the night. To wake at dawn with a winged heart and give thanks for another day of loving. – By Kahlil Gibran
Love is a game that two can play and both win. – By Eva Gabor
Love is a perfume you cannot pour onto others without getting a few drops on yourself. – By Emerson
Love is a smoke made with the fume of sighs. – By William Shakespeare
Happy Valentines Day Greetings
If all the happiness I have ever known would be all that I would ever own it would be all right, it would be okay because happiness has been mine since you came my way.
I couldn't think of anything better to write on your card than just the truth: I love you!
You are the last thing on my mind before I go to sleep and the first thing when I wake up. And just in case you ever foolishly forget, I am never not thinking of you.
Love is a miracle, sweet as can be, That will always remain a complete mystery. For though it is something that's centuries old It cannot be purchased for silver or gold.
I love you not because of who you are but because of who I am when I am with you.
It takes more than lace and ribbons… And lovely verses too… To make a Valentine… That's nice enough for you!
Incoming Search terms:
happy valentines dayhappy valentines day messageshappy valentines day pictureshappy valentines day quoteshappy valentines day wallpaperhappy valentines day commentsvalentine quoteslove quoteshappy valentines day in frenchvalentines day messagesvalentines day wisheshappy valentines day quoteshappy valentines jokeshappy valentines day poemsfunny valentines day quoteshappy valentines day messages in hindihappy valentines day messages to friendshappy valentines day picturesvalentines day picturesvalentines imageshappy valentines day wallpapershappy valentines day messageshappy valentines day backgroundfunny happy valentines dayvalentine's day imagesvalentine's day photosvalentine's day pic happy valentines day quoteshappy valentines day messagesvalentines day poemshappy valentines day picturesfunny valentines day quoteshappy valentines day quotes imageshappy valentines day quotes hothappy valentines day quotes wallpapershappy valentines day quotes photos happy valentines day wallpapervalentine romantic wallpapervalentine special wallpaperhappy valentines day photosromantic couple wallpapershappy valentines day backgroundvalentine wallpaper 2012romantic wallpaper 2012romantic images of valentines day