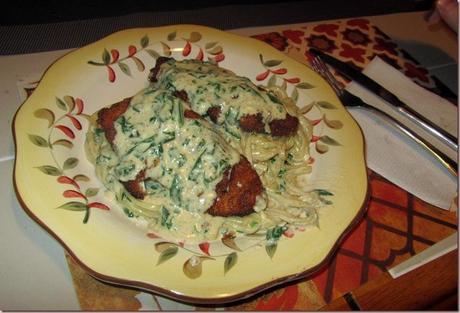 Ciao dears,
   Doesn't that sound yummy?!  It is!  My boyfriend loved it when I made it for him a little while ago.  It's not too hard to make and is just a little bit fancy if you're trying to impress a boyfriend or whomever.  Most importantly, it tastes delicious.  Hopefully you like spinach (it's good for you and tasty!).  This recipe is not for when you're trying to eat super healthy… You can cheat once in a while…lol.
Ingredients:
2 eggs 1 cup white wine
2 cups milk
2 cups Italian seasoned bread crumbs
1 teaspoon garlic powder
1 1/2 teaspoon paprika
salt and pepper to taste
1/4 cup vegetable oil
4 thin-sliced skinless, boneless chicken breast halves 2 tablespoons all-purpose flour
1 pint heavy cream
2 teaspoons minced garlic
3 cups chopped fresh spinach
1 1/3 cup shredded mozzarella cheese
1 lb linguine (or other pasta you prefer)
Directions:
1.) Beat the eggs and milk together in a small bowl and set aside.  Stir the bread crumbs, garlic powder, paprika, salt, and pepper together in another bowl.
2.) Heat the vegetable oil in a skillet over medium heat. Dip the chicken breasts into the egg mixture and then press into the bread crumbs, shaking off the excess crumbs. Cook the chicken breasts in the hot oil until golden brown on both sides, (no pink in the center) and the juices run clear, about 6 minutes per side. 
3.) While the chicken cooks, heat a pot of water for the linguine.  Add a pinch or two of salt.  Add the pasta when the water boils and cook until al dente (or more if you prefer…). Drain.  
4.) Remove the chicken breasts from the pan, set aside, and keep warm (in a toaster oven on low heat possibly).  Pour the white wine into the pan and bring to a boil while scraping the browned bits of food off of the bottom of the pan with  a wooden spoon.  Increase the temperature to medium-high and stir in the flour. Cook and stir until the wine has reduced to half its original volume, about 1 minute. Whisk in the heavy cream, milk, and garlic and bring to a simmer. Season to taste with salt and pepper, cooking and stirring until thickened, about 8 minutes.  Stir in the spinach and mozzarella cheese.  Cook and stir until the cheese has melted and the spinach has wilted.  Add the pasta to the pan and mix with the sauce. 
5.) Serve!  Place some pasta on the plates.  Put chicken breast (s) on top.  Pour a little of the sauce over the chicken breasts and tada!!  Now enjoy!  (Also, enjoy how much your boyfriend or whomever you cooked for will love you hehe!)
   ♥♥ Xoxo Gabriella