This is the weekend edition of TheMarioBlog and will be updated as needed. The next blog post is Monday, February 1.
As I am reminded that the iPad is turning 5, my thoughts turning to what has happened to that most playful of platforms and, more importantly, what role is it playing today.
Coincidentally, this anniversary coincides with two of our projects where the tablet is playing center stage roles. It's been a rough two years for iPads, what with iPhones and other smart phones commanding so much attention and becoming the inseparable partners of the masses.
Yet, iPads are special, and I maintain that they provide with a reading experience that is closer to what olders users still associate with print. iPads are easy to use (only four buttons), easy to carry (light weight) and a pleasure to engage with (if the newspaper or magazine that we are reading on the iPad provide tablet friendly content beyond just text).
Where we have been
Much has happened since 2013 when I wrote my digital book, The iPad Design Lab: Storytelling in the Age of the Tablet.
At least in three areas, we have seen massive changes which have affected how we relate to the iPad for news consumption: frequency, the tablet's shifting role within the "media quartet" and the popularity of the iPhone.
In terms of frequency, publishers and editors are now more accepting of the concept of constant updates of the news, but they are also cognizant of the importance of in depth and curated content.
At first the iPad was the definitive evening lean back read. We would grab our iPad, take off our shoes, lie down on the couch and basically, read stories, watch videos, listen to interviews.
Survey after survey confirmed that the iPad was the preferred member of the media quartet to have along in the evenings, often as we watched TV.
All of that began to change in 2013, and it was obvious that we were carrying our iPads around during the day. By then, however, smart phones were becoming more widespread and we were reading for news and information on iPhones.
A shift from all those bells and whistles of the early days

Early newspaper and magazine iPad editions went for the often exaggerated use of bells and whistles. While we adviser designers that they must keep the tablet user's finger happy (as in engaged), it should be done without overwhelming it.
Today's most effective tablets provide a great reading experience, engaging with pop ups only when it is necessary to enhance the story's content.
Where we are today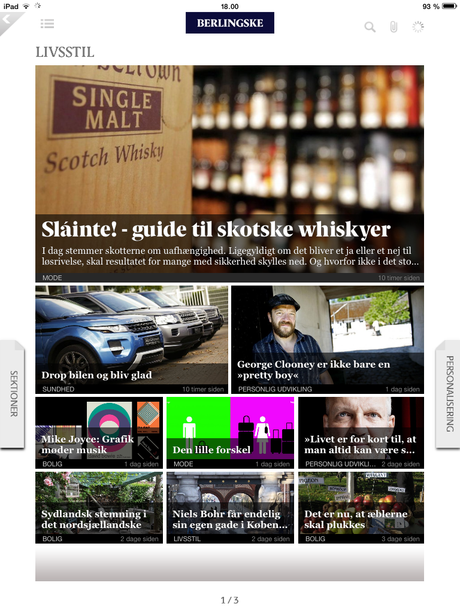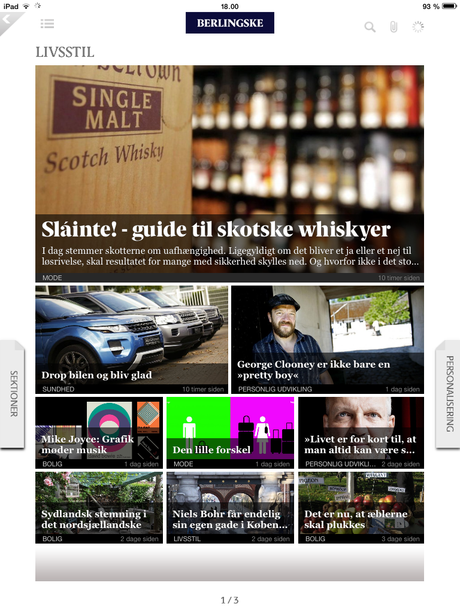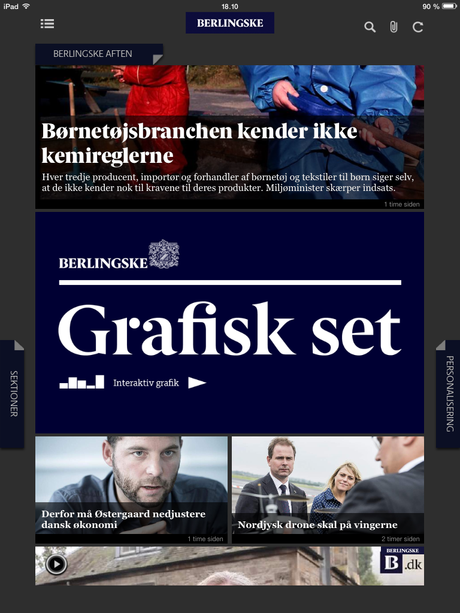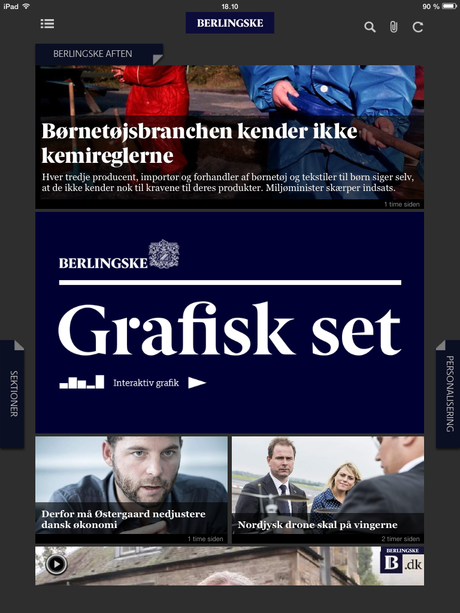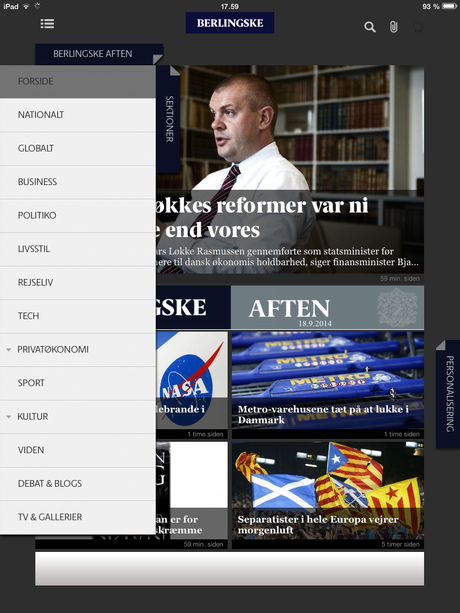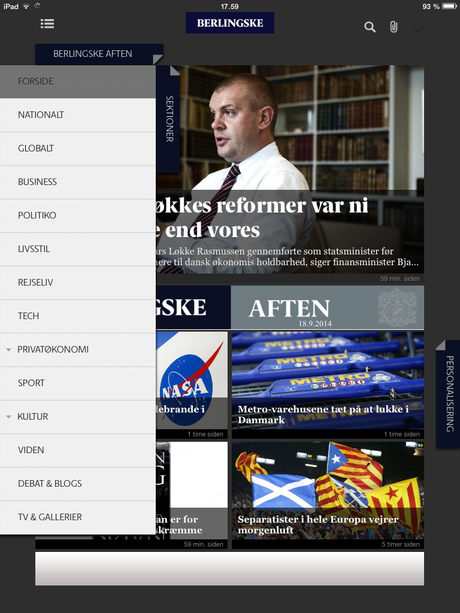 Denmark's Berlingske tablet edition
In Canada, Postmedia's Montreal Gazette's evening tablet edition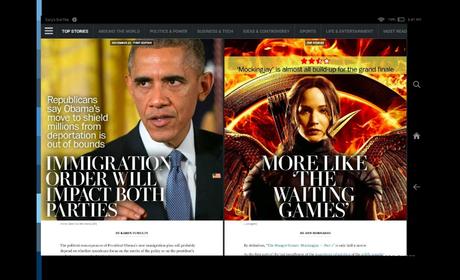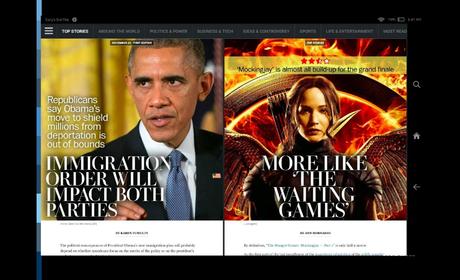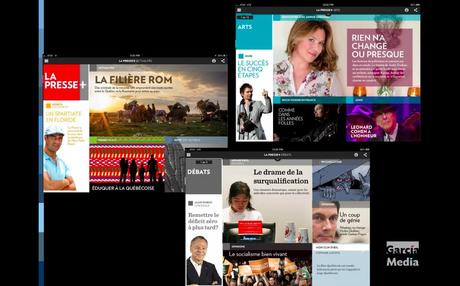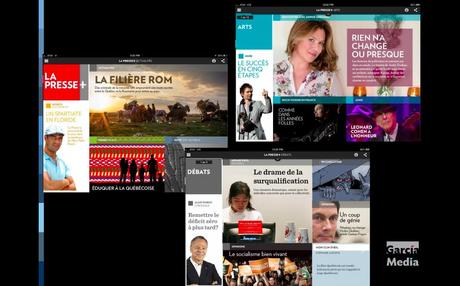 The Washington Post's tablet edition for Amazon Kindle Fire; Canada's La Presse +
In 2015, the iPad finds itself playing a new and more distinctive role—and, yes, trying harder to please.
iPhones have done much to push the iPad back into a dark corner.  Especially the iPhone 6 Plus has cut into the territory of the revered iPad.  We tend to be reading more news on the iPhone 6.
In fact, figures released this week, as Apple posted record earnings of $18 billion, favor the iPhone and iPhone 6 Plus  as the big winners, which the company could hardly keep in stock for most of the holiday season. It sold 74.5 million units in the quarter, up 46 percent from 51 million in the same period in 2013. As a result of growing demand, iPhone market share grew in the U.S. to 42.3 percent in 2014, up from 40 percent in the previous year.
Not so successful, however, Apple's iPad, whose sales continued to slump, with 21.4 million units sold, down 17.7 percent from the 26 million units sold in 2013.  The tablet market has seen a massive growth slowdown as a whole, dropping from 52.5 percent growth in 2013, to 7.2 percent in 2014, according to market research firm IDC.
But don't give up on the tablet. Publishers everywhere are taking a hard look at what the tablet can do, its popularity with older segments of the readership, and definitely a possible and plausible replacement for a newspaper's or magazine's print edition.
Successful newspaper tablet editions
While I am sure there are many interesting newspaper tablet editions globally, here are some that we think are doing it right editorially and visually.
Denmark's Berlingske (above)
Canada's Postmedia (Montreal Gazette, Ottawa Citizen, Calgary Herald)
Canada's La Presse +
The Washington Post's Kindle Fire app
Also, and while it is still not on the iPad, take a look at The Washington Post's new tablet application exclusively for Kindle Fire owners that packages news in distinct morning and evening editions with updates for major breaking stories.
The app, which does not include a local news section, is aimed at building a wider national and international audience for the newspaper by tapping into the Amazon Fire customer base.
What next for the iPad?
As it turns 5, the iPad is making a comeback—not that it ever fully left us. It is rebranding itself from the lean back platform to the one with the larger screen that may provide publishers with the almost perfect substitute for when there is no printed edition of the newspaper (something that may happen for some and not for others).
In its rebranding, the iPad wishes to shed its couch image and appear as a fit and alert daily companion, where your news are updated constantly, but where you can also choose to take off your shoes and revert to lean back mode.
I predict and exciting year of growth and innovation for the iPad during its fifth year.  I see the iPad as becoming an essential companion to the iPhone and, soon, the Apple smart watch.  Those other platforms may alert us to the headlines, but the iPad will be the place to go for us to get the complete story.
Happy birthday, iPad! 
For more stories:
Bild's 3.0 version of app: it's a pop up fest
http://www.garciamedia.com/blog/bilds_3.0_version_of_app_its_a_pop_up_fest
Creating some basic pop up moments in your tablet
http://www.garciamedia.com/blog/creating_some_basic_pop_up_moments_in_your_tablet

Bild's iPad app: true "pop up" moments in a newspaper app
http://www.garciamedia.com/blog/bild
Multimedia storytelling: don't overdo bells and whistles
http://www.garciamedia.com/blog/multimedia_storytelling_dont_overdo_bells_and_whistles
Two tablet-perfect stories to inspire
http://www.garciamedia.com/blog/two_tablet_perfect_stories_to_inspire
For more about the WAN IFRA Trends Report:
TheMarioBlog post # 1673
Please enable JavaScript to view the
comments powered by Disqus.
comments powered by

Disqus