by Nina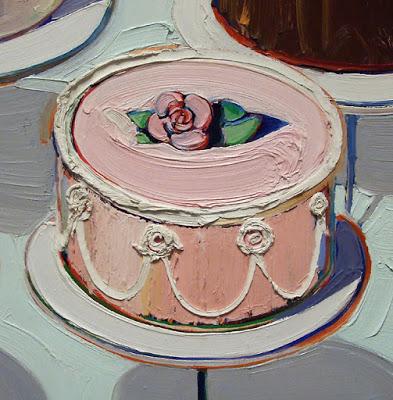 By Wayne Thiebaud*
Today's our seventh anniversary! And when this time of year comes around, I can't help but reflect on everything that happened here during the year. So here's the basic scoop.
Posts. We now have 1,712 published posts on the blog, covering a wide range of topics, including theories about and information on aging, asana practice, sequences, and individual poses, pranayama and meditation, and stress management, brain health, cardiovascular health, medical conditions, yoga philosophy, and mindfulness. There's information in my post
Friday Q&A: How Old is Your Blog?
about other topics we've covered and about how to explore our archives because if you have questions, we might very well have the answers. But in general if you are interested in reading earlier posts, you should know there are three different ways you can search the blog for particular topics (or authors). See
How to Search
for instructions. If you have any unanswered questions after all that, you can email Baxter at baxterbell at mac dot com.
Staff. We added two new regular contributors, Jivana Heyman (
Jivana Heyman Joins Yoga for Healthy Aging
) and Victor Dubin (see
Victor Dubin Joins Yoga for Healthy Aging
). I'm so happy I met you and so grateful you decided to become contributors.
By the way, our blog is strictly non-profit, so this means that Jivana and Victor, as well as the rest of our ongoing staff (Baxter, Ram, Beth, Jill. and me, your Editor-in-Chief) are doing this work out of love. I'm so grateful to be working with such an extraordinary group of people! I'm also grateful for our guest contributors, who this year included Erin Collins, Eve Johnson, and Lynne Glickman. If you think you'd like to write an article for us, send a short pitch about the topic you'd like to address to me at nina at wanderingmind dot com along with a brief biography of yourself that includes info about your yoga experience and training.
Our Book. Yoga for Healthy Aging: A Guide to Lifelong Well-Being was published on December 12, 2017! If you want to read a review of it, my personal favorite is the one Charlotte Bell did for YogaU Online. Here is her conclusion:
"Yoga for Healthy Aging is highly informative, compassionate and a joy to read. It is the most comprehensive text I've yet read about this process we're all navigating and how our yoga practice can grow with us as we age. Yoga for Healthy Aging is a book that you can turn to for knowledge and inspiration for the rest of your life."
Thank You. I'll end by saying that as always we're grateful for and appreciate all our readers, and we love hearing from you. This year, you can help me celebrate our anniversary by donating to Accessible Yoga. 
But if you want to celebrate our traditional way by listening to our "theme song," here's the video "Float" by Flogging Molly (the video is quite beautiful). 
I still think that the chorus for this song, "Ah but don't, don't sink the boat/That you built, you built to keep afloat," is perfect. 
Subscribe to Yoga for Healthy Aging by Email ° Follow Yoga for Healthy Aging on Facebook and Twitter ° To order Yoga for Healthy Aging: A Guide to Lifelong Well-Being, go to Amazon, Shambhala, Indie Bound
or your local bookstore.
For information about Nina's upcoming book signings and other activities, see Nina's Workshops, Book Signings, and Books.