Everyone knows watermelon is the official fruit of the summer. Many of you have enjoyed a slice or two on a hot summer day, the delicious juice dripping down your chin and maybe even enjoy seed-spitting competitions. But there are also interesting ways to enjoy watermelon besides just eating it. In honor of

National Watermelon Day (August 3rd)

, we've assembled some delicious cocktail recipes that will have you celebrating summer's favorite fruit the right way. We're bring you watermelon deliciousness from FAIR Quinoa Vodka, a fair trade vodka made from Quinoa; Prairie Organic Vodka, a naturally smooth, organic vodka; and Sauza Blue Silver 100% Agave Tequila. If you don't feel like creating cocktails, you can always try Sauza's new, ready-to-serve Sparkling Margarita Watermelon, boasting an authentic margarita taste with the unique addition of watermelon and effervescent bubbles. Now let's get to the cocktails!


FAIR Quinoa Vodka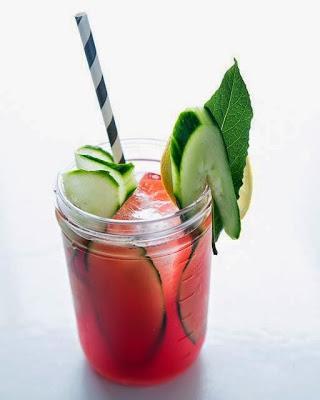 WATERMELON & CUCUMBER COOLER


1/4 watermelon, chopped into pieces
1 cup water
juice from 2 limes
1/2 cup sugar
Ice
simple syrup
sliced cucumber
1 oz FAIR vodka
soda water
Start by placing the watermelon meat in a blender and blend until it's a pulp, do this in batches and pour into a sifter that you place over a bowl. Discard the pulp. In a small saucepan bring water, lime and sugar to the boil and let it simmer for 10 minutes. Cool down completely. Fill 4 mason jars with ice and sliced cucumber. Fill up 1/2 with the watermelon juice, the rest with simple syrup, FAIR Quinoa vodka and a splash of soda on top. Garnish with lemon and cucumber and enjoy.


Sauza Blue Silver 100% Agave Tequila







WATERMELON & BASIL MARGARITA


2 parts Sauza® Blue Silver 100% Agave Tequila
1 part DeKuyper® Triple Sec
Juice of one whole lime
(4) 1" cubes of seedless watermelon
Fresh basil leaves (2 to muddle; the rest for garnish)
Lime wedge (for garnish)
Preparation: In a mixing glass drop in the watermelon and basil leaves (tear the leaves) then muddle. Add all remaining ingredients and shake vigorously with ice. Double strain the cocktail over fresh ice in a glass. Garnish with a lime wedge and fresh basil leaves.


WATERMELON PASSION


2 parts Sauza® Blue Silver 100% Agave Tequila
1 part Cruzan® Passion Fruit Rum
2 parts watermelon juice
1 part fresh lemon sour
Watermelon balls (for garnish)
Preparation: Shake all ingredients with ice and strain over fresh ice in a tall glass. Garnish with watermelon balls.


WATERMELON BREEZE


2 parts Sauza® Blue Silver 100% Agave Tequila
1 part DeKuyper® Watermelon Squeeze
2 parts pineapple juice
1 part cranberry juice
Watermelon slice (for garnish)
Preparation: Build in order over ice in a glass then stir. Garnish with a slice of watermelon on the rim.


WATERMELON SOUR


2 parts Sauza® Blue Silver 100% Agave Tequila
1 part DeKuyper® Watermelon Pucker
2 parts fresh lemon sour
1 part cranberry juice
Lemon wheel (for garnish)
Preparation: Build cocktail in order over ice in a glass then stir. Garnish with a lemon wheel on the rim.


Prairie Organic Vodka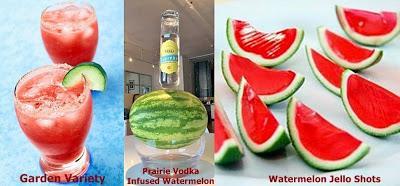 GARDEN VARIETY


2 oz Prairie Cucumber Flavored Vodka
2 1-inch cubes of seedless watermelon
1 diced lime (bitter ends removed)
1 oz organic agave nectar
Salt 1 cucumber slice
Mix all ingredients in a shaker with ice. Shake, then serve in a lowball glass over ice with a lightly salted rim. Garnish with a slice of cucumber.


PRAIRIE VODKA INFUSED WATERMELON


1 bottle of Prairie Organic Vodka
1 large watermelon
Place the watermelon on a counter and with a sharp knife, cut out a small hole slightly larger than the top of your vodka bottle. Remove the watermelon rind and insert the top of your bottle of vodka into the hole you've created. Flip the bottle upside down and, keeping it upright, apply gently pressure until it's firmly lodged into the top of the fruit and is infusing the watermelon with vodka. Allow it to sit for 24 hours. When the bottle is nearly empty, your watermelon has been infused with vodka. Remove the bottle carefully. Slice and enjoy!


WATERMELON JELLO SHOTS


10 scooped out limes, halved
1 3-oz package watermelon-flavored gelatin
1 cup water
1 cup Prairie Organic Vodka
Boil 1 cup of water on the stovetop in a small saucepan. Add gelatin to the boiling water and stir with a whisk until completely dissolved. Stir in vodka next. Pour the gelatin mixture into the lime halves and refrigerate for approximately 3 hours until the gelatin has set. Cut the lime halves into 4 equal portions and serve!
There are so many interesting facts about watermelon, like did you now it's 92% water and the first documented watermelon harvest happened about 5,000 years ago in Egypt? What better way to toast to it's rich history than enjoying this sweet, delicious, and juicy fruit on a hot summer day than with a bit of a kick. Happy Watermelon Day!