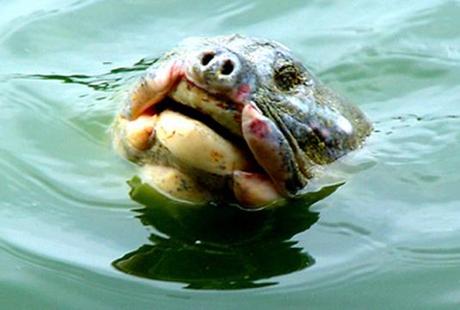 A giant turtle that lives in Lake Hoan Kiem, Hanoi has had to be removed from its home for medical reasons after sores were noticed on its neck and legs.
The turtle has stood as a symbol of Vietnam's independence an is referred to as "the great-grandfather" by the Vietnamese media who say it could be as much as 300 years old. Marine experts suggest that it is more likely aged between 80 and 100 years.
There has been much discussion as to the cause of the turtle's ailments, some fearing that the pollution of the lake is the cause whilst others posit that the reptile has been injured by fisherman's hooks and other smaller turtles over a number of years.
Thousands of onlookers watched as 50 rescuers captured the turtle with boats and nets and placed it into a cage for assessment. "You could say it is a representative of the country, so bringing it in for treatment is a necessity" said a Hanoi resident.
If you're a fan of turtles and marine conservation why not get in touch and find out more about our turtle projects.