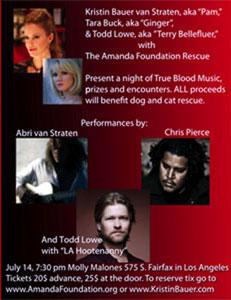 If you live in Los Angeles or the surrounding area, you should plan on attending the True Blood musical evening on July 14 at Molly Malone's, LA. If you go, you will certainly run into True Blood's Kristin Bauer van Straten, aka "Pam" since she is hosting a charity event that also includes other cast members, Todd Lowe ("Terry Bellefluer") and Tara Buck ("Ginger") and it's all to raise money for the Amanda Foundation.
It will be a night of True Blood music, prizes and encounter with all proceeds benefitting dog and cat rescue.
Here is how you get tickets:
Go to the Amanda Foundation website or Kristin Bauer's website, or buy the tickets at the door for only $20 or $25.
Abri van Straten (Kristin's husband), Guy Pierce, and Todd Lowe will all be performing their music.
The event will begin at 7:30pm at Molly Malone's which is located at 575 S. Fairfax Avenue, Los Angeles, CA.
By the way, Kristin told Celebuzz.com that other True Blood cast members said they will attend, if they can. So, you're bound to run into lots of Truebies if you go and it should be a great night!
celebuzz.com