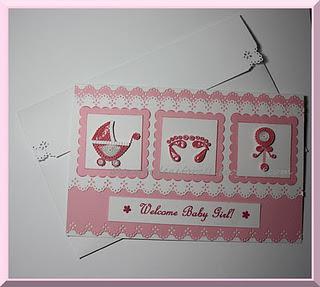 A very
Happy New Year
to all our readers. Hope you all had great holidays with your families. As you might have noticed , it has been little (quite) quiet here at CIFA  lately. Well we had a busy holiday season , it being the first one for
Navanka Creations
. That also meant less time for our little kids and we just felt we needed to take a break to make up for our busy schedule in Nov and Dec. So we took a vacation , both of us with our hubbies and the kids.  It was such a treat to be in warm California during winters.
Right now we have almost 2.5 inches of snow in Seattle..its cold but very pretty. With so much beauty around me I got inspired to take time and share my first project of 2012. I made this as a custom order for a friend who wanted a bigger card for a group gift at work. The card measures 5.5" x 8.5 " and since its a non standard size I also made a coordinating envelope for the card. It is an updated version of one my old designs.  Here is a close up pic of the card.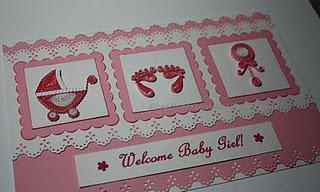 I used border punches from Martha Stewart to create the effect of lace. Loved using crimped quilling strips for the stroller and rattle.  Little footprints always take the most time to quill but I just love them and make them whenever I get a chance :).
I hope the recepient loved the card. Being part of the special moments in somebody's life is what makes card making such a special art. I leave you with one of my favorite shots of today. Enjoy!