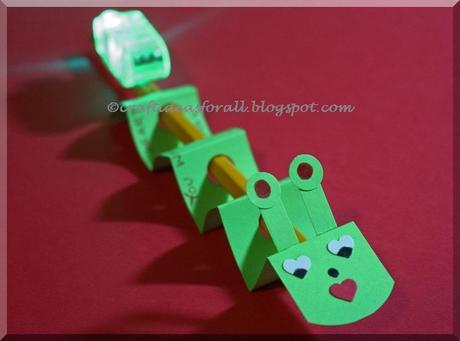 " You Make My Heart Wiggle" 
I made these adorable Caterpillar Pencil Favors  yesterday for my son's preschool classmates.  They will be celebrating Valentine's Day today in their class and exchanging little treasures with each other. He loves Eric Carle's Book - The Very Hungry Caterpillar so I decided to make this Caterpillar. I also added Finger LED lights as pencil toppers though that is totally optional.  The earlier post with butterflies is similar but my son was more excited about this one.
Here are supplies I used for this making the Caterpillar :
- Green , Red and White card stock
-  Martha Stewart Scoring Board ( Its not necessary. You can do simple accordion fold but since I had to make multiples (25) it came in real handy.
- 3/8 inch circle punch I used one from Recollections. You can use file or hand hole punch but I found the hole little small to insert pencils easily. If you find a  hand hole punch like this one ( 5/16 inch) it might work or you may have to punch twice to make the hole little bigger.
- Martha Stewart Heart Confetti Punch  I used it for eyes and mouth. You can simply draw them using markers if you do not have this or similar punch.
- Paper Trimmer
- Red and Black markers
- Glue
- Scissors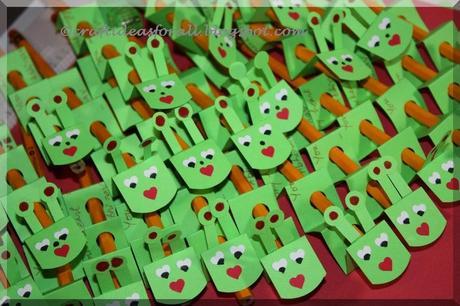 Steps for making the Caterpillar for pencil favor : 
- Put the green cardstock on the scoring board and score it at one inch intervals as shown in the picture. ( I scored along the longer side of 8.5 x 11 inches card stock). You can totally do accordion fold by hand if you are not making  a lot of these. I had to make 25 nos. and hence it was quicker to use scoring board.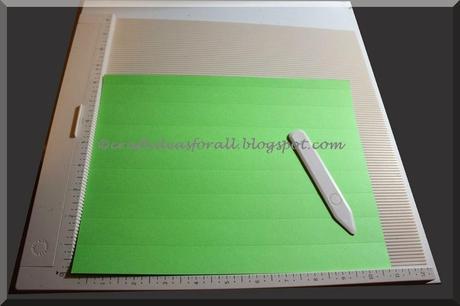 - Cut 1inch x 8 inch strips from the scored card-stock ( cut perpendicular to the scored line not along the score)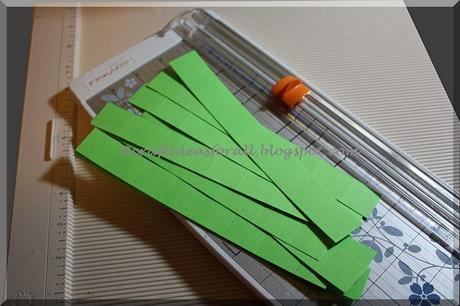 - Punch red and white mini hearts for eyes and heart and glue them to make the face. Use black marker to make the eyeballs.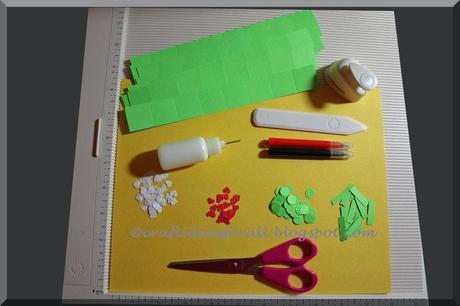 - Round one end of the strip for the caterpillar face.
- Using the hole punch , punch out circles from the strip for inserting pencil.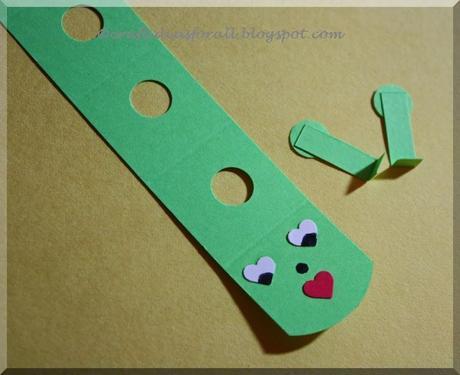 - For the antennae of caterpillar use the punched out circles from above and glue them to 1 inch x 1/8inch strips from green cardstock. Color the center of the circles red. Fold the antennae at bottom ( around 1/8 inch) and glue as shown in the picture.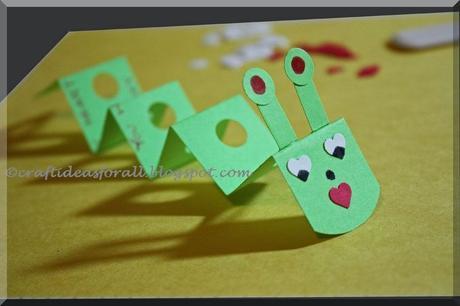 - ( Optional ) Write " You make my heart wiggle "  and from ( child's name) on the top and bottom edge, Older kids can write themselves or you can print and glue thin  strips instead of writing by hand.
- Add the pencil to the wiggly Caterpillar.
Here is another picture of Caterpillar Pencil Favors for Valentine's Day. As I mentioned above I added LED mini lights to the back of the pencil for added interest but its totally optional.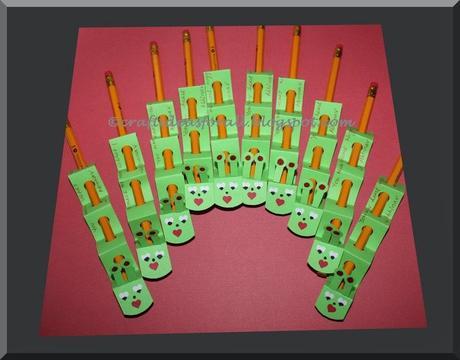 Happy Valentine's Day to all of you and your loved ones!