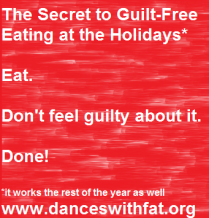 This post is a danceswithfat tradition, offered for those who may have to deal with inappropriate friend and family behavior during this "holiday season" (whether they are celebrating any holidays or not.)
Ah, is there anything more fun than being under surveillance by the Friends and Family Food Police?  There are only a couple of things that I can think of – root canal, shaving my head with a cheese grater, a fish hook in the eye…
This happens to almost all of my fat friends, but to be clear it happens to thin people too – food judgment and shaming happens to people of all sizes and it's never ok.
I think that we need to remember that fat hate and body shaming is modeled for people all over our culture, fear of being fat is a driver of a lot of behaviors.
First, I always suggest that you be prepared for boundary setting when you go into this type of situation.  Think about what your boundaries are, and what consequences you are willing to enforce.   So think about what you would be willing to do – Leave the event?  Stay at a hotel?  Cease conversation until the person can treat you appropriately?  Be sure that you know what you want and that you can follow through.
As an example, I'll use that age old shaming question "Do you need to eat that?"
This is such a loaded question. What do they mean by "need"? Are they asking if my glycogen stores are depleted? If I am near starvation?  If my body at this moment requires the precise nutrients that are delivered by cornbread stuffing and gravy? Or do they feel that fostering a relationship with food that is based on guilt and shame is in my best interest?
This question is custom-made to make someone feel ashamed.  I think it's asked for one of about three reasons:
Judgment
The person asking the question has decided that it is their job to pass judgment on your activities.  Being too cowardly to directly state their opinion, they use this question as a mode of passive aggression to "make you admit it to yourself".  This is one of those situations where they would probably claim to be mistreating you for your own good, also known around this blog as "Pulling a Jillian".
If the person asking this question truly cared about you and your health (however misguided they might be), they would talk to you about it in person, alone, at an appropriate time, and they would ask a question that invited dialog, not try to embarrass you in front of people while you're eating what is supposed to be a celebratory meal. That right there is some bullshit.
Power/Superiority
Remember that some people never psychologically got past Junior High and nothing makes them feel so powerful as judging someone else and then making them feel like crap. Maybe because they are drowning in…
Insecurity
The person asking the question perhaps struggles with weight stigma, their guilt about eating etc. and since they feel guilty for enjoying the food, they think that you should feel guilty about it too, or they want to deflect attention from their behavior to yours.
The degree of difficulty on discerning someone's intent in this sort of thing can range from "of course" to "who the hell knows". Here's the thing though, from my perspective it doesn't matter why they are asking it:  I am not ok with being asked, and I get to make that decision.
So you're at a holiday meal, you take seconds on mashed potatoes and someone asks the dreaded question:  "Do you need to eat that?" It seems like the table falls silent, waiting for your reply.  What do you say?
If it's me, first I quell my rage and resist the urge to put them down (Yes, I do need these mashed potatoes.  Did you need to be a total freaking jerk?)
Second, as with so many situations where people lash out at you, remember that this is about their issues and has nothing to do with you.   If emotions well up, consider that you may be feeling embarrassed and/or sorry for them, and not ashamed of your own actions.
Finally I suggest you find your happy (or at least your non-homicidal) place, and try one of these:
Quick and Simple (said with finality)

Yes (and then eat it)
No (and then eat it)
Answer with a Question (I find it really effective to ask these without malice, with a tone of pure curiosity.  If you're not in the mood to have a dialog about this, maybe skip these.)
Why do you think that's your business?
What led you to believe that I want you to police my food intake?
I thought that you were an accountant, are you also a dietitian?
Pointed Response (be ready with a consequence if the behavior continues)

I find that inappropriate and offensive, please don't comment on my food choices
What I eat is none of your business, and your commenting on it is not ok
I have absolutely no interest in discussing my food intake with you
I'm not soliciting opinions about my food choices.
Cathartic (but probably not that useful if you want to create an opportunity for honest dialog)
Yes, because dealing with your rudeness is depleting my glycogen stores at an alarming rate
If I want to talk to the food police, I'll call Pie-1-1
I'm sure you're not proud of the completely inappropriate behavior you just exhibited, I'm willing to forget this ever happened
Thanks for trying to give me your insecurities, but I was really hoping to get a Wii this year
No, but using my fork to eat helps to keep me from stabbing you with it
I don't believe that guilt is good for my health and I'm definitely resisting arrest by the Family and Friends Food Police.
Like this blog?  Here's more cool stuff:
Become a Member! For ten bucks a month you can support fat activism and get deals from size positive businesses as a thank you.  Click here for details
Book and Dance Class Sale!  I'm on a journey to complete an IRONMAN triathlon, and I'm having a sale on all my books, DVDs, and digital downloads to help pay for it. You get books and dance classes, I get spandex clothes and bike parts. Everybody wins! If you want, you can check it out here!
Book Me!  I'd love to speak to your organization. You can get more information here or just e-mail me at ragen at danceswithfat dot org!
I'm training for an IRONMAN! You can follow my journey at www.IronFat.com
If you are uncomfortable with my offering things for sale on this site, you are invited to check out this post.