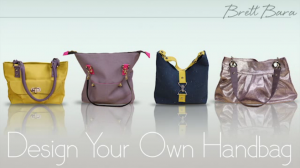 If you love handbags, than you'll love the "Design Your Own Handbag" class featured on Craftsy. This fun class will show you how to make your own high-fashion handbags in the comfort of your own home. This class is taught by designer, author and TV host Brett Bara.
High-end designer handbags don't have to be expensive, and this course will show you why. "Design Your Own Handbag" gives you the instruction and skills you need in order to create a great handbag like you'd see on the shelves of department stores and luxury boutiques.
Brett Bara will show you how to create a basic handbag in this class, and then give you her expert tips on how to adapt the bag into other popular styles like the tote bag, boho bag and curved-top bag. You'll also learn more advanced finishing skills like how to create zipper pockets, how to make pleats and how to attach hardware. Your friends and family will be amazed at how professional and polished your finished handbags are.
This Craftsy course includes ten easy-to-follow lessons that cover how to create a custom handbag. Course members will be shown how to plan a design, reinforce fabric, construct the exterior and interior, make pockets, handles and straps and incorporate closures and hardware. In order to excel in this course, class members will need to know basic sewing machine skills in order to follow along with Brett and create the finished handbag.
One of the best parts about this Craftsy course is that once members sign up for the "Design Your Own Handbag" course, they can take the class whenever it is convenient for them. Members who sign up for Craftsy courses are given login information for the course and are able to access the course at any time from the comfort of their own home, so you can learn a new craft when it's suitable for you. You can turn your bedroom, living room, office or craft room into your very own handbag design studio.
Like all other Craftsy courses, access to the "Design Your Own Handbag" course never expires, so course members can return to the course again and again to refresh their knowledge or review a technique. Craftsy courses are interactive and provide much more learning support than other instructional videos on the web. Course members are able to ask the expert instructor questions, post photos of their handbags, discuss projects and questions with other course members, and bookmark parts of the course to return to at a later time.
You'll love this course, and the wealth of knowledge that Brett Bara brings to the table. You'll get professional tips from a real handbag designer on how to pick the perfect lining and fabrics, how to add various types of pockets, how to incorporate handles and hardware and more. You can use the skills you learn in this course to create a whole line of handbags that are uniquely yours to keep for yourself or to give as gifts.